August 27, 2004
Archbishop Sheen Today! -- Sacrificing for others

Barbara Kralis
© Catholic Online 2004
Sac•ri•fice, n. the surrender or destruction of something valued for the sake of something else.
Suicide or killing oneself is the evil of despair and the loss of hope. In contrast, self-sacrifice for someone else is a sign of hope, and an act of generosity and love.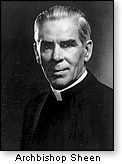 The two opposing actions, killing versus self-sacrificing, produce opposing results — despair versus hope, fear versus trust, indifference versus love.
Nothing can compare with the ultimate sacrifice of Christ.
In fact, the following splendid reality requires more than a moment of your time. Its richness will last a lifetime of meditations. And the reality is this:
St. Thomas Aquinas teaches that Jesus Christ in His life and in His Calvary offered infinitely more to God than was demanded as just compensation for the offences committed by mankind.
This is so because of three facts: 1) the infinite degree of His willingness to suffer for us; 2) His greatness of love for us; and 3) the enormity of the pain that He suffered for the Redemption of mankind.
[1]
Our peanut-sized minds cannot begin to imagine the magnitude of this reality — of how complete was His suffering.
In fact, so perfect was Christ's willing and loving Sacrifice that it made infinite satisfaction for the sins of men for all times, from the beginning of time to the end of time. The Church has always taught this inconceivable truth.
[2]
Nothing has been or ever will be so pleasing to God as the sacrifice of Christ for our Salvation.
[3]
Mysteriously, we all can participate in these infinite merits of Christ. It does not matter if we remain hidden in the anonymity our homes, doing ordinary things day after day.
Some of the greatest Saints remained hidden for most of their sacrificial lives.
God sets great store by those who struggle for sanctity, no matter what their life's work is. Moreover, those who sacrifice and struggle sustain the entire world by their merits.
If we offer our sacrifices for others, God then pours out His mercy and forgiveness upon those who may have done nothing themselves to merit it.
This is called the 'Treasury of Merits,' or the 'Treasury of Satisfactions of the Church.'
This is where the superabundant merits and satisfactions of Christ are stored, which were beyond the needs of our salvation and to which are added the excess of merits and satisfactions of our Lady and the Saints. It is from this treasury that the Church grants indulgences.
God needs holy men and women in all times, and St. Paul calls them, "Lights in the World,"
[4]
One such 'light' in our modern time was Saint Maximilian Kolbe who made the ultimate sacrifice for Francis Gajowniczek.
On July 13, 1941 (an important Fatima date), one of the prisoners escaped from Block 14. As a punishment, ten prisoners from the same block were immediately picked at random to die by starvation.
Suddenly, among the ten condemned men just chosen, a sob broke out,
"O God, my wife and my children!"
A remarkable thing happened. Another prisoner, No. 16670, head shaved, dressed in striped torn rags and watching with great compassion nearby, stepped forward and walked bravely toward the commandant.
"Stek! Was ist los?"
(What does this swinish beast want?)
"I want to take the place of one of the condemned. I am a single man and he (pointing to the man weeping) has a wife and children who need him..."

"What is your profession?"

"I am a Catholic priest."

"I agree. Go stand in line."
A moment of silence...The Immaculata kept her word: the two crowns, a white one and a red one, which she revealed in an apparition to
Father Maximilian Kolbe
in his childhood, now have become a reality.
"Greater love has no man than this, that a man lay down his life for his friends" (RSV-Jn.15:13).
The ten condemned marched to Death Block 13 where Father Kolbe and the nine other men would spend their last days in agony. Completely stripped naked, they were shoved into their death cells without food or a drop of water to await their inevitable starvation.
Days passed slowly...the echo of Father Kolbe's constant prayers traveled into the cells of the frightened and tormented men. Despair was transformed into a chapel of prayer and chanting by courageous men.
Their tiny cells, just 3 meters square, had no windows, no furniture, just a pail for human needs which after the first few days was always empty as the desperate men drank their own excrement.
The floors were hard and paved; the air was horribly foul. Father Kolbe never complained. He prayed aloud so that his fellow prisoners could hear him in order to join in.
Hunger is terrible; thirst is even worse. Dehydration attacks the brain cells first and unleashes silent storms of nightmares and hallucinations.
When his fellow prisoners, writhing in agony, were begging for a drop of water, and in despair were screaming and cursing, Father Kolbe would calm them down, inspiring them to perseverance.
Each day SS officers would visit the cells to remove the corpses. The weakened prisoners were always lying down. Father Kolbe was kneeling in prayer. Father's eyes were so clear and penetrating that the SS officers, unable to stand their brightness, shouted:
"Schan auf die Erde, nicht auf uns!" (Look at the ground, not at us!)
One of the German butchers acknowledged:
"A cleric like this one we have never seen; he must be an unusual person."
To the SS officers, Father Kolbe was living too long and so on August 14, 1941, the vigil of the Assumption, the order was given to finish off the priest. Propped up against the wall, his eyes wide open as if witnessing a beatific vision, a henchman of death armed with a syringe of phenic acid entered the darkness of the cell to end this courageous priest's life, a man who consecrated himself long ago to God and to
Mary the Immaculata
.
On August 15, the Feast of the Assumption of the Blessed Virgin into Heaven, Father Maximilian Kolbe's body was fed to the consuming fires of the Third Reich's flaming ovens, his ashes rising in smoke from the crematory chimney into the bright sun rays, his memory most alive among us today.
[5]
St. Maximilian Kolbe's
'dies natalis'
[6]
is August 14.
Here, below, is a popular Bishop Sheen vignette on this subject of sacrificing for others.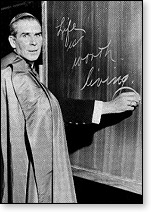 By Bishop Fulton J. Sheen
J.M.J.
Today I am going to talk to you about God. Now, God made himself nothing. He emptied himself, made himself into nothing. Moreover, he assumed the nature of a slave. What does a slave do? A slave does two things; he does dirty things and he does hard things.
Therefore, our Blessed Lord, who was always God, became man. That meant he emptied himself of his glory. Why did he take upon himself our nature? So that no one could ever say that God does not know what it is to suffer. In addition, in having overcome all of that in the Resurrection, he gave us the example of being patient under trials.
We owe God a debt we cannot pay. Our Lord takes death as a penalty upon himself. And, how can we explain Innocence taking upon himself our sins?
Let us go to the Burma Road, during World War II. A number of Japs had prisoners under their custody and at the end of the working day, the Japs noticed that a shovel was missing. They gave an order that unless the shovel was returned within five minutes, ten men would be shot.
At the end of three minutes, no one admitted the guilt.
Then, one man stepped forward and he was beaten to death. When they went back to the camp, they found all of the shovels. This prisoner, innocent, had taken the guilt upon himself. The accusation of the theft he took upon himself, as if he were guilty, in order to save others.
This is what the Blessed Lord did on the cross. That is why the cross is very important in our lives.
Very often we have to transfer to ourselves the guilt of others. There is a price tag on every soul in the world. Some souls are cheap; others are very expensive. Moreover, we have to bear their burden, pray for them, and sacrifice for them.
I remember once I was hearing confessions on the eve of the first Friday of the month. A young woman came into the confessional and said,
"I don't want to go to confession. I just want to kill some time."
And, I said,
"How much time do you want to kill?"
"About five minutes."

"Who are you fooling besides God?"

"My mother. She thinks I am going to confession."

"Are you afraid?"

"Yes,"
she answered.
"Oh, I could make your confession for you if I saw you."

"Oh, wise guy, eh?"
she said.
I pulled aside the screen, turned on the light, and looked at the girl.
"You're a prostitute."

"That's right, that is my life, but that is not all. There is something else much more serious."
I begged and pleaded with her to confess, but to no avail. I asked her to go up and kneel at the communion rail for a few minutes. She said,
"I will think about it."
I met her on the Church steps and asked her again. She said,
"After a half hour, I will tell you what it is and then I will run."
After a half hour, she told me what it was.
"I made a pact with the devil. I'm frightened to death."
Then, she ran away.
I heard confessions that night and I asked every penitent if they would say a rosary for the conversion of a sinner. One refused. It's interesting that one should refuse such a request. I finished hearing confessions about nine o'clock and went up and knelt at the communion rail, praying for this girl. Nine o'clock, ten o'clock, eleven o'clock, midnight. Then I heard the church door open.
It was this girl and I went back into the confessional. Then she went to confession.
Here was transference of someone else's guilt to another. Hence, the importance of praying and sacrificing for another, particularly for those who have morally and spiritually lapsed.
Just as the clouds will pick up moisture from the sea and carry it over a mountaintop and then drop it on arid land, so too the prayers and sacrifices that we offer are carried by the Holy Spirit and dropped on other souls that need it.
The whole work of redemption is, therefore, being carried on.
[7]
NOTES:
St. Thomas Aquinas, Summa Theologiæ, 3, 48, 2.


Pope Pius XII, 'Humani generis,' Denz-Sch 2318/3891.


R. Garrigou-Lagrange, 'The Saviour.'


Phil 2:15


Sources for this account taken from "I knew Blessed Maximilian," by Brother J.M.Mlodozeniec, O.F.M., Ami Press, Washington, N.J.; "Forget not Love," by Andre Frossard, Ignatius Press; "The Last Days of Maximilian Kolbe," by Sergius Loril, N.Y. City Press, N.Y.


"Dies natalis' is Latin for 'day of death' or 'birthday' into eternal life.


Taken from the video, "Kenosis" supplied by 'Keep the Faith, Inc.," Keep the Faith, Inc., 50 South Franklin Turnpike, Ramsey, NJ, 07446-2546; Phone (201) 327-5900 • Fax (201) 327-7618 http://www.keepthefaith.com/


© Barbara Kralis
By
---
The views expressed by RenewAmerica columnists are their own and do not necessarily reflect the position of RenewAmerica or its affiliates.
---