October 8, 2004
Archbishop Sheen Today! -- Choices we make (Part Two)

Barbara Kralis
© Catholic Online 2004
A long time ago, Sister Christine Joseph taught us to make the heroic minute on waking each morning. She taught our first grade class to pray:
"Good morning, dear Jesus, this day is for you! I ask you to bless me in everything I think, say and do!"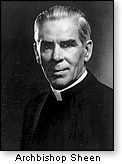 Sister said that our first waking thoughts and words should be of and toward Jesus. Why, in l950, did this wise holy nun teach such a 'state of readiness' to little children?
To prepare us to discern the countless small and large choices that would present themselves to us during the rest of our earthly lives. In other words, if the choice is not pleasing to God, best to leave it alone.
Throughout scripture, we see many times Jesus warning us to choose well so as not to become careless, negligent, and lukewarm.
For Christians who choose to remain alert and vigilant, the last day will not come for them "like a thief in the night."
[1]
Each day will have been a chosen encounter with God in the ordinariness of their faithful lives.
Monsignor Knox wrote:
"Each of us has got a job to do; each of us should be inspired to do it better, especially if it looks as if we haven't got much time to do it in."
[2]
Many times in our ordinary, everyday lives, God gives us great 'actual graces.'
[3]
If we choose to squander them, as did the wicked and slothful servant in the parable of the talents, Christ, the Just Judge, will be very severe toward our barren life.
[4]
We can choose to live our lives in two different ways: 1) seeing ourselves as stewards and making everything productive for God; or, 2) acting selfishly as owners of all things, seeking comforts and following whims.
Choosing to be consistent or constant in putting our graces to good use is called faithfulness. Pope John Paul II said in Mexico, 1979:
"But all faithfulness must pass the more exacting test of duration. Therefore, the fourth dimension of faithfulness is constancy. It is easy to be consistent for a day or two. It is difficult and important to be consistent one's whole life. It is easy to be consistent in the hour of enthusiasm; it is difficult to be so in the hour of tribulation. And only a consistency that lasts throughout the whole life can be called faithfulness."
"In pauca fidelis!"
[5]
What a joy it would be if, at our death, Jesus would say to us,
"Well done, good and faithful servant; you have been faithful over a little, I will set you over much; enter into the joy of your Master."
[6]
Here, below, is a popular Bishop Sheen vignette on this subject.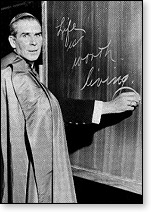 By Bishop Fulton J. Sheen
J.M.J.
The subject of this evening's meditation will be choice. I will try to bring home to you the supreme alternatives that are before us — the alternatives of our eternal destiny. And I will begin by giving you two examples of choice because after all our heaven or hell is before us everyday. But there come great moments too when we make decisions for much of our life. One of these stories will be taken from Paris [and the other, in Part One, from London] and is from my own experience.
I had gone down from Brussels to Paris to preach a sermon on the second Sunday of February. And I stayed in a small hotel. There was an English man playing the piano in an adjoining room and playing it well. I complimented him and then I asked him if he would like to go out for dinner. He said, "I've never talked to a priest before in my life."
"Well, we're just like anyone else. You stick me with a pin, I will jump too."
So, we sat down at a table in this small restaurant, and he said to me, "Do you ever have questions to answer. This is my problem. I have never met in my life on good man nor one good woman."
I thanked him for the compliment and then he went on.
"Now, last year on the eleventh of February, over there at that table, there was a lady trying to break a lump of sugar in a cup of coffee. She couldn't do it, so I went over and broke the lump for her and she told me how mean her husband was to her. I asked her to come to live with me. Well, she did and I get tired of them all after about twelve months."
He continued, "So, this morning, I bundled up all her clothes, I left them with the concierge which she anticipated my move, and she gave me this note."
"Dear Puppy, if you refuse to continue living with me until our anniversary, the eleventh of February, I shall commit suicide by throwing myself into the Seine."
"Now, Father, may I permit her to live with me to prevent suicide?'
"No," I said, "You may not do evil that good may come from it. And, furthermore, she will not commit suicide."
It got to be about eleven o'clock at night. He said, "I will walk you back to the hotel."
"I'm not going to the hotel. I'm going to Momart," I said.
"I was just beginning to think that maybe you were alright and now you tell me that you are going up to that hell hole!" he said.
"Well," I said, "there is something else in the hill of Momart besides dives. There is a great basilica there, the Basilica to the Sacred Heart. And, every night for over fifty years, there are a thousand men in prayer all night long."
I induced him to come with me. He said, "How long?"
I said, "I will leave when you are ready to leave, though, I intend to stay all night."
He made no move to leave the Basilica until the sun came up over Paris and I read Mass.
And, walking down the hill of Momart, he said, "Will you stay in Paris and teach me to be good? It is the first time in my life I've ever contacted goodness."
I agreed to meet him that night in his courtyard at eight o'clock. He came in with a woman, not the one that was involved in the story. And he said, "We will go out to dinner, the three of us."
And, I said, "No, this is not a social evening. You must make a choice. Either you are going out with that woman or you are coming with me."
He walked up and down the courtyard a couple of times and came back and said:
"Well, Father, I think that I will go out with her."
And, that is the end of the story. The choice was made after having received a great grace.
Please, God, before he dies, he will recall that night at Momart. That was a choice for evil.
(see Part One
here
)
NOTES:
Cf. 1 Thess 5:2, RSV


"A Retreat for Lay People," by Msgr. Ronald Knox, pp. 45-46.


'Actual Grace,' any supernatural (q.v. — Latin 'quantum vis' or in English 'as much as you will') and transient aid by which God enlightens the mind or assists the will to produce supernatural acts. Actual Grace affects the faculties of the soul (intellect and will). Actual Grace differs from 'Habitual Grace.'


Cf. Mt. 25:14-30; Lk. 19: 11-28.


"In pauca fidelis!" or "faithful in small things."


Cf. Mt. 25: 21, RSV.


© Barbara Kralis
By
---
The views expressed by RenewAmerica columnists are their own and do not necessarily reflect the position of RenewAmerica or its affiliates.
---