Issues analysis
Archbishop Naumann fails to do his duty, again!

Barbara Kralis
, RenewAmerica analyst
February 28, 2019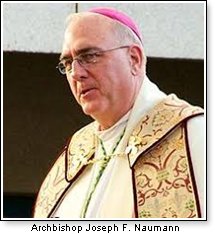 Archbishop Naumann recently wrote a column to all the Catholic Church's members, to all of us, explaining his plan to stop manifest sinners from receiving Holy Communion. [
http://www.usccb.org/about/pro-life-activities/life-issues-forum/catholics-public-life.cfm
]
Actually, he has NO PLAN!
Archbishop Naumann, of the Archdiocese of Kansas City, Kansas, said the same incorrect thing 11 years ago regarding the Kansas pro-abortion Catholic Gov. Kathleen Sebelius. He refused then to enforce Canon 915 against her, and he refuses again today. Prohibition law without enforcement is worthless law.
When pressed by me why he was afraid to enforce the Church's perfect law, Canon 915, against Gov. Sebelius, he said he wrote her a letter saying she must respect his request, and that he was not required to take any further pastoral actions against her. Wrong.
Archbishop Naumann is like most other U.S. bishops who also have wrongly proclaimed: "It is not my duty to deny anyone the Eucharist."
I wrote
many columns
in the past regarding this dereliction of duty by the U.S. bishops, all published at RenewAmerica.com. In addition, a large number of Catholic faithful contacted their bishops in 2003 and 2004, asking them why they do not enforce Canon 915.
In fact, so many faithful Catholics wrote to their bishops that the bishops called for a "prayerful retreat" in June 2004 in Denver to address "the scandal of sacrilegious reception of the Eucharist by manifest sinners who obstinately persist in their grave sin."
At that conference, a lame "Committee" presented their "Statement" to the entire Conference. The "Statement" was put to a vote. Overwhelmingly, 186 bishops gave the terrible Statement their support, with six other bishops abstaining.
The 186 bishops all wrongly agreed that: "Bishops can legitimately make different judgments on the most prudent course of pastoral action."
All 186 bishops failed the people of God by not professing the truth that it is precisely their duty to enforce Canon 915.
Cardinal Raymond Burke has explained numerous times: "There has been a general failure in the Church to teach effectively the truth about the Holy Eucharist and what is required to approach the Sacrament worthily."
If the bishops give the persistent, obstinate, manifest sinner the Eucharist, they risk his eternal salvation. If they deny the sinner, they are saving the sinner from condemnation, from eternal damnation.
"Let everyone do all that is in their power to ensure that the Most Holy Sacrament of the Eucharist will be protected from any and every irreverent distortion and that all abuses be thoroughly corrected" (Redemptionis Sacramentum, 4-23-04).
So, we are again at the same place with Archbishop Naumann as we were 11 years ago. Only now he is more dangerous, as he is the Chairman of the USCCB Pro-Life Activities. And Archbishop Naumann still won't say that he will enforce c. 915. In his recent column, he admits that he is still afraid enforce c. 915 because he failed to even mention the words "Canon 915." And, now 11 years later, his faithful Catholics are still scandalized by his lack of enforcement.
In his recent column, Archbishop Naumann said that it is up to the manifest sinner to refrain from coming up for Holy Communion. But we have to ask him, "Why do you leave it up to the manifest sinner to refrain, by his or her own volition, not to come up to the altar to receive, when their consciences are so deadened by their sin?"
There is a wise old mediaeval scholastic axiom that teaches in Latin: "Quidquid recipitur ad modum recipientis recipitur." In English, "Lessons are received according to the nature of the recipient." Some persons are obstinately resistant to revealed truth. And in most sinners, their nature or disposition is what has rejected Church teaching and law.
The ministry of the bishop is "courage and readiness to suffer for the truth." This is what Cardinal Ratzinger, Prefect of the Congregation for the Doctrine of the Faith, said in an address to the Synod of Bishops in Rome on 10-6-01. He said that a bishop must risk losing his head rather than hand Jesus over to sacrilege.
Contact Archbishop Naumann:
Most Rev. Jos. Naumann
Chairman, USCCB Pro-Life Activities
3211 Fourth Street NE
Washington, D.C. 20017
202-541-3000
http://www.usccb.org/about/pro-life-activities/life-issues-forum/catholics-public-life.cfm
© Barbara Kralis
RenewAmerica analyst Barbara Kralis also writes a column for RenewAmerica.
---
The views expressed by RenewAmerica columnists are their own and do not necessarily reflect the position of RenewAmerica or its affiliates.
---