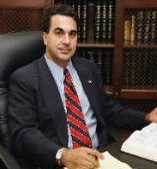 Monte Kuligowski
Brian Williams plays pat-a-cake with the president

By
Monte Kuligowski
September 9, 2010
When one considers the rules that were set during the 2008 presidential primaries and election campaign, it's no small wonder why journalists are afraid of Barack Hussein Obama, Jr. It's also no wonder why Obama was so emboldened in his disregard of the American people and the Constitution.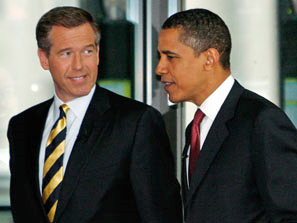 We learned from the Penn memos that the Hillary
campaign
thought about publicizing Obama's lack of American roots by pointing out his middle school education in Islamic Indonesia, etc. But ultimately, the details of Obama's Muslim influence had to be kept away from the public. To be safe, facts were suppressed to prevent Hillary from being labeled a "racist."
The mere fear of being labeled a "racist" was enough to disarm Hillary.
John McCain was even more complicit in establishing Obama's immunity from legitimate questions and ordinary information.
Early on, the McCain campaign went so far as to say that the use of Obama's own middle name was off limits.
As if that weren't crazy enough, John McCain's brilliant advisors decided next that Obama's anti-American, Marxist pastor was off limits. McCain might have been accused of being a "racist" for exposing the "Christian" religion of the real Obama. No sooner than the otherwise candidacy-ending story broke, Rev. Wright was tossed to the curb and the story was over. Forget about the fact that Obama had inhaled Wright's bitter gospel of Marxist theology and anti-American rhetoric for 20 years.
A giant "safe zone" (and a "Rev. Wright-free zone," as one "journalist"
put it
) was created for the One the media (and apparently John McCain) had been waiting for. How such bizarre rules could have been set to protect an inexperienced Chicago-style politician is in itself a fascinating study in sociology.
It would have been "racist" to mention Obama's middle name or to have pointed out his Muslim roots and anti-American religion. In that context, only a three-headed monster would dare ask to see the name of the hospital of his birth and the doctor's signature. Surely only a "racist" would want to see his college grades and education records. And only a double "racist" would dare to have concerns about Mr. Transparency's transparency.
Having been set high above reproach where all potentially damaging information was off limits, Obama was transformed into a liberal god. Even fake gods answer to no one and, in this case, the faithful are afraid to even ask reasonable questions.
If Obama had developed a personality disorder as an uprooted and disconnected child, having been tossed to and fro from the Islamism of his stepfather to the Agnosticism of his mother, making him a god certainly didn't help. No wonder he never pulled up a weeping, delusional fan (like Chris Matthews) with the words, "don't worship me, I'm no god." No wonder he
thought
he could heal the planet and cause the sea levels to subside. No wonder he
thought
that he, along with other global elitists, could "cap" the earth's temperature.
No wonder he's not afraid that the media will ever ask him a hard question.
That brings me to the recent
interview
by Brian Williams of NBC News.
Williams transitions to the part of the interview in which Obama is asked to respond to the recent poll numbers on his faith with this statement:
Mr. President, you're an American-born Christian.
After being confronted with the poll numbers which reveal that about a fifth of respondents believe the president is a Muslim, Obama responds awkwardly: "Keep in mind, those two things — American born and Muslim — are not the same. So — but I understand your point."
Williams then takes Obama back to the most recent polling numbers regarding the president's faith and Obama responds:
Well, look, the — the facts are the facts, right? So, we went through some of this during the campaign. You know, there is a mechanism, a network of misinformation, that in a new media era can get churned out there constantly.
Williams then asks Obama what the numbers (so many people believing Obama is a Muslim) say about Obama's "communications" or the effectiveness of his opponents.
To that, Obama responds:
Well, look, Brian, I — I would say that I can't spend all my time with my birth certificate plastered on my forehead. (LAUGHS) It — it is what — the facts are the facts. And so, it's not something that I can I think spend all my time worrying about. And I don't think the American people want me to spend all my time worrying about it.
That was an odd response considering that Williams was asking about the "Muslim" poll response and not the "birther" (Obama transparency) issue. Williams merely made an affirmative statement as a preface that Obama is an "American born Christian," and noted that significant numbers claim he is neither. From there, Williams cited the fact that many Americans effectively doubt the Christian narrative, with many believing Obama is an active Muslim.
Responding to a question not asked, we witnessed Obama using his classic fallacy of oversimplification and exaggeration: Obama can't spend all his time with his birth certificate plastered on his forehead. And the American people don't want him to spend all his time worrying about it.
Unsurprisingly, Williams failed to respond to Obama's oversimplification and exaggeration.
With regard to Obama's ridiculous answer, maybe Williams could have followed up with something like:
"With all due respect sir, I don't think anyone is asking for you to walk around with your birth certificate plastered on your forehead. Sir, all you've released to date has been a certification of live birth on the Internet which doesn't even name your birth hospital or physician of record. Considering that Hawaii certificates of live birth were issued on affidavit, can you at least see why some would like to see an actual birth certificate? Sir, don't you find it a little odd that though your hospital of birth has been narrowed to one of two, no one knows for sure the exact place of your birth?"
With regard to the actual question of the polling data on Obama's faith, Williams pointed to Obama's "communications" as a possible explanation for why people might believe he is a Muslim. In other words, maybe the narrative that Obama is a Christian wasn't communicated well enough.
But maybe Williams could have asked some hard questions relating to how people might read Obama's "communications" of still having no church home after leaving Wright's church some three years ago. Or maybe he could have touched on Obama's "communications" of referring to the Koran as the "Holy Qur'an" (with a roll of the tongue) every time he mentions the book. Maybe Obama could have explained why it is that he's not on record as having referred to the Bible as the "Holy Bible."
Or maybe Williams could have asked Obama how people might interpret his "communications" of being on
record
disparaging Judeo-Christian Scripture while curiously never having uttered a negative word about Islam.
In Obama's case, the list of questions relating to why people might question whether Obama has a Muslim faith is virtually endless.
If our brave journalists will not ask reasonable questions, maybe they could at least ask Obama if he thinks it's time to revive the Missouri
Truth Squad
on a national level — to threaten those who dare to question the president's "Christianity."
© Monte Kuligowski
---
The views expressed by RenewAmerica columnists are their own and do not necessarily reflect the position of RenewAmerica or its affiliates.
---