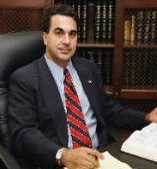 Monte Kuligowski
A 'sensible' newspaper would demand that Obama produce his records

By
Monte Kuligowski
May 16, 2012
Poor Jim Pendergraph. He is a candidate for Congress in North Carolina's 9th District. And he has recently fallen from the capricious graces of the Charlotte Observer newspaper.
The Observer initially endorsed Pendergraph in the Republican primary. But in an
editorial rescinding its endorsement
, Observer editors charge that: "[Pendergraph] has done nothing but embarrass us and himself."
What on earth did Pendergraph do? Embezzle money? Murder someone? Repeat the mistakes of fellow Carolinian, John Edwards? No. None of the above.
Pendergraph committed the unpardonable sin of political heresy.
Pendergraph had been "buddying up to one of America's more hateful egomaniacs and then joining with fringe 'birthers' to question President Obama's citizenship[.]"
The hateful egomaniac who profiles Hispanics just for the fun of it is none other than Sherriff Joe Arpaio. Pendergraph actually rallied with Arpaio in Huntersville.
And it gets worse. Relating to Obama's legitimacy,
Pendergraph actually said
, "'I have reason to be suspicious ... But I don't know. I haven't seen the facts. I think there's a lot of smoke and generally when there's smoke there's got to be fire somewhere.'"
You're not alone Jim. State election officials haven't seen the facts either.
At first the Observer mistook Pendergraph as a "sensible" party-switching moderate.
But palling around with Arpaio and expressing doubts about Obama's legitimacy caused Pendergraph to lose his moderate sensibilities.
Or had the Observer editors already lost their sensibilities in the Obama echo chamber? I'm going with the latter.
To be restored to objectivity, the left-leaning editors will have to sever all emotional attachments to Barack Obama. Emotions cloud sound judgment. I know it's hard to abandon blind love that shoots thrills up the leg and causes fans to avow that Obama is "sort of god."
So, in order to view Obama without rose-colored glasses, let's replace Obama with Sarah Palin. Now that the thrill is gone, let's imagine that Palin ran for president having Obama's background, complete with all the oddities and anomalies.
Our fictional Palin says she was born in Hawaii. But the island state has a documented history of certifying foreign births as Hawaiian. Palin's campaign first named one hospital as her place of birth (Queens). But later it changed the name to another (Kapi'olani).
Kenya newspaper archives reveal that Palin was referenced as Kenyan-born several times. Kenyan officials have referenced Palin as Kenyan-born. Palin's paternal family members have referred to Palin as Kenyan-born.
The conflicting African folklore prompted a partisan website to somehow get Palin's sealed "birth certificate" and post it online early in her campaign. Then her campaign followed up with a posting of its own. No certified paper copies were produced for state election officials. Select non-experts representing a partisan organization examined a document behind closed doors.
In Palin's case, would the press have noticed that internet postings do not meet the legal standard for production of documents? Or even the "Pawn Stars" standard for authentication? Would the media have been satisfied with computer images from Palin?
For over three years we were assured by the Palin campaign/administration that the bare bones certification posted online was the only birth certificate in Hawaii's archives. Hawaii Department of Health officials made several ambiguous and conflicting statements and never verified that what Palin posted online was what Hawaii had in its archives.
Rather than simply produce certified paper copies, Palin fought the release her birth certificate for years in lawsuit after lawsuit, wasting an untold amount of money in attorneys' fees.
Palin even allowed an Army officer to be court martialed and sentenced to six months in Ft. Leavenworth prison for demanding to see her birth certificate prior to deployment.
Then, shockingly, on the eve of the release of a book asking, "Where's the Birth Certificate?" and in the midst of Donald Trump's table pounding campaign, Palin gathered the press and "released" a birth certificate. The document that did not exist for over three years suddenly appeared online complete with a named hospital and a physician's signature. The doctor is, of course deceased and not one witness to Palin's Hawaii birth is alive.
Now, if Obama were Palin do you suppose the mainstream media might have had a few questions? Why were we told that the birth certificate had been online for over three years? Will you send certified paper copies to interested state election officials? Will you allow the copies to be corroborated with the original? How could you be so coldhearted to allow Lt. Col. Terrence Lakin to serve six months only to now "release" your birth certificate?
Imagine that Palin is so stanchly secretive that she refuses to sign releases to produce any personal information, including education, passport, vital, hospital and other records. The only documentation that we have was obtained via private investigation and the AP's securing of records from a third world country which Palin had not blocked in time.
After discovering that Palin had attended elementary school in Islamic Indonesia registered as Sari Soetoro, and as citizen of Indonesia, do you suppose the media would have found it "sensible" to investigate? Did Palin's stepfather, Lolo Soetoro, adopt little Sari? Indonesian law would seem to indicate so; inasmuch as she was registered as a citizen.
Do you suppose the press would have found it "sensible" to demand Palin's college applications and records to see whether Sari registered as a foreign college student in the U.S.?
Would it have been deemed "sensible" to check Sari's passport records? Would Sari's traveling to Islamic Pakistan during college break at a time when U.S. citizens were advised against it have sparked a little curiosity in the press?
Would the fact of a
passport records breach
during the campaign by a Palin sympathizer have warranted an investigation?
What if it were discovered that Palin was using a Social Security number issued on application from a state in which she had never resided — Connecticut.
What if it were discovered that probable caused existed to conclude that the belated computer image presented as her birth certificate and the equivalent of a Selective Service registration form were found to be forgeries?
If all the Obama oddities and anomalies were Palin's do you suppose it would be "sensible" for the press to demand that Palin produce her relevant records immediately? I think you know the answer Charlotte Observer editors.
With regard to the doubts of Jim Pendergraph: how sensible, indeed.
An earlier version of this piece first appeared at WND.com.
© Monte Kuligowski
---
The views expressed by RenewAmerica columnists are their own and do not necessarily reflect the position of RenewAmerica or its affiliates.
---