James Lambert
Former witch spreads the Gospel of Christ during the Halloween season

By
James Lambert
October 31, 2012
Annie Meadows has a very compelling and remarkable story. As a girl she was introduced to the occult through dabbling with the Ouija board. She also became fascinated with tarot cards and fortune telling, and later black magic. Annie kept this secret from her parents who had no idea how deeply involved she was in the occult. Although Annie never officially joined a coven, she was convinced that she was destined to become a witch.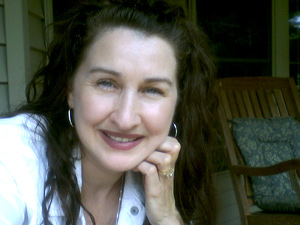 Annie's immersion into the occult eventually reached the point where a series of seminal events led her to open herself up to a greater power source; the power of the Living God. Through her disillusionment with life, she started to seek after God, and find out what His plan was. When Annie finally encountered Jesus Christ, it was to be an encounter that she would never forget.
Soon afterwards, the former witch traveled to a remote desert location with her future husband, Peter, and burnt each and every occult item she owned. Annie knew, beyond a doubt, that her life had truly been radically transformed.
With the encouragement of her new pastor, Annie joined her church's music ministry. Annie's prior involvement (as a vocalist) in a Robert Morris Agency's music group demonstrated her vocal talents and ability to become a successful contemporary Christian music singer.
Over the following years Annie collaborated with a number of notable Christian artists such as
Jars of Clay, White Heart,
Sheila Walsh, Ruff Taff
,
Bryan Duncan, Michael O'Brian
,
Darrell Mansfield
,
Rebecca St. James and David Meece. Currently Annie's music ministry tours all over America and the world, sharing the good news of Jesus Christ. For some of the highlights on her ministry go to
www.Faithrunner.org
.
Now during this Halloween season, Annie sees the fall holiday as a way to reaching teens for Christ. She recently confirmed that Wicca is considered to be one of the fastest growing religions in the world. That is why the former witch has produced a Christian tract entitled, "I was once a Witch — This is my story."
Meadows story is also chronicled in the newly released book, "16 Amazing Stories of Divine Intervention" (
www.16AmazingStories.com
). The book also features other remarkable stories of just how far a loving God will go to reach people with the 'Good News' of Christ. Included in the book are true stories on: Hollywood Icon — Steve McQueen, Hall of Fame baseball player — Mickey Mantle, U.S. Presidents Ronald Reagan & George Washington, Rock Stars — Brain Welch (Korn) & Brian Maclean (Love), Texas Ranger outfielder — Josh Hamilton, former San Diego Charger — Darren Carrington, former
Playboy
Bunny — Brenda McKillop, former YGA managing editor — Michael Glatze, former LDS member — Patricia White, former gang leader & felon — Ruben De La Torre and Mustard Seed Faith lead guitarist — Oden Fong.
© James Lambert
---
The views expressed by RenewAmerica columnists are their own and do not necessarily reflect the position of RenewAmerica or its affiliates.
---