Stella Lohmann
Protests images crown Twitter, Facebook, & blogs as the new media

By
Stella Lohmann
September 21, 2009
On 9/12 crowds descended upon Washington to the tune of 1.5 million protesters according to the National Park Service in Washington, D.C. Those who came from all over the nation including Hawaii and Alaska — armed with handmade signs and crying out for freedom against fears of pending socialism — did more than shut down the city with massive traffic jams. Their incredible phone use shut down providers and limited access during most of the day.
Imagine what the world and particularly Iranians thought seeing the steady flow of images coming this time from America to them! Just this week Iranians revisited the streets of Tehran like they did just three months ago to denounce their government and its leader — claiming tyranny and charging a stolen election from the pro democracy candidate. Twitter and Facebook made the demonstrations today and yesterday personal to the world.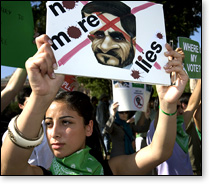 Likewise, the 9/12 Project March showed the world what a peaceful protest really looks like as an expression of free speech!
Is this the beginning of the end of mainstream media reporting of the news? Hopefully, yes. Imagine
ABC's Charlie Gibson admitting on Chicago radio that he was not aware of the Acorn story
before Congress defunded it on Thursday. Gibson and Speaker of the House Nancy Pelosi must have been on the phone together because she said she didn't know about the Senate's passage of a resolution to take away Acorn's Housing and Urban Development funding.
Truly those who use Facebook and Twitter have emerged as the
'new media'
sending quick messages, links, photos and videos in a steady flow 24/7. They are more informed than most Americans who continue to rely on the morning and evening newscasts. The twenty three minutes of news on network television is proving lacking to those who now opt to news feeds via phones and computers in real time.
Think about the impact of having
18 million Twitter users combined with 30 million on Facebook.
That's forty eight million possible users accessing their personal computer lists and so on. The numbers are exponentially increasing. No longer is social networking taboo for the older generations. No longer are young people uninterested in political news and issues. The proof is in the Tweets and status lines.
© Stella Lohmann
---
The views expressed by RenewAmerica columnists are their own and do not necessarily reflect the position of RenewAmerica or its affiliates.
---