Stella Lohmann
Susan Boyle and Tiger Woods: The last shall be first and the first shall be last

By
Stella Lohmann
December 16, 2009
Which is stranger? To see the world-famous Tiger Woods admitting to a hidden lifestyle of adultery or witnessing Susan Boyle's swan like transformation to international acclaim? Reminders of ageless stories of
rags to riches
or
a fall from grace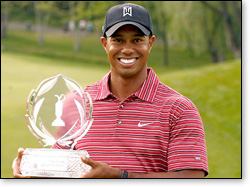 come to mind: one inspires; the other shatters. Susan sang "I Dreamed A Dream" and Tiger sunk his. His began at age five and hers at age 47.
Woods, undoubtedly the world's wealthiest athlete, acquiring almost 1 billion dollars in life time earnings, won't see that seven digit figure fully materialize at least for the near future. Damage control and a return to sanity from the media frenzy of the past two weeks are calling for drastic measures.
His announcement Friday that he would take an indefinite leave from golf
in order to deal with his personal life has given sponsors an open to show Tiger for the time being at least. Accenture, the world's largest consultant agency, has announced it will give Tiger that time he says he needs from his endorsement obligations.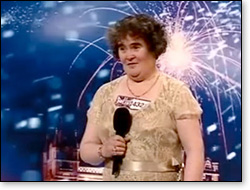 Susan Boyle on the other hand is living her Cinderella Dream. No skeletons in the closet after captivating the world with an extraordinarily unexpected brilliant
performance on Britain's Got Talent. S
he ends 2009 with a million dollar debut album and an international special on the
TV Guide Channel singing a duet with her idol, Elaine Page.
What lessons do we derive from both icons stories? Quips of
here today, gone tomorrow
don't fit rightly. The American people are overwhelming forgiving. If they can excuse former Atlanta Falcon quarterback
Michael Vick for his animal abuse convictions
and this week welcome him back to the Georgia Dome now wearing a Philadelphia Eagle uniform, well, Tiger can expect even more from a leave of absence paid for in full via his years of good will sown into the sport of golf.
The shocking reality is Tiger lived a double life and the public bought the marketing version. Why? Because it sells and it felt good to see a wholesome youth rise to manhood with a seemingly seamless personality, void of any dark traits. On the other hand, most expected Susan Boyle to be one of those bloopers airing on television reality shows. She didn't look like a star, act like a star, but
did
she sing like a star.
Heading into 2010:
Susan is a multi million dollar singing sensation having met
her childhood idol, Donny Osmond
, as a bonus of her new found fame.
Simon is without Paula Abdul on American Idol this upcoming season but is incredibly busy managing Susan's meteoric success making up for decades of dreaming her dream.
And Tiger may be learning to do what "Tiggers do best!" — bounce.
© Stella Lohmann
---
The views expressed by RenewAmerica columnists are their own and do not necessarily reflect the position of RenewAmerica or its affiliates.
---