Stella Lohmann
The President has spoken; the GOP has responded; now it's time for the People!

By
Stella Lohmann
January 31, 2010
Atlanta, GA — On Tuesday, February 2nd leaders from eight nationally recognized conservative organizations, representing an estimated 17 million supporters, will host the first
State of the Union, Voice of the People webcast LIVE from Washington, D. C
at 8 o'clock in the evening. Nationally recognized
author and talk show host, Herman Cain
will moderate the event of what is expected to be one of the largest webcasts in political history.
"It's about time that the American people be heard and remind government that they work for us!" said Allen Hardage, the executive producer of the event. "The Obama Administration is still trying to mold us into his agenda instead of serving the will of the people. It's got to stop. Any other President would have considered the election of Republican Scott Brown to the U. S. Senate in Massachusetts and realized,
"the people have spoken
," but not this President!"
While polls increasingly show that Obama is losing approval from the America people, conservatives like Hardage and Virginia Galloway, Georgia State Director of Americans for Prosperity grassroots organization, are using the momentum to build support for the 2010 elections.
"The American people were not taken in by the President's empty rhetoric on Wednesday. They are angry that their real concerns about health care reform are glossed over as the President not communicating his agenda well enough. I'm glad the voice of the people will be heard Tuesday," said Galloway early Saturday morning. The President of
Americans for Prosperity
, Tim Phillips will be one of the eight leaders addressing the American people during the webcast held at the Family Research Council in Washington, D. C.
The eight organizations include: Concerned Women for America, Family Research Council, Institute for Liberty, Tea Party Patriots, FreedomWorks, The Intelligent Thinkers — The Voice, Americans for Prosperity and Media Research Council.
Clusters of Americans gathered nationwide to watch the President's State of the Union address on Wednesday. Not many at the Atlanta AFP gathering said they expected any real acknowledgement of their concerns over healthcare and what has now been labeled a 'run away effort to remake America' but still came. Some talked about an Obama Bingo card released by
Americans for Tax Reform which listed words most likely mentioned in the President's address.
Others shook their heads but most agreed that efforts through organizations like AFP have made the difference in them becoming more in tune in the political process, confessing they are in the movement for
the long' haul.
The President's hope and change message may have shifted yet again but the resolve of those anticipating the national State of the Union, Voice of the People webcast certainly has not.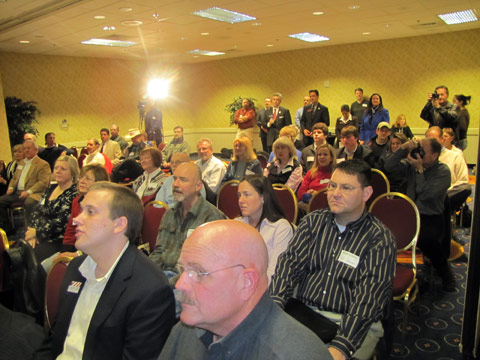 © Stella Lohmann
---
The views expressed by RenewAmerica columnists are their own and do not necessarily reflect the position of RenewAmerica or its affiliates.
---