Stella Lohmann
Freedom Czars don't need Senate confirmation

By
Stella Lohmann
April 16, 2010
Tax Day Tea Parties require stamina, resolve and a good hat — to protect from the sunshine in Hotlanta, Georgia especially! So I wore my "Freedom Czar" hat, the one Laura Ingraham's radio producer gave me at CPAC in February. The red, white and blue colors were perfect for such a sunshiny day of patriotic protest! So when it was time I forged into the masses of outdoor tea parties to 'bake' in the mid day heat, I was ready!
First stop was Henry County where almost two hundred listened to not only candidates and Newt's daughter, Jackie Gingrich Cushman, but yours truly. The fact is the organizer for the Conservative Republican Women is a Facebook friend and we've bumped into one another at different events from time to time. So she asked me to talk about one of my articles, "Tea Party Movement, Coming out of the Matrix."
The next stop was downtown Henry County and an old fashioned lawn chair celebration and political rally. That's where GA State Representative Steve Davis spied my hat and my 'Czarship' so I played along. He took a photo and shot it off to Facebook and the rest is history. It wouldn't be the last time for others to comment on THE hat.
Later at the Atlanta Tea Party where an estimated 8 to 10 thousand returned for the second Tax Day Tea Party, fate would have it that Rep. Davis would again spy me and my hat and proceeded to announce on stage to the masses my new title — Georgia Freedom Czar! He pointed to me in the wings of the stage so I waved the hat to the crowd! A few friends later told me they were the really loud ones cheering in the crowd!
Actually, to think about it, those attending tea parties are all self-appointed Freedom Czars in one way or another. How many times in the past year have they called a friend, attended a rally or meeting, or listened or talked on the radio about defending America and what has made it great?
We may not all have a hat or a story to tell about how we acquired such distinction but we do know that the reality is clear — all those who ventured out on a Thursday to stand with a sign and or stand with a neighbor or friend — IS a Freedom Czar. If President Barack Obama can appoint an unprecedented number of Czars for any and every purpose under heaven — all unconfirmed by Congress — then why not add a few million more to advocate for Freedom?
Hear ye, hear ye! Calling all Freedom Czars — No credentials or Senate confirmation needed — Must have heart for America, Constitution and Liberty. Only those with courage to show up need apply.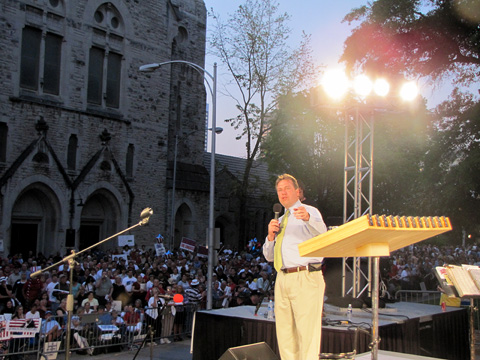 (Photos by Stella Lohmann)
© Stella Lohmann
---
The views expressed by RenewAmerica columnists are their own and do not necessarily reflect the position of RenewAmerica or its affiliates.
---