Stella Lohmann
Palin says Lt. Col. West her choice for VP

By
Stella Lohmann
March 3, 2012
March 3, 2012 — Former Governor Sarah Palin told Fox News today that if she were picking a Vice Presidential nominee to fill her ticket, it would be
Lt. Col. Allen West
, the Congressman from South Florida's 22nd District encompassing Broward and Palm Beach Counties. West is a regular target of Democratic National Committee Chair and fellow FL Congresswoman Debbie Wasserman Schultz for his blistering criticism of what he calls the President's mishandling of national security, U.S. ally, Israel as well as threats of Sharia Law and Jihad in America.
"He would be the one I'd pick," said Palin whose son, Track now age 22 and married, was deployed at age 18, months after she was chosen as Senator John McCain's running partner for POTUS. Palin says she's leery of a possible brokered convention this summer and dismisses speculation that she has a decision to make. "I won't be asked (to be the nominee) so in reality I would be wondering who are those in the smoky back rooms making a decision for our nominee."
Palin says the release of HBO's movie on her life spanning the 2008 General Presidential Election is not a movie she will see. "It's Hollywood. I won't see the movie and I don't believe Senator McCain is going to either. It's full of lies."
Palin's documentary, "
Undefeated," produced and directed by Stephen Bannon
was released in 2011 in theatres nationwide. Palin had no part in its development or in the narrative.
Recently deceased Big Government.com culture warrior, Andrew Breitbart,
joined Conservative radio talk show host and author, Mark Levin
, and pundit,
Tammy Bruce
weaving Palin's personal and political career timeline with anecdotes, media videos and testimonies of those who worked with her in Alaska when she was Governor, Mayor of Wasilla, television sportscaster as well as a school girl basketball ace nicknamed, Sarah Barracuda!
Palin will join a panel on Fox Business News for full coverage of Super Tuesday returns on March 6th.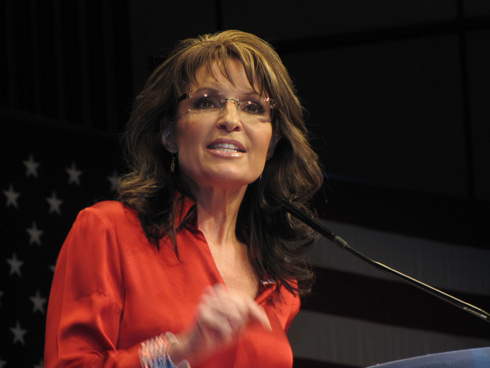 © Stella Lohmann
---
The views expressed by RenewAmerica columnists are their own and do not necessarily reflect the position of RenewAmerica or its affiliates.
---