Lloyd Marcus
Restoring America: one political race, one conservative candidate at a time

By
Lloyd Marcus
April 30, 2013
Upon our brief return to our home in Florida, Sammy, our greyhound gave me a ho-hum look and retired to his doggie-bed; not the excited welcome home I expected after being away for over a month. I fear the house-sitter has stolen the affection of my dog.
Mary and I have been in Massachusetts feverishly working to make Conservative Michael Sullivan the Republican nominee in the Massachusetts special election to fill the U.S. Senate seat vacated by John Kerry.
Many of you may wonder why my Conservative Campaign Committee has been working so diligently on the Massachusetts Senate race. What makes flipping the Massachusetts traditionally Democrat seat to a Republican seat of such national importance? Well, it could start a ripple effect in the political landscape.
Folks, in case you have not noticed, we are losing America to the socialists/progressives. Obama is like a political Dr. Frankenstein who has created his lifelong dream, a socialist/progressive monster. With his eyes bulging with excitement, Obama yells with elation, It's alive! It's alive!
Facing little to no opposition from terrified Republicans, Obama's socialist/progressive monster is wrecking havoc making all of the Left's cultural and societal dreams come true; the redefinition of marriage, government control of your children, suppression of Christianity, disarming the American people, open borders and amnesty for illegals, a majority of the population on government assistance and most devastating of all, government having total control of our behavior – deciding who lives and who dies via Obamacare.
For those of you who think I am crazy or exaggerating, I offer a few current events.
Attorney General Eric Holder declared, "amnesty is a civil right." Holder promises government will work to protect illegal aliens.
http://www.wnd.com/2013/04/holder-amnesty-is-a-civil-right/
We have been told 11 million – but the reality is the new immigration bill will bring in 33 million new immigrants over the next 10 years. Rest assured, 25 million will vote Democrat for the freebies and have no desire to assimilate; thus, marking the end of the Republican Party.
http://dailycaller.com/2013/04/26/anti-immigration-group-immigration-bill-to-bring-in-at-least-33-million-people/
In keeping with the Obama administration's continuing assault on business, Harry Reid is consumed with rushing through an internet sales tax.
http://blogs.marketwatch.com/election/2013/04/25/reid-tries-to-bring-internet-sales-tax-bill-to-final-vote/
Did you ever believe a day would come in America when government would force your daughter to indulge in lesbianism? A government run school curriculum forces middle school girls to stand in front of the class and kiss pretending they are lesbians.
http://www.thegatewaypundit.com/2013/04/outrage-alert-child-abuse-in-the-govt-run-school-curriculum-children-forced-to-kiss-same-gender-in-simulated-homosexuality-video/
Exposed during the Dr Gosnell trial is the practice of "snipping" which is sticking scissors into the back of the baby's neck and cutting the spinal cord. Snipping is done to kill those annoying babies with such a will to live that they survive the abortion undermining the abortionist. The shocking and horrific abuses of the poor and minority women revealed in the Dr Gosnell trial has drawn not one word of criticism from Planned Parenthood. Meanwhile, Obama is the first sitting U.S. president to address/speak at a gala for Planned Parenthood which is essentially an abortion factory – especially of minority babies. Obama went as far as to demonize anyone opposing abortion. Planned Parenthood aborts 4000 babies a day folks – 4000 babies a day.
http://www.theatlantic.com/national/archive/2013/04/why-dr-kermit-gosnells-trial-should-be-a-front-page-story/274944/
We, the Tea Party, and other patriots who love America are the perceived peasants who have risen up with pitchforks to challenge the out-of-control beast created by Obama. But what is our game plan – our strategy for victory? Simple: Install Conservatives in as many key positions as possible. This strategy along with prayer for divine help and guidance is the only way to restore our great country to the vision of our Founding Fathers. We restore America one race – installing one conservative candidate at a time.
So, this is why Mary and I have been away from our Florida home living in Massachusetts for the last month or so – abandoning my dog Sammy and her cat, Marilyn.
Filling Kerry's seat in the Senate with a Conservative Republican will give majority leader Harry Reid one less rubber-stamped vote. A Conservative in Kerry's seat would also be another thorn in Obama's side joining fellow constitutionalists Marco Rubio, Mike Lee, Rand Paul and Ted Cruz.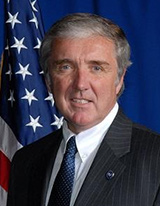 If the Republicans can find the courage to stand on principles and do well in the 2014 midterm elections, we could possibly, dare I say it, win the Senate. Then, we can impersonate Donald Trump and say, "Harry Reid, you're fired!"
This is why the Senate race in Massachusetts is so much bigger than just Massachusetts. Patriots, please contact your Massachusetts family, friends and associates and encourage them to vote for the conservative Republican choice, Michael Sullivan for U.S. Senate, in the Tuesday, April 30th primary.
Also, can anyone advise how I can rekindle Sammy, my greyhound dog's loyalty and affection?
© Lloyd Marcus
---
The views expressed by RenewAmerica columnists are their own and do not necessarily reflect the position of RenewAmerica or its affiliates.
---