Lloyd Marcus
The curious case of black advocates and MSM hatred for Dr. Ben Carson

By
Lloyd Marcus
November 30, 2015
To you remaining black members of my family who take issue with me being an outspoken black conservative Republican, I ask you ponder the following. Comedian Arsenio Hall was known for his comedic bit, "Things That Make You Go Hmmm..." Well, here are a few facts regarding self proclaimed black advocates and the mainstream media's disdain for Dr Ben Carson that make you go hmmm.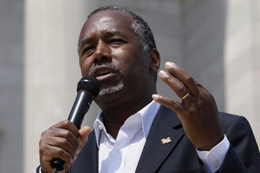 Summarizing, Dr Carson's life is remarkable and inspirational. He grew up fatherless in the hood with his hardworking single mom. She turned off the TV and ordered Ben to read and give her written book reports. Though illiterate, Carson's mom pretended to read his book reports. This troubled black kid from the hood overcame his demons and grew up to become a world renowned neurosurgeon. A movie was made about Dr Carson's life titled, "Gifted Hands: The Ben Carson Story" starring Oscar winner Cuba Gooding Jr as Dr Carson.
http://bit.ly/1SnKzLB
If Dr Martin Luther King, Jr were alive today, Dr Carson would epitomize his dream of blacks (Negros) being proud dignified contributors to society in America. So why does Black Lives Matter, the mainstream media, the NAACP and the Democratic Party despise and seek to destroy Dr Carson? Since entering the race for the White House, self-proclaimed black advocates and media launched an all-out no-tactic-or-lie-is-too-low campaign to knock Dr Carson out of the race for president.
http://bit.ly/1MVpfJK
But guess who supposed advocates for black empowerment rallied behind and transformed into heroic icons of civil rights? The answer is black criminals; Treyvon Martin, Michael Brown and Freddie Gray. Keep in mind that the supposed advocates for blacks that I mentioned hate Dr Carson. Shouldn't that make a thinking black person go hmmm?
The Black Lives Matter movement was founded on the lie that a white cop shot Michael Brown while surrendering with his hands up. Based on the evidence, Brown robbed a convenience store, assaulted the clerk
http://bit.ly/1PSbIsj
and was shot attacking a cop inside his police car. Brown was trying to take the officer's gun.
http://bit.ly/1NymQKy
And yet, the mainstream media and Democrats ignored the grand jury's report and continues to promote the lie that Brown was gunned down by a racist white cop while on his way to his grandma's house. Black Lives Matter, mainstream media and other so-called black advocates persist in ignoring facts; such as in only 35 years 324,000 blacks have been killed by fellow blacks. As a matter of fact, 93% of blacks are killed by other blacks.
http://bit.ly/1NSDXRE
Racist white cops "ain't" the problem y'all.
Drug dealer Freddie Gray had a record as long as your arm.
http://bit.ly/1lOh0bM
Treyvon Martin was also a prolific thug.
http://bit.ly/1NgbZmG
So again I ask, why would so-called advocates for black empowerment make saints of black criminals while relentlessly attempting to demonize Dr Carson?
Dr Carson's path of education, hard work, Christian faith and right choices led him to extraordinary success and possibly even the Oval Office. Martin, Brown and Gray's criminal choices made them menaces to society and led to their early deaths. Wouldn't true black advocates encourage black youths to mimic Dr Carson rather that elevating criminals Martin, Brown and Gray to black superstar status?
Common sense tells us that self proclaimed black advocates and the mainstream media obviously have another agenda other than their stated justice/empowerment for blacks.
The truth is these slime-ball so-called black advocates and media hacks do not give a rats' derriere about blacks. If they did, they would honestly deal with the self-induced issues plaguing the black community; epidemic school dropouts, drug abuse, black on black crime and out-of-wedlock births. But no, black advocates and media would rather blame conservatives, Republicans and white America.
Black Lives Matter, mainstream media and Democrats want blacks to conclude that Martin, Brown and Gray were the products of being victimized by racist white America; particularly conservatives and Republicans. That is a lie. Life is about choices. Circumstances tend to reveal who you are inside.
My 87 year old black dad also grew up poor and fatherless in the Baltimore hood. As a little boy, Dad chose to earn money shining shoes on weekends at the Greyhound Bus Station. One of his buddies chose crime; two kids in similar circumstances making different choices. Dad was taught responsibility at an early age. I could hear the pride in dad's voice as he told me how he spent his first earnings. Out of $1.25 he made one weekend, dad paid rent to Aunt Nee, took in a movie with candy and popcorn and purchased a t-shirt. Dad bragged to a friend,
"Yeah man, I'm buyin' my own clothes now."
I heard through the family grapevine that some relatives are embarrassed by me publicly proclaiming that blacks are not victims of racist America. To them I say,
"Sorry guys, but we are not."
My goodness, all one has to do is look around.
Racism along with every other sin will exist until Jesus returns. However, the notion that blacks are suffering, held back, routinely murdered by cops and victimized by "white privilege" is absurd. These narratives are manipulative tools to keep blacks voting for Democrats. Suckered blacks believe voting for Democrats will keep racist white America and Republicans at bay. After 50 years of voting for Democrats, black life continues to spiral downward in cites controlled by Democrats.
http://bit.ly/1jnIsey
Blacks from the hood like my dad and Dr Carson who achieve their American dreams contradict the Democrats' and mainstream media's it-sucks-to-be-black-in-America story line. The undeniable truth is the American dream is alive and well for all who choose to go for it. The only real stumbling block for blacks is Obama's economy.
http://nws.mx/1Pg3mup
So why has the mainstream media sacrificed its journalistic principles to help Democrats win black votes? The answer is the media and Democrats are on the same page; socialist/progressive – both desire an America in which the majority is dependent upon and controlled by a tyrannical big government. Oh and both have a bug up their derriere about Christians. Democrats and mainstream media will vehemently deny it, but it is true.
In essence, elitist mainstream media and Democrats want George Orwell's novel "1984" – a nation of supplicants subservient to Big Brother. These truths should make logical thinkers go hmmm.
© Lloyd Marcus
---
The views expressed by RenewAmerica columnists are their own and do not necessarily reflect the position of RenewAmerica or its affiliates.
---