Marielena Montesino de Stuart
TOTAL DISSONANCE: When certain nuns and certain rhythms come together

By
Marielena Montesino de Stuart
March 22, 2014
The "New Evangelization" – on a whole new level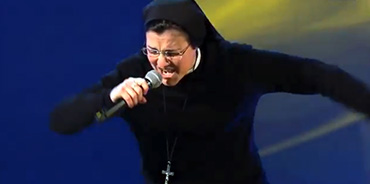 I was born and raised in Cuba. So, rhythm is in my blood.
In fact, it is the Cuban people's sensitivity to music and the arts that has served as a numbing agent for more than 55 years, in order to ease the pain of their daily persecution under Castro's bloody Communist regime.
I spent many years pursuing studies in classical and jazz piano performance – and I appreciate talent when I see it.
But there is a time and place for everything. Or, is there?
The Catholic Church and rhythm
Good taste and respect for religious institutions was abandoned a long time ago, under the Vatican II modernist guidelines. There is no such thing as a "time and place for everything" anymore. This is what led to the abandonment of Gregorian chant – in exchange for drums, electric guitars and people hugging each other and singing love songs to themselves during Mass – while Christ bleeds on the Cross.
And now that Francis has opened the floodgate of modernism even wider, anything goes.
According to the description found under the YouTube video presented below, the "Superiors" of the Orsolina della Sacra Famiglia, enthusiastically supported Sister Cristina Scuccia's performance in Italy's popular amateur show, The Voice IT. After watching Sister Cristina Scuccia's performance, I believe she definitely has found her calling on stage – but it has nothing to do with being a nun.
The worst part is that her performance sends a distorted message to Catholic children, who already have enough misleading messages to deal with, inside the pan-religious environment of the modern Catholic Church.
I thought I had seen it all when I was unfortunate enough to come across the
contemplative
Cistercian nuns at the Abbey of Marienkron in Austria, who joined the Vatican II modernist circus – and turned their chicken farm into a massage parlor, where they now
contemplate
half-naked men and women who pay for massages, Tibetan meditation and other exotic relaxation practices.
And what about the "Dancing Jesuit?" Oh... you don't want to miss this ultimate expression of modernism in the Church.
Are the Cistercian massage parlor, the "Dancing Jesuit" – and now, the screaming Orsolina nun – all part of the "New Evangelization?"
God help us, as we watch Holy Mother Church and her religious orders being placed on the altar of Satan.
Someone has to say the truth...
|||||||
Please click
HERE
for important copyright terms and conditions, and instructions for quoting excerpts.

Please click HERE to send a comment.
© Marielena Montesino de Stuart
---
The views expressed by RenewAmerica columnists are their own and do not necessarily reflect the position of RenewAmerica or its affiliates.
---