Rev. Austin Miles
Joel Osteen with Nik Wallenda at Canyon Walk

By
Rev. Austin Miles
June 26, 2013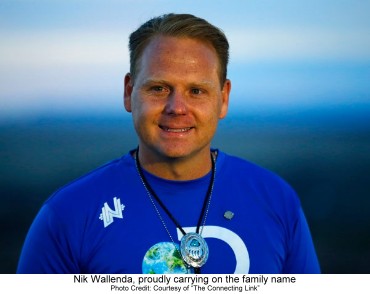 Nik Wallenda is a true megastar. Not for effectively portraying others on the big screen, but by simply being himself.
He is a highly skilled performer who executes pulse squeezing dare-deviltry on a thin high wire stretched across familiar landmarks at dizzying heights, while battling the unforgiving forces of nature.
This includes driving rain and visibility-blocking mist such as he encountered last year while walking across Niagara Falls, and spontaneous blasts of wind from above, below, and from each side as he walked over a section of The Grand Canyon this past Sunday.
The spectacular event, that aired live on Discovery Channel, set a new record for his family, The Great Wallendas. The patriarch of that acclaimed circus troupe, the late Karl Wallenda, was Nik's great grandfather.
A star in every sense, Nik does not hide or mask his Christianity. Spectators and TV audiences around the globe have come to accept and respect the fact that his strength, courage and performance ability comes from God. No other source could explain his exceptional skills.
Joel Osteen, the popular Houston pastor was at his side during that spine-tingling event. Before Nik stepped out on the wire his family gathered in a circle holding hands as Pastor Osteen prayed for Nik's safety and success. He also prayed throughout the walk.
Pastor Osteen has become the rock star of Christianity, his own celebrity becoming so far reaching that he not only has attracted followers but also countless fans.
His presence was a comfort to Nik and his family as he began his historic 1400 foot walk over treacherous rocks while precariously perched on that wire 1500 feet over them as he moved cautiously, step by step, toward his goal.
Early in his walk, bursts of wind (recorded at 30 miles per hour) began assailing him as he strained to maintain his equilibrium while holding a 47 pound balancing pole.
Tension swept the area when he stopped and knelt down on one knee. His strength had begun to ebb, his legs and arms approaching fatigue. What made it even more difficult was an optical illusion that manifested in front of him.
It appeared that the wire ahead was waving back and forth and rippling up and down, which for an instant, demolished his perception and concentration. Joel Osteen was seen briefly in intense prayer during that nail biting moment.
As he slowly got back up on his feet, he began to Praise God, audibly saying, "Be with me Jesus...I love you Jesus...Thank you God for giving me new strength and for taking away my anxieties."
A sigh of relief covered the canyon when Nik triumphantly reached the other side, hopped off the wire, then knelt down and kissed the ground.
Even though walking a wire instigates harrowing challenges dictated by nature when performing outside, Nik is more comfortable on that wire than anyplace else. It is in his blood...a transfusion supplied by his wire-walking family. Determined from the beginning, Nik kept hopping on the practice wire inches from the ground in the backyard, beginning when he was two years old.
Following a circus performance in Wheeling, W.Virginia, Nik's great grandfather, Karl, relaxed in a chair by his trailer. After sipping his martini he said, "Y'know? Now I feel mine age." He pointed to his high wire in the distance silhouetted against the sky."But ven I go up on dat vire, I feel like young man again. Dot is vy I luf de high vire."
It was in his blood. He was so solid and secure up there that it seemed doubtful that anybody could have knocked him off. On March 22, 1978 while doing a walk between the 10 story towers of the Condado Plaza Hotel in San Juan, Puerto Rico, a sudden gust off wind made the wire sway because it had not been rigged properly, tragically causing circus legend, Karl Wallenda, to fall to his death.
Seeing the relief and joy expressed in the faces of Nik's family when the canyon walk was successfully completed, one might ask, 'Isn't it time to retire? You've done it all and accomplished the greatest records in high-wire history.. Don't push your luck. Maybe it's time to quit.' Not so fast.
Retirement is out of the question. Nik had already planned his next walk, between two skyscrapers in New York to which Mayor Bloomberg boomed, "Not in MY city!"
However, you can bet on more sensational sky-walks ahead..Nik Wallenda is a performer. Once a performer, always a performer. The show MUST go on. Besides, it is in his blood.
Nehemiah 8:10: "For the joy of The Lord is your strength."

Rev. Austin Miles in his earlier years was a circus ringmaster and worked closely with Karl Wallenda and his family for over 20 years.
© Rev. Austin Miles
---
The views expressed by RenewAmerica columnists are their own and do not necessarily reflect the position of RenewAmerica or its affiliates.
---