Rev. Austin Miles
Indiscriminate police killings of family dogs

By
Rev. Austin Miles
January 16, 2014
Outrage is growing over the shootings of beloved family pets by police officers who have stormed into homes, oft times with a wrong address, and quickly kill the family dog even when the dog does not pose a threat of any kind.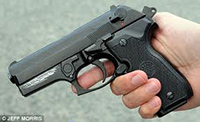 Race car Chaplain Dennis Guinta
sent me a clip about a 7 year old dog named,
Brandi,
that lived with her family in
Frederick County, Maryland.
The police barged into their home, the dog's owners had politely opened the door and their Labrador retriever bounded in to greet them with a wagging tail. She was not barking nor did she pose any threat whatsoever. Yet these trigger-happy cops shot her in the chest and leg. Brandi survived but is now permanently disabled and in pain.
Cammie,
an 18 month old American Bulldog was reported running at large in
La Grange, Missouri,
and was said to have growled at a child. When the police arrived, Cammie was already caught and tethered. They untethered her and tried to lead her with a catch-pole, but she was frightened and resisted. As she stood absolutely still, one of the cops shot her in the shoulder. She fell and made no movement except,
now get this
,
wagging her tail.
Even though that cop had shot her and badly hurt her, she still looked for the good in that cop. That is the heart of a dog.
And how did that hardened cop react to that love shown him? He responded by finishing her off by shooting this beautiful loving dog in the head and...with a final yelp...she was gone.
This is happening far too frequently to be set aside. These cops, who should never be cops, seem to actually enjoy killing animals, which is a mental issue that must be resolved. And this is going to stop.
All lovers of animals must each contact their congressperson and ask for a specific bill to be written and brought to the floor stating that all cops must have a tranquilizer gun and use that if they feel it is necessary. The use of an actual gun to put down a pet
(unless it is a dog sicked on the cop by a drug dealer)
, must be thoroughly investigated with a possible criminal action against that cop.
The story that Chaplain Dennis sent me was titled,
The Worth of a Dog
, written by
Caroline Cole
on January 10, 2014. Her story tells how most public officials believe that a dog has no worth.
"It is an old problem and issue"
Ms. Cole writes:
In 1869, Charles Burden's dog, Old Drum, was shot and killed by the nephew of his neighbor, Leoriidas Hormsy. Burden sued Homsby for the loss of Old Drum, and after several appeals, the case reached Missouri's Supreme Court. Both sides had prominent attorneys, but it was Burden's attorney, Senator George G. Vest, who won the judgment of $50.00 with his famous closing argument now known "Eulogy of the Dog. The speech coined the phrase, "man's best friend" and focused on the faithfulness of the dog, never referring to the facts of the case. But since then, awards based on sentimental, rather than market, value of animals have rarely been upheld.
Today, according to Ms. Cole's story, only two states, Illinois and Tennessee, have statutes that allow for recovery of any amount more than the replacement cost of the animal, and those statutes are limited.
Even recovery of veterinary costs required to save an animal's life is limited to the animal's replacement cost in most states. The courts consider purchase price, special training and loss of income from puppy sales (for pregnant dogs), but not sentimental value, pain and suffering, or loss of companionship. Because many beloved dogs have little to no market value, compensation for even the most egregious acts harming a pet is so little that it's not worth suing.
But that might be changing, as evidenced by the following cases in which pet owners reached large sums following the maiming or death of their pet. Although two of the cases presented here were settled out of court – with no admission of guilt or official judge or jury ruling – they testify to the fact that dogs are increasingly being recognized as true family members and not merely possessions.
The examples of Brandi and Cammie illustrate that point: In 2012, a Frederick County Maryland jury returned a $620,000 verdict against the two deputies that cruelly shot and injured Brandi, the Labrador retriever who simply went out to greet them.
With that case, the
Jenkins v Brooks
verdict may be the largest verdict for the injury of a dog in the nation, although much of it was technically awarded for violating the owner's constitutional rights when officers entered the home without a warrant, not for sentimental value or pain and suffering that Brandi would go through for the rest of her life. Pain and suffering that should never have happened.
In the case of Cammie, the gentle American Bulldog who was brutally wounded by the cop, then as she lay in pain wagging her tail, he put a finishing bullet into her head. That case was settled before trial for $50,000 in May of 2013. Criminal charges should have been filed against that rogue cop. In the future they will be. Here is the link to the original story by Ms. Cole:
http://www.vetstreet.com/our-pet-experts/the-worth-of-a-dog?WT.mc_id=cc_yahoo&WT.mc_id=ETA
For anyone who wants to be a police officer an intense vetting of that candidate must be implemented along with psychological testing. An investigation of the candidate must examine his or her childhood. If there is any indication of abuse of animals at any time, the interview should stop then and there.
It has been shown by studies that those who abuse animals as children become abusers of people as they grow up. Many who have abused animals as kids become serial killers. And many rogue cops fit that category. Some get in just so they can legally hurt people.
While in high school in the Midwest, one fellow student bullied me with threatening words and gestures. I was not surprised many years later to learn that he had become a police officer where he could do all the intimidating and bullying he wanted to do. His name is not mentioned in the hopes that he might have changed over the years.
Why are innocent animals so often the target? First of all, the ones who do this are mentally deranged. During World War II, the
Hitler Youth of Germany
trained to be members of the elite S.S. Storm Troopers.
When they first began training, they were each given a puppy to raise and bond with. After a year of training, with the increased bonding with the pups, they have their final examination
to prove themselves worthy of being an SS Storm Trooper.
And what is that exam to prove they are "worthy" to be in the S.S.?
They must take the puppy they have bonded with and strangle it to death in front of the other candidates. Then, they are considered, "a man." They are programmed to have no heart or feelings.
Every congressman and senator of every state must be contacted to enact laws consisting of severe penalties along with harsh punishment for anyone who mistreats an animal.
Rogue cops (fortunately in the minority)
must be reined in. The laws at present are inadequate. This can and must change. However, sad to say, more democrats than republicans will support animal well-being.
Liberal California is the closest to enacting laws of animal protection properly even though it is not perfect out here. Just recently a man had a puppy that he had been abusing and then stabbed it to death in front of his four year old daughter. Poor little pup and traumatized daughter. Again, this shows total insanity.
It is up to everyone who has a heart to take a strong stand on this. With enough people making the issue known with insistence on what is now expected, indeed, demanded, the politicians must take notice. And we must not rest until they do.
For more info on government and animals click this link:

http://www.renewamerica.com/columns/miles/131024

or: http://revaustinmiles.com/index.php/more/465
–
Photo Caption: Epidemic Killing of Family Dogs by Police

Photo Credit: Daily Mail U.K.
© Rev. Austin Miles
---
The views expressed by RenewAmerica columnists are their own and do not necessarily reflect the position of RenewAmerica or its affiliates.
---