Rev. Austin Miles
Roadshow gets audience IN THE MOOD

By
Rev. Austin Miles
March 8, 2014
ANTIOCH,California (3/5/14) – Leaving my home outside New York to come to Antioch, California to visit minister-author
Ron Partain
, I was surprised by a special treat he had in store.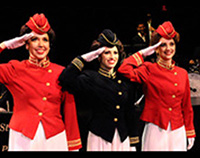 He had obtained tickets to the traveling roadshow,
In The Mood,
which was booked in the
El Campenil Theater
in downtown Antioch, a Spanish style classic theater that once presented Vaudeville shows featuring early performers like
Donald O'Conner
who later became a movie star. The downstairs dressing room walls have autographs and notes from performers who appeared there.
This theater that was showing its age was restored to the art-deco facility it was meant to be and now presents various traveling shows, to the great benefit of the citizens of this part of The Bay Area and at friendly ticket prices.
In The Mood
went far beyond my expectations. It is a combination of a Broadway Show, Musical Review, Concert and Television Special, set in the era of World War II.
The solid 12 piece
String of Pearls Orchestra,
kicks off the show with a rousing St,Louis Blues March that had everyone tapping their feet. The music from that era filled the program with great singers, dancers, and plenty of nostalgia.
Glancing down from the balcony, there were so many white haired spectators that this viewer almost went snow-blind.
And yes, the memories from that era were deeply felt, especially when the armed forces tribute was played and those who had served in each branch of service were invited to stand as the music identified each. And again, I felt something run down my cheeks as my eyes blurred. That mysteriously happened a few times during the performance.
While people from the
Word War II
era loved the show, this is a presentation that young people should see as well. Not only does the show move in a spectacular fashion, but the musicians are absolutely great.
Young musicians and performers should come and study this to see how it is really done. I took one of my grandsons and his friend to see and hear their first symphony orchestra play, and they were fascinated by it. This presentation is is the epitome of what real show business and what real talent is all about.
The cast is thoroughly Broadway with multi-talented performers including a vocalist that held a note so long during a singing lament over a girl who had broken up with him that he may have created a record. And the song itself gained lots of laughter. It was delightful.
Excellent dance teams performed everything from high energy boogie, to classical romantic ballroom, and others with a touch of ballet in poignant vignette forms that moved the audience.
The show is produced by
Bud Forrest Entertainment,
Inc. and represented by
Gurtman and Murtha
of New York who represented a show I did many years ago.
The show is right now doing one-nighters in California, then to Arizona, back to California at Lesher Center in Walnut Creek, then up the coast to Oregon, Washington, and eastward to Pennsylvania, Connecticut, Maryland and New York. I plan to see it again when I get back home.
Don't miss this show which plays to packed houses and standing ovations. It is a solid jam packed show you will long remember. And it is a show for the entire family, with wholesome entertainment,
something you don't see much of these days.
And you feel good when coming out of the theater.
This point was emphasized at the beginning of the performance with a backstage announcement urging all cell phones and electronic devices to be turned off since they had not even been invented at the times these songs were popular. Good point. And this performance takes those of us who remember, back to better times.
–
Photo Caption: In The Mood Cast Delights

Photo: Courtesy of Bud Forest Entertainment
© Rev. Austin Miles
---
The views expressed by RenewAmerica columnists are their own and do not necessarily reflect the position of RenewAmerica or its affiliates.
---