Rev. Austin Miles
Falsified marriage stats benefit LGBT

By
Rev. Austin Miles
June 19, 2014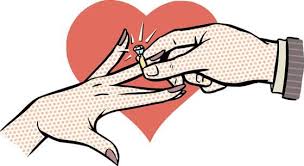 How accurate are the statistics that are published as fact? A major targeted area is, of course, anything Christian, with manipulated stats dedicated to undermine the Christian faith as well as belittle it. One of the Liberals' most effective schemes is to declare that the divorce rate amongst Christians is as high as it is in the world.
Is it really?
Stay tuned...
Columnist-radio commentator Jerry Newcombe
knocks down that false premise along with the "fact" that half of ALL marriages end in divorce, a ploy used by the homosexual lobby to push their agenda. By permission Mr. Newcombe's column is published intact. Don't miss reading it as it exposes the lies pushed on a gullible public they hope to deceive.
This column establishes the necessity of questioning ALL stats offered in the secular media along with the "news" itself. The purpose of the Communist driven press is to bend minds into THEIR direction.
IS MARRIAGE IN AMERICA ON THE ROCKS?
By Jerry Newcombe
June 19, 2014
June, long the most popular month of weddings, is a good time to ask: How strong is marriage today? In the pop culture, marriage is weak. Songs often extol illicit sex or denigrate marriage.
There's a song today, "Marry You," popularized by singer
Bruno Mars
: "It's a beautiful night, / We're looking for something dumb to do / Hey baby / I think I want to marry you." I didn't realize marriage was dumb or to be taken so lightly, as if on a whim.
It's not new that marriage is often a joke. Comedienne
Mae West
famously remarked in the 1930s or 40s: "Marriage is a wonderful institution. But who wants to live in an institution?"
Henny Youngman
made popular the phrase, "Take my wife – please!"
About 20 years ago,
Don Wildmon,
the founder of the
American Family Association,
reported that 88 percent of sexual activity in prime time television is between people who are not married, thus making "lust more attractive than love." Things on TV seem to have only gotten worse.
Yet there's nothing new under the sun. Adultery existed, of course, in Bible times, as it does now. Only then, it was shameful and recognized as being wrong. Now it is celebrated.
Proverbs
5 warns about the seductress: "Keep to a path far from her. Do not go near the door of her house, lest you give your best strength to others and your years to one who is cruel."
For years we've heard that marriage in America is so bad off that one out of two marriages end up in divorce. We hear that if you get married today, you have a 50-50 chance (at best) of that marriage succeeding.
But the good news, according to a new book, is that the bad news is wrong. The new book is by
Shaunti Feldhahn
and
Tally Whitehead: The Good News About Marriage: Debunking Discouraging Myths About Marriage and Divorce (Multnomah, 2014).
I interviewed Shaunti on my radio show recently. She said, "A lot of our conventional wisdom about the divorce rate, happiness in marriage, the rate of divorce in the church – all this discouraging stuff that actually kills marriages – is just not true."
In their book, Shaunti and Tally write: "Contrary to popular opinion, the good news is that...
The actual divorce rate has never gotten close to 50 percent.
There is no way to nail down one final divorce rate. However, according to the Census Bureau, 72 percent of people today are still married to their first spouse." (Emphasis theirs, in all these quotes, p. 130).
They add, "And among the 28 percent who aren't, a portion of those marriages ended in widowhood, not divorce. Thus, the current divorce rate is probably closer to 20 to 25 percent for first marriages and 31 percent for all marriages (first and subsequent marriages)."
The biggest danger in the false statistics (e.g., 50% divorce rate in America), which we even hear from the pulpit, is the possibility of it becoming a self-fulfilling prophecy. But it's not true.
Shaunti and Tally also write: "Most marriage problems are not caused by big-ticket issues, and simple changes can make a big difference. Most marriage problems are caused by day-to-day misunderstandings, unintended hurt, and trying hard in the wrong areas" (p. 132).
Often we have heard this message:
The divorce rate in the church is just as bad as it is in the world.
That's not true either. What is true? The family that prays together stays together.
They write:
"The rate of divorce in the church is not the same as the rate among those who don't attend worship services
...several studies have found the rate of divorce among church attenders falls by roughly 25-50 percent" (p. 131). Praying together also makes a difference.
Why does all this matter? It is important that we not perpetuate the myths that have so easily discouraged people – especially young people today – from walking down the aisle, because they're so afraid of getting divorced. We need to avoid dooming future marriages.
Shaunti and Tally note: "A couple's futile feeling that We aren't going to make it ends up being one of the main reasons they don't make it" (p. 4).
Marriage is God's idea.
The Bible opens with a marriage and closes with one (the Wedding Feast of the Lamb). Jesus performed His miracle at a wedding, turning water into wine. And marriage is ultimately a picture of Christ and His bride (the church). Marriage is sacred.
Personally, I've found that the best way to prevent my own 34-year-old marriage from ever floundering is by making sure that it is based on the foundation of Jesus Christ, the center of our marriage. In short, marriage on the Rock is to be preferred over marriage on the rocks.
###
Guest Dr. Jerry Newcombe is a TV producer and the cohost of Kennedy Classics. He has written/co-written 24 books, including The Book that Made America (on the Bible) and (with Dr. Kennedy) What If Jesus Had Never Been Born? and (with Peter Lillback), George Washington's Sacred Fire. He hosts gracenetradio.com Thurs-noon (EDT). tiam.org@newcombejerry

–

Image Caption: Media Manipulation of Marriage

Image Credit: manwifeanddog.com
© Rev. Austin Miles
---
The views expressed by RenewAmerica columnists are their own and do not necessarily reflect the position of RenewAmerica or its affiliates.
---