Rev. Austin Miles
MilesTones: Dumbest university lecture invite EVER!

By
Rev. Austin Miles
August 9, 2014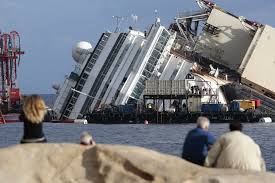 It is not that the invited lecturer is not well known. On the contrary,
Francesco Schettino
was the captain of the
Costa Concordia,
one of the largest cruise ships in the water which more resembled a floating city than a vessel.
According to European news sources, Captain Schettino, was a bit of a showman who planned the ultimate
"look at me"
moment and alerted the
Tuscan Island of Giglio
that he was coming through at the helm of the giant cruise ship.
Not satisfied with just a float-by, he blasted the giant smokestack horns, steered the ship closer to the shore so that the residents might get a look at him in all his glory. Again, this is all according to European news sources, not based on any perceptions that
MilesTones
has been known to occasionally employ.
As the town watched, the Costa Concordia struck big underwater rocks which turned the ship on its side meaning half the lifeboats could not be launched, forcing passengers to jump into the sea.
So what did this grand ship master do? He quickly abandoned ship before his passengers were safe, to save his own hide first, according to media reports. Thirty two people died. The captain was charged with murder and is still on trial.
This is the man
that the
Rome University
invited to lecture on – now get this –
Safety,
which includes
Emergency Practices
and
Panic Management.
Captain Schettino would no doubt speak effectively on these subjects. The Universities, after all, are bastions of
Critical Thinking.
How to Make Congress Do Their Work.
On the eve of their desired recess, Congress was stuck on a bill regarding the tsunami of illegals flooding through our borders costing taxpayers billions of dollars. The legislators' minds, as usual, were not on their responsibilities to the voters who put them in, but on the recess, to go home, visit their districts, funders and mistresses, leaving their order of business in limbo.
The bill still had not been totally framed and voted on, yet they were more than willing to leave it hanging as more and more taxpayer money was being gobbled up due to their inefficiency.
As they approached Friday night,
House Speaker John Boehner
said that nobody was going to leave for their 'recess' until the bill had been ironed out and voted on. (Gavel Pounding)
Congress then
actually went to work
and before it got too late, the bill had been drafted, voted in, and they fled the Capitol. Perhaps this method could be implemented to not pay Congresspersons and hold their pensions until they have accomplished something. That in itself could help wipe out the national debt.
It is interesting to note that when any congressperson leaves office, each is given a huge lifelong pension, even before they finish a term. Indeed, if one leaves in less than a year, that same gigantic pension goes to them for life, from our taxpayer money, as veterans are dying for lack of the medical care they were promised.
News Snickers: The Contra Costa Times
told of a truck carrying condoms that overturned on a highway going into
San Francisco.
An account of the driver and loss of thousands of condoms that spilled out on the highway stated:
"Driver Lost his load."
Another recent CC Times headline got a snicker from
MilesTones:
"Man Found in Trunk of Car. Foul Play Suspected."
Really? The man didn't just lock himself in that trunk? Especially since the man was dead with signs of trauma to his body. Superb analytical thinking.
The best reports of all come from
Flight Attendants
. One based in New York told us of a transsexual who flamboyantly glided into the plane with a flair. The surgery had been completed with the desired utility sewn into its place, signifying that yes, this was woman.
During the flight, the trans-person got up to go potty, and while there the utility came loose and fell into the toilet, sending the individual running into the aisle screaming.
The flight attendant told
MilesTones
that the in-flight report of the emergency was thusly stated:
'Snatch Down The Hatch
.'
That's it – we're outta here

*****

Photo Caption: Reckless Captain Wrecks Ship

Photo Credit: www.ibtimes.co.uk
© Rev. Austin Miles
---
The views expressed by RenewAmerica columnists are their own and do not necessarily reflect the position of RenewAmerica or its affiliates.
---