Rev. Austin Miles
How many sex partners? YOU???

By
Rev. Austin Miles
November 27, 2014
SAN FRANCISCO, CA (11/26/14) – When newlyweds have that first night together –
at least that is the way it was at one time –
there were six people in that wedding bed. The new Bride and Groom, along with the parents of both, all of whom formed the character and personality of the newlyweds along with their sex lives. That in itself should give one pause. A studied look and analysis of the parents is wise before taking that giant step onto the bridal path. What you see is probably what you will get.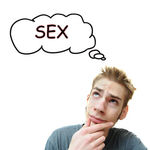 According to
Valerie Huber
, who spoke on this subject at a
Family Research Counsel (FRC)
web-streaming lecture, there is even more to consider since committed marriages of old have evolved to the
"hookup culture"
of today, which is sex without commitment or emotion. Sex simply for a quick and selfish release, no matter who is hurt in the process.
The beauty of sex has been reduced to a raw gutter experience that has turned love to lust, a lust that only becomes more demanding until
genuine satisfaction can no longer be attained,
creating an endless hunt, along with growing dissatisfaction and frustration.
Free-for-all sexual gymnastics is today hammered into the minds of young and old as morals have become extinct.
Adultery
is now celebrated in movies and TV. Brain-dead viewers find themselves hoping the partners don't get caught by their spouses. Language has also been reduced to the gutter, showing no respect to anyone.
And pregnancy is not the only risk in these sexual marathons.
What seems not to be considered is the severe, sometimes deadly health risks associated with promiscuity. A good example of that is a
baby recently born with syphilis.
There are other babies born with drug addictions that they inherited from the mother's bad habits.
When one goes to bed with a willing partner, he or she is also going to bed with everyone that partner has had sex with, along with everyone that THEY had sex with – on and on into infinity. All the risks and health complications that have passed down that chain are now in your system ready to erupt. These hapless individuals are so shackled to what is now a sexual addiction that they simply fluff off the risks to get that desperate fix.
All readers have had more sexual partners than they realized...until now.
As morals, responsibility, and commitment have collapsed into a
"no-restraints"
society, sexual crimes have skyrocketed with increasing rapes, including children followed into bathrooms. It has become completely out of control, to the detriment of society in general with increasing critical health issues.
I remember when the
AIDS epidemic
was first discovered in the homosexual community of
San Francisco.
A young man shrugged his shoulders during a TV interview and stated to the world,
"Now whenever I'm about to make love, I wonder if it will be my last time?"
The lust fulfillment to him overcame the horrific death potential.
Sex,
the way God intended it to be
, is the most satisfying gift that anyone could hope for. Still, some decide to
pervert what God has given
with new choreography that they think may improve the great climax. Anal sex is a destination for homosexuals. And that is how the AIDS epidemic began.
However, the "gays" did not invent the anal entry. Regular couples long ago decided that it might be a go. Serious disease can result with a straight couple trying to do this, as well as the "gays." It is not natural. So much so that when a man withdraws from the anus, then follows that with entering the vagina, it creates a mixture of bacteria that can cause a serious complicated disease in the woman.
Movie stars at one time were idols to the public. Indeed they had to sign a moral agreement with the studios regarding conduct on and off the set. Today they proclaim their sexual habits and desires on TV interview shows, something that would never have taken place back
when movie stars were really movie stars.
It is to be remembered that
Whoopie Goldberg
, who uses vulgar language and references in her TV appearances, once bragged that she had had sex with 50 people. This doesn't make you "cool" nor does it make you "hot." It makes one a pathetic shell of ectoplasm attempting to boost a fragile ego that was wounded long ago.
A star performer
once told me how taking a snort of cocaine just when he was about to climax greatly heightens the pleasure. "Nothing like it," he proclaimed. He was constantly on the prowl. I said to him, "You are never satisfied. For you, having sex is like having a Chinese dinner. Twenty minutes later you're hungry again."
One cannot improve the wonderful gift of sex that God has given us. Something done right needs no improvement. Sex within marriage gives complete fulfillment and that honeymoon can continue on forever. After a
married couple in love
has reached the ultimate ecstasy in their love making, they then (totally relaxed, satisfied, and content), fall asleep in one another's arms. That is a beautiful part of married life. Why settle for anything less? This beats a Chinese dinner anytime.
*****
Image Caption: Most Thought of Subject

Photo Credit: Canstock
© Rev. Austin Miles
---
The views expressed by RenewAmerica columnists are their own and do not necessarily reflect the position of RenewAmerica or its affiliates.
---