Rev. Austin Miles
MilesTones: Rent-a-Chicken biz takes flight

By
Rev. Austin Miles
May 6, 2015
MOUNT HOLLY, N.J. (5/3/15) – Considering all the bad news on the front pages, this report will not only lighten up the day but demonstrate how one can think outside the coop. Jean Tompkins, of Mount Holly, New Jersey hatched a unique start-up company called,
"Rent the Chicken."
The personality of this company should bring any shy entrepreneurs out of their shell.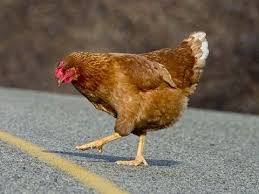 According to a story in today's
Sunday Business Section
of
the Contra Costa Times,
the poultry leasing business is now a thriving enterprise catering to people who want fresh eggs from humanely raised hens without the responsibilities of actually owning them. Almost like the science of living together without marriage. One can enjoy the benefits of marriage without 'ownership.'
It is advised that before bringing the chickens to your home, one should check with neighbors first to determine if they would agree to have chickens living on the other side of their backyard fences. While some are hard boiled and may squawk over the idea, they should consider that the hens are fairly quiet except when they lay an egg and let the whole neighborhood know this has been accomplished. Accomplishment should be applauded, never considered foul.
Otherwise, the hens are good neighbors, not a drain on the community since they produce organic eggs, and are not a political threat since they are neither left-wingers nor right- wingers. I did have a chicken joke to add but hesitate to pullet.
Since this chicken rental service has begun, popularity of the idea has spread its wings from its base in Pennsylvania to Toronto, New Jersey, the Washington, D.C. area, and Maryland, while still growing, providing a real nest egg for the company, which gives the owners something to crow about.
Chicken enthusiasts are many-including this writer. They are gentle, have personalities (only dumb clucks think otherwise), make great pets bonding with their owners, and are fun to watch, especially when they scratch for food with expressed extension of legs and body movements, creating their own Chicken Folk Ballet.
An organization,
www.backyardchickens.com
has more than 325,000 members and gets about 7000 hits a day. Cities like Pittsburgh has led officials to attempt streamline permits for backyard chickens in residence.
This is good news. In Northern California, there actually was a court case held by the Brentwood City Council and Building Commission regarding two hens, Henny and Penny who lived in the backyard of a home adjacent to an upscale golf course, becoming the focus of a feature story:
The Great Chicken Trial of Brentwood:
http://revaustinmiles.com/index.php/more/89
. That story went all over the nation.
The neighbors next door, sitting on their high perch with ruffled feathers, petitioned to have the hens removed and brought to trial. "Not only do they smell," cackled that neighbor," but they poop 1000 times a day" (?) and it lands on our patio and gets on our shoes. That would be a real slippery slope argument to be sure. After a preliminary trial before the building commission, they then went to full trial in council chambers.
Sorry to say, the gentle hens were declared guilty despite large community support. Yep, Brentwood City Council members chickened out. The embarrassed hens are now living in an undisclosed location under assumed names.
The Rent the Chicken
cost is about $150.00 a month. The basic package includes two hens, a coop, feed and phone availability to answer questions. The coops have wire bottoms and wheels so customers can move them to different spots in their yards. The two chickens produce about a dozen eggs a week,
POWER TO THE CHICKENS!

Readers Bonus:
Finally, the answer to an age old question: Why did the chicken cross the road?
The answer:
She wanted to lay it on the line.
(BOW)
© Rev. Austin Miles
---
The views expressed by RenewAmerica columnists are their own and do not necessarily reflect the position of RenewAmerica or its affiliates.
---