Rev. Austin Miles
Babies being aborted feel intense pain!

By
Rev. Austin Miles
June 11, 2015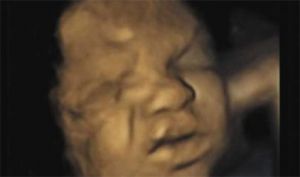 Under Obama's leadership, America has declared all out war against babies by mass abortions. And the procedure is a chamber of horrors for these little infants who have done nothing wrong. The only offense was that their arrival would be inconvenient to this new "liberated" all-about-me life-style that cares not about who or what they hurt or cause to suffer.
The only thing important for these selfish, me-first-misfits is to destroy anything and anyone that would interfere with their partying and social life. They are focused on one thing, simply having a good time, and indeed, the 'freedom' to do whatever they want without responsibilities.
These little babies, already formed, are torn and quartered alive. First the little legs are torn off by a hideous instrument with a knife and pliers combinations that go into the womb and cut and tear off those little limbs, one by one as the tiny victim twists in agony. And they can only respond with a silent scream. We have a photo of a baby in the womb whose little face is distorted in pain as the abortion begins.
Yet, Liberals say this is nonsense, that a baby in the womb is not even human and feels no pain. Let's take a look at some REAL facts as revealed
by
LifeNews.com:
*By 7 weeks, pain "sensory receptors appear in the perioral (mouth) area."
New England Journal of Medicine
* By 10 weeks, "All components of the brain and spinal cord are formed, and nerves link the stem of the brain and the spinal cord to all tissues and organs of the body
." Encyclopedia of Human Biology
* By 14 weeks, preborn humans exhibit conscious "motor planning" and 'social behavior.'
PLoS ONE
* By 14 weeks, 'pain transmission from a peripheral (pain) receptor to the cortex is possible and completely developed' by 24 weeks
. Fetal Diagnosis and Therapy
* By 14-22 weeks, "a physiological fetal reaction to painful stimuli" occurs
. Fetal Diagnosis and Therapy
* 18 weeks pain sensory receptors spread to "all cutaneous (skin) and mucous surfaces
." New England Journal of Medicine

In summary, by about 20 weeks, preborn humans are conscious, and all the organs needed to feel pain are functional. Also, excepting the ability to talk or cry, they exhibit the physical signs of pain common to humans after birth and throughout their lives
As to be expected the liberal run newspapers,
The Washington Post
and
New York Times
staunchly deny this even though reported by distinguished professional medical journals.
However, here is a chilling testimony of a young woman who had an abortion and then saw her little boy move in the bucket his remains had been thrown in. Here is that link:
http://www.lifenews.com/2015/06/10/after-her-abortion-at-5-months-woman-saw-her-baby-in-a-bucket-on-the-floor-and-he-was-moving/
What is especially appalling, the Liberals have been shown these medical reports and have been given the opportunity to give anesthesia to those little babies so they do not suffer during the abortion. The Liberal's answer is clear. "NO!"
Liberals are not even human, having no feelings or compassion.
For example, when Texas upheld an abortion law forcing closure of abortion clinics there, the Liberals rose in indignant anger.
The Los Angeles Times
reported that
Heather Busby
, the executive director of
Pro-Choice Texas
proclaimed
: "It's a travesty that a state the size of Texas will only have eight safe, legal abortion clinics. The 5th Circuit has once again put their political ideology above the law." It is interesting that she complained that they would now have only 8 'safe, legal abortion clinics.' How's that again?
Babies are certainly not safe there.
Another 'Pro-Choice" (not a choice by the baby) advocate
, Nancy Northup
who is president of
the Center for Reproductive Rights
(again, not the baby's rights) stated this:
" Once again, women across the state of Texas face elimination of safe and legal options for ending a pregnancy, and the denial of their constitutional rights. The Supreme Court's prior rulings do not allow for this kind of broadside legislative assault on women's rights and health care. We now look to the justices to stop the sham laws that are shutting clinics down and placing countless women at risk of serious harm."
(?)
Yes, she plans to take this matter to the Supreme Court.
As immorality has increased, especially under Obama, who totally backs sex without restraint and with anyone desired, male or female, at any time or place. This has motivated people to throw caution to the winds to 'live it up" and satisfy their growing lusts.
This is why rapes have so dramatically increased as men no longer have control over their minds or bodies. And this is why so many unwanted babies come into being and are cruelly murdered. Sin causes suffering.
Obama has tried to destroy Christianity and God's Book, The Bible, which commands that sexual relations should only be between a married man and woman. And the marriages of our earlier times were solid and lasted for life.
If people would spend time reading the Bible, attend a Bible Believing Church, and be filled with God and His Holy Spirit, there would be much less suffering. This almost takes me back to Biblical times. Misled people sacrificed their children by burning them alive to the pagan god, Molech. To muffle the screams of the children, there would be loud music with drums playing close to the sacrifice area.
We have our own Molech in the Oval Office. And the music and entertainment on our TVs drown out the screams of the babies so that a woman will not be inconvenienced by giving birth.
God condemns deviation of His laws. Our nation has abdicated its power as a result. And America is no longer the superpower of the world.
Innocent animals including puppies also fall into the hands of deviant individuals who take pleasure in torturing and killing them. However, the United States has now passed laws in every state that to mistreat an animal is a felony.
Now if we can only get this in place for those who abuse, torture and kill babies. It is past time to do so.
****
Photo Caption: Actual Photo of Baby in the Womb at Beginning of Its Abortion.

Photo Credit: LifeNews.com
© Rev. Austin Miles
---
The views expressed by RenewAmerica columnists are their own and do not necessarily reflect the position of RenewAmerica or its affiliates.
---