Rev. Austin Miles
Canadian gay rights mess coming to U.S.!

By
Rev. Austin Miles
July 10, 2015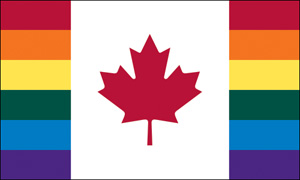 Wait, it is already here. We had been told that all that the gays wanted were
the rights to "get married' like everybody else and be treated equally (with all benefits).
"Then" saith they, "all will be well."
Obama's puppet
Supreme Court
decided in favor of the sodomites, despite opposition from most of the U.S. Immediately I wrote a story showing that this "victory" for them was just the beginning of their plan to rule and take over America. Here is the link:
http://www.renewamerica.com/columns/miles/150701
To gain understanding of what this means for America, just look
at Canada
that has been so manipulated by 'gay rights' advocates that they succumbed to the Pink Gestapo. They surrendered all their fundamental rights in 2005 as same-sex marriage became federally mandated, which would not have happened without the support of misled Canadian citizens.
Here is what has taken place in Canada during this past 10 years: According to
The Witherspoon Institute
, what followed was truly Orwellian in nature and scope. Freedom of speech, press, religion and
association does not exist in Canada today
. If anyone writes anything considered "homophobic" (including by definition, anything questioning same-sex marriage) one will face discipline, termination of employment, or prosecution by the government.
This is today!
By becoming a member of a "protected group," anyone in that group receives more legal protection than other groups. The homosexuals want to usher in state control over every institution and freedom. Children are now considered commodities that can be 'justifiably' severed from their natural parentage and traded between unrelated adults.
Journalist Dawn Stefanowicz
writing for
The Witherspoon Institute,
states:
"When same-sex marriage was legalized in Canada in 2005, parenting was immediately redefined. Canada's gay marriage law, Bill C -38, included a provision to erase the term "natural parent' and replace it across the board with gender-neutral "legal parent" in federal law. Now all children only have "legal parents" as defined by the state. By legally erasing biological parenthood in this way, the state ignores children's foremost right: their immutable, intrinsic yearning to know and be raised by their own biological parents."

Now get this:
In Canada, it is considered discriminatory to say that marriage is between a man and a woman or that every child should know and be raised by his or her biological married parents. It is not just politically incorrect in Canada to say this but you can be saddled with tens of thousands of dollars in legal fees, fined, and
forced to take sensitivity training.
Nazism and Communism come to mind. It takes only one complaint against a person to be brought before the Canadian tribunal.
Now hold on to your seats!
The commissions have the power to enter private residences and remove all items pertinent to their investigations, checking for evidence of hate speech. Apparently it is not even necessary to have a warrant to bust into someone's home and rifle through everything there including personal belonging while holding the family hostage. This is Gestapo Nazism. But it gets worse:
The homosexual plaintiff making the complaint has his or her legal fees completely paid for by the government.
Not so for the defendant. Even if the defendant is found innocent, he cannot recover his legal costs. If he is found guilty, he must pay fines to the person(s) who brought forth the complaint. Talk about one-sided!
In Canada, all rights and freedoms have been curtailed by the legalization of same-sex marriage.
Life itself is now redefined. Gender-neutral language
became legally mandated
to be INCLUSIVE, special non-gender-specific language proclaims that it is discriminatory to assume a human being is male or female, or heterosexual.
Did you get that?
Non-gender language is now required in media, government workplaces, and especially schools to avoid appearing ignorant, homophobic, or discriminatory. A special curriculum is being used in many schools to teach students how to use proper gender-neutral language.
And that's not all of it. Unbeknownst to many parents, use of gender terms to describe husband and wife, father and mother, Mother's Day and Father's Day and "he" and "she" is being steadily eradicated in Canadian schools. This is absolute madness.
Plus, visitors to Canada and their cars are now searched for offending materials which will be confiscated at the border along with possible other consequences. Freedom of speech is no more in Canada. Radio and TV stations are threatened with loss of broadcasting licenses, loss of charitable status and face enormous fines if they offend sodomites in any way.
This is now becoming more and more visible in America. Instead of wedding licenses listing, "Bride" and "Groom," it is now, "Party one" and Party "two." Ministers now must deal with this when officiating at weddings.
In Oregon,
Aaron and Melissa Klein
were fined $135,000 for refusing to bake a wedding cake for two lesbians with a distinct 'gay' endorsement message. The cake, yes, but the message, no.
Oregon Labor Commissioner Brad Avakian
not only levied the fine but imposed a gag order on the couple, mandating that they 'cease and desist' from speaking publicly about it.
But there is more. The State of Oregon has really crossed the line:
Avakian says
that the fine must be paid by July 13th or the couple's home (they have five children) will be seized
by the government. Yes, they will lose their home. That should satisfy the Pink Gestapo.
What damage did that couple suffer as a result of not getting that wedding cake with a message?
Here is what they told the judge
;
This uncivil action prompted "acute loss of confidence," "doubt," "excessive sleep," "felt mentally raped, dirty and shameful," "high blood pressure," "impaired digestion," "loss of appetite," "migraine headaches," "pale and sick at home after work," "resumption of smoking habit," "shock" "stunned," "surprise," "uncertainty," "weight gain" and "worry."
Wow! All this over a cake.
GAVEL POUNDED: "Case Closed, defendants guilty."
This is an outrageous abuse of power. Doesn't the state of Oregon have a militia?
If so, now is the time to report for duty.
It is interesting to note: It is not the democrats, the republicans, the Communists or even the Muslims we have to worry about. It is the new Gay Gestapo that plans to enslave and rule the entire world. Even so, they might find some challenges in staging gay pride parades in Muslim countries and territories.
Our sincere thanks to: The Witherspoon Institute, and writer Dawn Stefanowicz for some of the research material used in this story. Ms.Tefanowicz is an internationally recognized speaker and author. Her book, Out From Under: The Impact of Homosexual Parenting is available. Check with your favorite book store, or Amazon.
We also thank
American Family association
and
Louder with Crowder
for additional info on the Oregon Bakery case. Read more:
http://louderwithcrowder.com/gaystapo-strikes-christian-bakery-fined-reasons-wont-believe/#ixzz3fQNlD7f7
****
Photo Caption: Canada's Gay Pride Flag

Photo Credit: Canada Gay Pride
© Rev. Austin Miles
---
The views expressed by RenewAmerica columnists are their own and do not necessarily reflect the position of RenewAmerica or its affiliates.
---