Rev. Austin Miles
ISIS murdering elephants to finance terrorists !!

By
Rev. Austin Miles
November 5, 2015
ZIMBABWE 11/3/15 – National Geographic has reported that terrorist organizations are poaching elephants for their ivory to finance their 'war with the west.' Standing among these organizations is al-shabaab with close connections to
al-Qaeda
. Each tusk that is brutally sawed off an elephant is worth $30,000. This is why Isis refers to these tusks
as "white gold."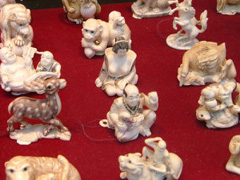 This blood money rakes in $200-$600,000 a month for Islamic terrorists
. Now read that again. This finances their attacks against us. The money derived from these atrocities helps fund drugs, weapon training, weapon purchases as well as terrorist attacks. This is a reason in itself to forbid importing and exporting ivory.
Others who take part in this inhumane slaughter are simply greedy savages who profit from their cruelty
. Ivory taken from elephants and rhinos is now a $10 Billion dollar-a-year industry
. Trinkets and statuary is carved out of the
ivory to sell to wealthy patrons.
China and Japan are the major dealers in this unconscionable trade. The rhino population has plunged from 500,000 to just 29,000 due to poaching.
Ninety six elephants are killed every day,
7 days a week.
Thirty five thousand are killed each year, with over 100,000 killed during this last 3 years.
Soon elephants will be a creature of the past. We cannot allow this to happen.
Many of these killings take place in Sinamatela area of the park, the same area
where Cecil, the beloved lion
, was killed by Minnesota dentist,
Dr. Walter Palmer, whose daughter loves to kill wolves.
She proudly displays photos of the wolves she kills in the back of her pickup truck.
Like father, like daughter, in Dr. Palmers' case, he didn't kill to make money but to feed his ego by displaying Cecil's head in his home over the mantle where visitors could see it. In his distorted daughter's photos she feeds her ego simply by showing the photos of her kills.
NOW THE REAL SHOCKER!
Radio Host Columnist
Jerry Newcombe
just alerted me that Wildlife Park Rangers, paid to protect the animals from poachers at the Hwange National Park in Zimbabwe, have been taking their turns in murdering the elephants, removing their tusks and selling them for their own benefit.
WHAT??
Is nobody to be trusted these days? It has been determined that those rangers have sawed off some 35 tusks after killing the elephants
, so far.
These tusks will be sold to buyers in eastern Asian countries.
This is going to stop. We have requested a meeting with
Senator Dianne Feinstein
to sponsor a law forbidding Ivory import and export.
Readers can contact Senator Feinstein
to say you support this bill for the protection of elephants and urge her to sponsor it.
The photos taken of these dead mutilated elephants have not been included because they are too disturbing to see. We did include a photo of the stupid looking trinkets made of the ivory of these majestic beasts. The better way would be to display the entire animal WITH its tusks. Now that would be REAL art since God's creatures ARE real art.
The photos we have and will not publish are of the elephants killed by the
Park Rangers, who are paid to keep the elephants safe,
but instead of honoring a trust, are murdering them for personal profit. This is as low as any so-called human being can sink to.
To see my previous story on this outrage, click on this link:
http://revaustinmiles.com/index.php/more/809
Watch for a follow-up story on the heels of this one. Check back in a couple of days.
ANALYZING TODAY'S STORIES FOR TOMORROW'S HISTORY
.
****
Photo Caption: Stupid Expensive Figurines Elephants are killed for.

Photo Credit: Courtesy of George Oates.
© Rev. Austin Miles
---
The views expressed by RenewAmerica columnists are their own and do not necessarily reflect the position of RenewAmerica or its affiliates.
---