Rev. Austin Miles
BREAKING! Obama on cover of gay magazine!

By
Rev. Austin Miles
November 13, 2015
NEW YORK CITY 11/11/15 – In the
just published gay magazine, OUT
, the face of
Barack Hussein Obama
dominates the cover that will be seen on newsstands all over the world, making
LGBTQ
history.
This is not a made-up story. Obama eagerly consented to be interviewed and posed for the cover photo.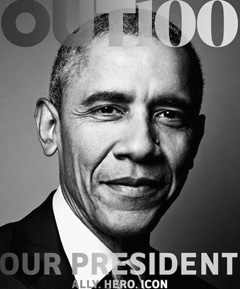 He is the first president in history to have his portrait and story featured in a sodomite magazine
, bringing embarrassment to the United States as well as being a source of ridicule for countries around the world.
Actually, however, he is not a legitimate president
. He is an usurper who was, by deception, forced into the White House by heavily documented voter fraud, all sponsored and pushed by
The Communist Party USA (CPUSA)
, that managed to block every piece of information about him including his birthplace, (which was in Kenya – we've seen the ACTUAL birth certificate), and his college and university records, meaning registration, grades, his instructors and his activities.
We do know
that he came to an American University under
"Foreign Student" classification.
According to
World Net Daily (WND)
, OUT's editor-in-chief,
Aaron Hicklin
, called Obama,
"a president who came to office on a wave of euphoria, appeared to lose momentum halfway through, and has since rallied, helping
us
to secure marriage equality, among other landmark initiatives that are transforming our place in America." (emphasis mine)
The homosexual magazine has Oscared Obama as OUT's "Ally of the Year." Unlike the Nobel Peace Prize famously awarded him, THIS is one title Obama has definitely earned.
Obama has tried to hide his homosexual drive, but, as he told
David Axelrod, "I'm just not very good at bullsh--ing."
Obama used his OUT magazine cover shoot and interview to solidify his support for all LGBT activists. He stated that he was
" proud and happy that the U.S. Supreme Court ruled 5-4 in favor of same-sex marriage."
He went on to say,
"I wasn't surprised by the Supreme Court's decision, but like millions of Americans, I was proud and happy that it came down the way it did – and I was honored to stand in the Rose Garden and reiterate for every American that we are strongest, that we are most free, when all of US are treated equally,"
Obama said of the historic Obergefell v. Hodges case. (emphasis mine)
There have been many speculations that Obama is a homosexual and even that Michelle is a transsexual who was born as Michael, a name Obama let slip during a national TV interview which we saw and heard.
There is plenty of documentation of the gay occupier of the Oval Office. Indeed, we obtained a photo of him and his college gay partner, which you can see on my website :www.revaustinmiles.com.
Here is the direct link to that photo and story.
http://revaustinmiles.com/index.php/more/761
As for Michelle, you can Google the name
Michelle Robinson
, then Google the name
MICHAEL Robinson
. You will be startled.
Obama, the imposter in the White House is not only leading the United States to destruction from within and without, but with his hatred of God and morality, he is also passionately leading everyone who buys into his policies down the road to hell.
Here is one verifying link that Google provided:
http://www.mydailyinformer.com/%E2%98%85michelle-obama-is-michael-lavaughn-robinson-shockingly-barry-calls-his-wife-michael-not-michelle/
Our thanks to journalist Douglas Ernst of World Net Daily who first caught this.
Analyzing Today's News for Tomorrow's History.

****

Photo Caption: Obama on Cover of OUT

Photo Credit: Ryan Pfluger
© Rev. Austin Miles
---
The views expressed by RenewAmerica columnists are their own and do not necessarily reflect the position of RenewAmerica or its affiliates.
---