Rev. Austin Miles
Pass the bacon? SERIOUSLY?

By
Rev. Austin Miles
November 15, 2015
It would have been difficult not to see the current reports documenting the danger-
-yes DANGER – of eating bacon
. This information, furnished by the
Physicians Committee for Responsible Medicine,
was featured in every newspaper in the country. Everyone should be aware.
It is that serious.
Hopefully, readers will think twice about buying packaged bacon for breakfast.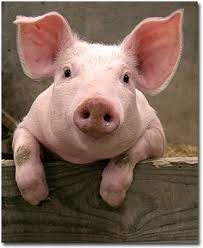 The committee stated that bacon is high in fat, cholesterol, and sodium. It can increase your risk of diabetes, heart disease, and various types of cancer.
What is more, the
American Institute for Cancer Research
states that
less than two strips of bacon a day
– can increase a person's risk for colorectal cancer by 21 percent. They go on to say that;
"No amount of processed meat is considered safe for consumption. Every year, about 143,000 Americans are diagnosed with colorectal cancer and approximately 52,000 die of it."
An
NIH-AARP Diet and Health
Study found that processed red meat was associated with a 10 percent increased risk of
prostate cancer
with
every 10 grams
of increased intake. The Journal Diabetologia found that
those who regularly eat processed meats increase their risk for diabetes by...now get this...41 percent.
It gets worse. A study in Taiwan showed that consumption of cured and smoked meat can
increase children's risk for leukemia.
And a study in Australia found that women's risk for ovarian cancer increased as a result of eating processed meats.
Here is the
Anatomy of Bacon:
It raises risk of early death by 44%. Increases risk of diabetes by 41%.Reduces sperm quality. Raises risk of prostate cancer by 10%, Increases stroke risk by 12%, Doubles the risk of dying from heart failure, Leads to weight gain, Increases bladder cancer by 33% and ups colorectal cancer risk by 21%.
Is it worth eating meat to face odds like that?
I don't think so. And do any of us want to contribute to the severe cruelty these little pigs go through in order to satisfy our taste buds?
Here is another reason to not eat meat.
Have you considered what the animal goes through as it faces cruel death to supply you with meat? I watched a video last night supplied by Animals Australia about pigs being killed by gas.
A very personal note sent to my daughter today, 11/13/15 and now shared with you, describes the video: " I was up very early this morning. Could not sleep last night. My heart is broken and I wept most of the night. I had received an email from Animals Australia, which I feel is the greatest animal protection group in the world. I would like to see them open an American branch.

"Their email talked about bacon, then showed a video about how the little pigs are killed by gassing. They were cramped into a tiny cage which made it impossible to even turn around. The gas was turned on and the poor little pigs, who had done nothing wrong, but were being killed so that those with a lust of taste for bacon can fulfil their desires.

"As the gas was turned on, those little pigs began screaming...yes..SCREAMING as they desperately tried to get out of that cage, so tiny that they could hardly move, since they were so tightly packed into that cage.

"It was horrible. I could not get that picture or the sounds of the desperate screaming out of my mind. That has carried over to today.

"Laws MUST be changed for stronger measures of animal protection. These little pigs have the same kind of nervous system that we have. As soon as I get my emotions back in order, I am going to set up a plan to see this done."
To see this video, email: newsmanager@animalsaustralia.org with a request for the pig video. You are warned that the video is hard to watch. It was for me. Could you actually eat bacon again after watching this?
Full Disclosure:
Rev. Austin Miles is a vegetarian.
ANALYZING TODAY'S NEWS FOR TOMORROW'S HISTORY
Photo of cute little pig by animalfair.com
© Rev. Austin Miles
---
The views expressed by RenewAmerica columnists are their own and do not necessarily reflect the position of RenewAmerica or its affiliates.
---