Rev. Austin Miles
Animals' heaven on earth

By
Rev. Austin Miles
January 6, 2016
KANAB, Utah 1/5/16. As children, we learned that there is a pot of gold at the end of the rainbow even though that awaiting wealth could not be confirmed by child or adult. It was too difficult to get to the end of the rainbow to find out.
However
, we have learned for sure
that at the end of
The Rainbow Bridge
, our beloved pets, the greatest treasures on earth, are anxiously awaiting our arrival. Meanwhile, animals have indeed found a paradise with the
Best Friends Animal Society
in the beautiful red rocks of Kanab, Utah.
In a mission to end the killing of shelter pets
, Frances Battista
and a group of friends have worked for 30 years to accomplish that mission by building the largest no-kill sanctuary for homeless animals in need. Presently they house about 1,700 animals – cats, dogs, rabbits, birds, horses, goats, pigs and sheep just to name a few.
Ms. Battista says
: "The animals are not going to be put down, not going to be killed for any reason, unless it's a matter of kindness or compassion or a genuine act of mercy."

Patty Hegwood
is the director of volunteer and visitor engagement, overseeing the 8,000 volunteers who lend a hand each year. Ms. Hegwood explained:
"We need our volunteers to help us with a variety of opportunities to make sure these guys have a soft landing, to make sure they get socialized and to, you know, get them ready for that next new home. Our volunteers are absolutely integral to our operation."
The sprawling 20,000 acre refuge also attracts nearly 30,000 visitors a year. Some come just to spend time with the animals, but many also come to adopt a new furry friend
. Best Friends
has a very thorough adoption process, making sure each new owner is a perfect fit for the adopted
animal.

"Our adoption processes do vary depending on the species. There are some species that are going to require different things, not just a doggy door or litter pan,"
Best Friends emergency response manager,
John Garcia
explained
. "We do have to be a lot more conscious of what home we're placing them in."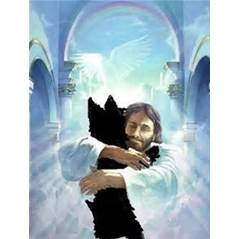 Best Friends Animal Society insists that even though its staff is doing great work at the sanctuary, there is still more that could be done to save shelter pets. Says Ms. Battista:
"Over 3.5 million dogs and cats are dying every year. That's about 9,000 a day. It's unacceptable. It doesn't need to happen. And so that is where our attention is on in the work that we're doing."
Co-founder
Cyrus Mejia
adds
, "Were trying to change the way people think about animals in this country. We are too complacent in our country, where we just allow a pet we don't want any longer to be taken to a shelter and be killed, rather than taking some responsibility ourselves."
Amen!
Best Friends operates pet adoption centers and spay/neuter clinics in Los Angeles, New York City and Salt Lake City. God bless them. Hopefully more and more of these sanctuaries will open all over America. This organization is more than worthy of support.
Oh yes, earlier in this piece, it was suggested that animals go to heaven
. That is more than a suggestion. Here is a piece I did on that subject titled,
Do Animals Go to Heaven?
http://www.renewamerica.com/columns/miles/130829
There is a link in that story that takes you to a companion story:
Do Animals Have Souls?

To see a wonderful short video of the sanctuary and the animals
, along with the complete story as published, go to this link:
https://www.yahoo.com/katiecouric/best-friends-a-canyon-paradise-for-homeless-174507781.html
Our thanks to Chaplain Denny Guinta, also an animal advocate, for alerting us to this story.

****
First Photo Caption: Divine Welcome After Crossing The Rainbow Bridge

Photo Credit: blog.petmeds.com

2nd Photo Caption: Rusty Relaxes Upon Arrival

Photo Credit: www.freewebs.com
© Rev. Austin Miles
---
The views expressed by RenewAmerica columnists are their own and do not necessarily reflect the position of RenewAmerica or its affiliates.
---