Rev. Austin Miles
Older dog dumped at shelter for younger one

By
Rev. Austin Miles
February 5, 2016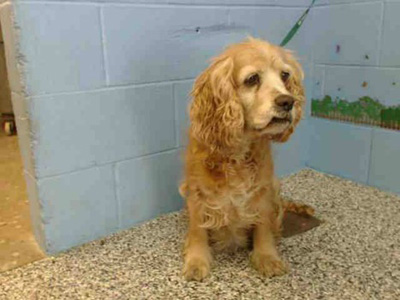 Cookie is a beautiful 15 year old Cocker Spaniel who had been a faithful loving companion. Then her "family" yanked her up, put her in a car and dumped her at the local dog pound, picked up a young lab to replace her and left. Cookie was totally heartbroken as her little face testified.
She whimpered and cried as she watched the family leave with the younger dog. They had thrown her away like a pair of old shoes. They cared nothing about her even though she showered them with love.
That stone-hearted family should NEVER have been allowed to take another dog home following their cruel action toward a little dog that had done no wrong and displayed nothing but love to them.
This is why action is underway to create a National Animal Abuse Registry.
On January 1st, Tennessee became the first state in the U.S. to create a statewide animal abuse registry. Legislators in about nine other states are also considering their own registries. This is a healthy start, but will not stop an abuser from traveling to a nearby state to obtain another innocent animal, not to show love to, but often for their own vile purposes. Think Michael Vick.
The best way to keep our animals safe is to make sure that a known abuser cannot buy or adopt an animal in any state.
The way a registry would work is that anyone convicted of animal abuse would have their name, address, and photograph put on a computerized list.
This list would be available to breeders, shelters, and stores so that they can check it before sending an animal home with someone.
This would be enforced. If a merchant does not check the list before a sale or knowingly gives an animal to someone on the list,
they would be held responsible.
A national registry would have tremendous potential to stop people who habitually harm pets.
And if it is modeled after Massachusetts' pending legislation, then it wouldn't cost taxpayers a penny
. The convicted animal abusers on the registry would pay a yearly maintenance fee to cover all costs.
A petition authored by Joanna Mechlinski is being circulated through: aolfriends@earth.care2.com. All who love animals should take part in this. This writer already has. Info available at the above email address..
Back to Cookie:
She was put in a "kill" shelter where loving animals are put down quickly. What's even worse, she had become ill with cancer and needed help. As hard-hearted as this action was by the family she loved and trusted, there ARE good hearted people. She was rescued, funds were raised for her surgery, and she is now in a loving home that she deserves.
CHEERS!
While everyone can express disgust at a 'family' who dumps an older dog to replace her with a younger one, this seems to be an age old problem that remains common in our whacked out society. We have seen men throw away a perfectly good faithful wife who was beginning to age to replace her with a young chick-a-dee.
It is easy to become disgusted with the entire human race. There was a time that God became so outraged with the humans whom He had created that he flooded the earth to kill them all with the exception of one righteous family.
The only reason He does not do this again is because he made a covenant with Noah that He would never flood the earth again. It is now time for us to create our own flood of signatures for the petitions above, get them to our representatives and not stop until this national animal abuse registry is up and running throughout the U.S.
Photo Caption: Cookie's Story Has Happy Ending

Photo Credit: OC Small Paws So UT
© Rev. Austin Miles
---
The views expressed by RenewAmerica columnists are their own and do not necessarily reflect the position of RenewAmerica or its affiliates.
---