Rev. Austin Miles
Blunt Trump thump ricochet's off pope's target

By
Rev. Austin Miles
February 20, 2016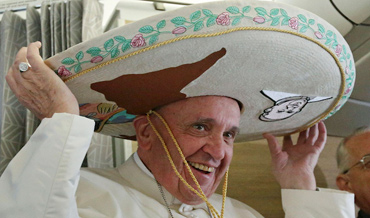 Charleston, South Carolina 2/19/16 –
Pope Francis
has stated that GOP frontrunner
Donald Trump
is not a Christian. Based on what? The fact that Trump wants to put a halt to runaway illegal immigration into America which has resulted in rising crime, rapes and even murder by Islamists, causing uncertainty to all. Really!
Let's get back to basics. When God created the world he did it with perfection and great care. Countries emerged throughout God's Creation, each with distinctive people, speaking their own language and living according to their own customs and culture. There were boundaries to each country which required a passport for anyone to come in. This assisted in keeping order in those countries, since they knew who was coming and going. God is a God of order.
As Communism grew and spread, countries went on a quest to erase all borders so as to be free to meld with other countries, particularly The United States that was seen as a cash cow to anyone who came in, with or without papers.
Immigrants always had the freedom to come in legally, apply for citizenship, and then enjoy the benefits of a free country. A standard was required of those who wanted to come and live here. Those days have drastically changed.
Today, hordes of immigrants storm the world's borders, sometimes with force, and
then expect those invaded countries to comply with not only their culture but their laws
. Chaos has resulted as violence now erupts in every area of the earth
in the name of multiculturalism
. This has weakened all countries
, making it easier for Communist rule to be established.
Curiously, the clearest Marxist voice of all came from, of all places,
The Vatican
! Nobody really knew who the Papal choice was, until the white smoke came from the Vatican chimney. Francis was a compelling man, even though he seemed to have an excess of humility, a little too much. Then his first words, to the world, stated his intention to "redistribute the wealth." This was right out of the
Communist Manifesto.
He then spoke at length about the "sin of being wealthy." That came out so strong that a friend called from the East Coast to seek clarification of that proclamation. Pope Francis became more and more involved in politics, even embracing
"world climate change,"
the second biggest hoax in history, which would, is hoped, will
result in a world tax.
(The BIGGEST hoax was Obama being "voted" into the Oval Office.) Obama was not voted in. He was PLACED there in a gentle coup d'état assisted with massive voter fraud.
Pope Francis' meddling in our politics has now intruded into our current Presidential Candidates' campaigns, which is not acceptable.
This is America's business, not Rome's.
When Pope Francis was asked to comment if those who practice homosexuality are in sin, he stated famously
, "Who am I to judge?"
OK, so if he is not to judge (in matters of homosexuality) then how can he judge if Donald Trump is or is not a Christian? This appears to be blatant hypocrisy. (Donald Trump regularly attended
Marble Collegiate Church in New York
.)
It appears that Pope Francis is getting too big for his cassock. His appointment is to be the religious leader of the Catholic Church, not the religious dictator of the world. This last line brings chilling reflections of the Inquisition as well as the horrible religious scandal of
the sexual molestations and rapes of children by Catholic priests.
This in itself is so huge than an entire movie
, Spotlight
, is devoted to it.
This deeply pains me since this writer has always had an excellent relationship with the Catholic Church and with many Priests that have shown me to be true men of God.
Pope Francis, please stay out of our political affairs. You have enough to do to keep your church in order.
***
Rev. Austin Miles once had an audience at the Vatican with Pope Paul VI, on World Communications Day.
© Rev. Austin Miles
---
The views expressed by RenewAmerica columnists are their own and do not necessarily reflect the position of RenewAmerica or its affiliates.
---