Rev. Austin Miles
Nancy Reagan funeral a touch of class and God

By
Rev. Austin Miles
March 14, 2016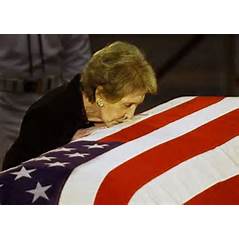 SIMI VALLEY 3/11/16 – Early today, I watched Nancy Reagan's funeral which was truly a class act. The thousand invited guests included prominent past and present political figures, dignitaries, celebrities, movie stars, President George Bush Senior. and Junior. and a Prime Minister of Canada.
Conspicuously missing
was America's #1 Jerk (tame word rather than more accurate one),
Barrack Hussein Obama
,
who claims to be the President of the United States
.
He refused to come and instead took part in a cockamamie festival in Texas where among other things he watched a Pee Wee Herman movie according to reports.
Air Force One
would have been better utilized to take Obama to that funeral.
Yes, Michelle was there as a token, but Obama, the worst representative of America that has ever been exhibited, couldn't bother to show up even though he had a duty to be there on behalf of the highest office in the land, to show his respect.
Those present (as well as those watching on world-wide TV) heard a wonderful message filled with Jesus Christ, Christianity and God
. Pastor Stuart Kenworthy
of
The Washington National Cathedral
delivered a spectacular message with solid Scripture verses that glorified God all the way. Great thought was put into his funeral sermon. He conducted the service perfectly.
The entire funeral, with its dignity and decorum, provided a great reflection on our country, from start to finish. What a beautiful contrast to that imposter in The White House who would rather watch a
Pee Wee Herman
movie than be present at the funeral of a great president's wife and who has virtually destroyed the image of The United States.
The speakers at the service were all good, with some stories about President and Mrs. Reagan provoking laughter. The service ended with The Lord's Prayer with all saying it with Pastor Kenworthy.
From there the casket was taken to the spot where Mrs. Reagan will be buried right next to her beloved husband. The entire service including the committal lasted an hour and a half.
This could not have served the cause of Christ better. And anyone who watched on TV would have been encouraged to think about God. What is more, this funeral was an important component in the coming revival, which will be the greatest revival the world has ever known. This could be a part of the beginning of that event, which has been gradually coming forth in different parts of the world.
All of us can Praise God for what took place today. Nancy Reagan, even in death, gave America dignity and class. How we miss that in the White House today.
Photo Caption: Nancy Reagan Kisses Casket of Her Husband

Photo Credit: Internet
© Rev. Austin Miles
---
The views expressed by RenewAmerica columnists are their own and do not necessarily reflect the position of RenewAmerica or its affiliates.
---