Rev. Austin Miles
Bruce Springsteen's shocking but stupid betrayal of fans!

By
Rev. Austin Miles
April 11, 2016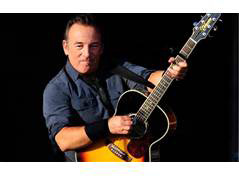 GREENSBORO, NC 4/9/16 – Yesterday, Friday, rocker
Bruce Springsteen
suddenly cancelled his scheduled performance at the Greensboro Coliseum which was set for tomorrow, Sunday. There was no advance notice, nor a valid reason to cancel
. Fifteen thousand tickets had been sold in advance
, purchased by people who had long ago made preparations to set aside this weekend to hear "the boss."
And why the cancellation?
Bruce Springsteen says he is
punishing North Carolina
for crafting a law that prevents sexual misfits from having unlimited access to toilets, bathrooms, lockers and shower rooms for use by the opposite sex, especially children. Why would anyone in his right mind demand to throw open the doors of such facilities to all sexes and persuasions who want to come in? Has he completely lost his mind?
Homosexuals are the only people on earth who are actually sexually aroused by smelly public toilets. That is their favored pick-up spot and where they most enjoy sexual encounters.
It is remembered how in
New York's Lincoln Center,
restrooms became a problem. They had become a sodomite gathering place. One time I went in and homos were going at it. One man, whose upper body and head was seen over the stop of the stall was obviously standing on the toilet, while the other gave him oral sex, accompanied by "OOOOH" and AHHHHH." Sickening!
But remember, what the "gays" say,
"Why we are just like everyone else."
No they are not. A feature front page story in the
San Francisco Chronicle
spotlighted a "gay couple," and described the elaborate home the two men shared
"In the foyer,"
the writer gushed,
"is a purple urinal sculpture." What?
Now read that carefully. Why on earth would any functioning human being have such a thing in the foyer of their house to greet guests? And yes, they do try to pick up little boys in the public restrooms. This is documented fact.
A pastor I knew was a bear of a man with great strength. He walked into a 'men's room and came upon a helpless little boy with his pants pulled down and a sodomite kneeling next to him ready to complete the assault and rape. This pastor charged in, grabbed the pervert, beat him to a bloody pulp, and took the little boy outside to find his parents.
Now back to Bruce Springsteen. So what do his fans have to do with a legal action taken by the state? Nothing! They, the fans, are the ones Springsteen is punishing, disappointing them by cancelling that concert suddenly. Springsteen is also punishing himself by willfully losing the revenue of his scheduled concert and
basically beginning his road to oblivion.
All because of his own demented mind set.
The
LGBTQ "community"
consists of a strange sect who live on the outskirts (or- out IN skirts) draping over the edge of society and who defy all social norms. They demand that the world not only fully accept their aberrant lifestyle but to participate in it. Or else!
So why is this rocker so insistent that all restroom doors must be flung open to allow anyone full access to a facility for the opposite sex?
And how does he refer to these degenerates in his interviews?
Brace yourselves:
He publicly calls them,
'freedom fighters.'
Yes, fighters for the freedom to advance perversion of all kinds. This makes one wonder what Springsteen is hiding in HIS closet.
This latest flagrant violation of privacy must be stopped.
The State of North Carolina is absolutely correct.
Yet Springsteen is so determined to provide young flesh for sexual deviants, that he thinks he is punishing North Carolina by cancelling a concert there.
First of all, where is
the old Show Business Anthem, "The Show Must Go On
?" In another era long ago. we had REAL entertainers who had moral values, never used vulgar language and did their shows no matter what happened in their lives.
What's more, they had talent
. I remember the story of
Eddie Cantor
who received news of his mother's sudden death just as he was about to go on stage.
Cantor did his show, gave it all he had, then came off stage and collapsed in his dressing room in grief. Our older generation did it right. The whole idea of entertainment was to transport the audience pleasantly away from the growing disturbing issues in the world and into a place of joy.
Entertainers were a welcome stabilizing influence on the public and were honorable in character. Show business itself was an honorable profession. Not today. It promotes all the wrong things with no redeeming factor whatsoever. Today,it is a useless waste of time. Especially when you have an aging rock star pushing his seventies, who is about over the hill, trying to be significant and going to every disgusting length to attain it. And this includes furthering immorality and shameful sexual practices and abuse.
He let down his loyal fans, 15,000 of them, who had paid $25-$100 a ticket to see and hear him. It was a struggle for many of them to get together the price for the ticket. It is certain none of them will ever buy a ticket to see and hear this misfit again. Nor should anyone else. He seems to forget that it was his fans that put him over the top .Plus he has broken a proud tradition of real show business, which he probably never had in the first place.
Bruce Springsteen is a disgrace to show business,
a disgrace to his fans, a disgrace to humanity and a disgrace to himself. He has chosen to exit an otherwise successful career in disgrace, since he will never have a fan base again. Why should anyone ever want to see or hear him again? All due to stupidity.
Photo Caption: Time to Pull Plug on Rock Star

Photo Credit:
bbc.co.uk/glastonbury/2009/artists/
brucespringsteen
/
photos
© Rev. Austin Miles
---
The views expressed by RenewAmerica columnists are their own and do not necessarily reflect the position of RenewAmerica or its affiliates.
---