Rev. Austin Miles
V.P. Joe Biden performs same sex "marriage" ceremony + MORE

By
Rev. Austin Miles
August 22, 2016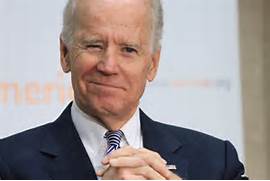 WASHINGTON, D.C. 8/19/16 –
Just when one thinks that the immoral Obama Administration cannot get any worse, it does
. Obama is our first "gay president." He has gone to visit various countries precisely to order them to extend LGBT Rights. Those trips were not presidential voyages to demonstrate American Leadership and discuss any issues of concern to those countries, but to demand that sodomy become accepted there and protected as a right. This has offended many countries who demonstrate better morals than our own.
Many LGBT folk have visited the White House by invitation. But we frankly did not expect a sodomite "marriage ceremony" to be performed in that vicinity. And we didn't expect the Vice President of The United States to officiate. In order to do so, Biden obtained special certification from the District of Columbia so he could publicly demonstrate his support for LGBT habits and conduct
Earlier this month, Biden presided over the 'union' of Joe Mahshie and Brian Mosteller, both who work as White House aides. Indeed one will see very obvious displays of homosexual behavior simply by walking through the halls of what should be considered as sacred space in the Nation's Capitol, and especially in the West Wing where his office is located.
The "ceremony" took place at the Naval Observatory, the vice president's official residence (yes, his home) with family members present. The Catholic news services have exploded since the V.P. is a Catholic, and journalists are asking why the bishops will not discipline him, or better yet, excommunicate him. Biden also supports the "right" to an abortion, basically thumbing his nose at the teachings of the church. Yet he boasts of his Catholic faith.
One journalist wrote:
"If you are advocating abortion or presiding at a same-sex wedding, then your behavior places you outside the bounds of the Christian faith and should be treated accordingly – for your own good, for the reputation of the church, and the reputation of Christ In word and deed, Catholics like Biden demean the teachings of their church."
It is puzzling that the church has remained silent with no action against one who mocks the Catholic Church and God. This fuels the emotions of those who see no results of one becoming a Christian so why bother? Why go to church?
The fraud in the White House is the most vile, immoral, vicious individual ever to sit in the Oval Office. Taxpayers have funded constant vacations for him and his family who use Air Force One as a taxi. Currently, during the worst flooding disaster in history, (with exception of Noah's flood), that has crippled Baton Rouge, Louisiana, and areas around it culminating with the loss of homes and lives, Obama could not be bothered.
The people of Louisiana PLEADED for Obama to go there
which would
lift the morale of the people.
Still, Obama would not be bothered. He was on vacation at Martha's Vineyard playing at another expensive golf course in Oak Bluff, Massachusetts and he was not about to cut his vacation short to act like a president. The only thing he cares about is to mold people to become good little Communists, while he lavishes himself constantly at our expense.
Hillary also refused to go to Louisiana.

Who did go? DONALD TRUMP
who greatly lifted the spirits of the victims of that flood. He is already doing what a real president SHOULD be doing.
So who IS the backer of both Obama and Hillary? George Soros. A story headlined:
Emails Prove that the Real Leader of the Democratic Party is George Soros,
went up earlier today documenting this, even though Soros has worked all day to try and have that story scrubbed from the internet. Three times I was met with a "no longer available" notice, but eventually it came back. Here is the link that might or might not be up:
http://constitution.com/emails-prove-real-leader-democrat-party-george-soros/
Soros, a totally anti-God individual owns most of the media and those who do the stories have to write what he dictates. This story, written under Soros' direction, by a Jewish Rabbi, was published in the New York Times with the blasphemous headline
"God is Transgender."
Here is that link:
http://www.nytimes.com/2016/08/13/opinion/is-god-transgender.html
And to close on a positive note, check out this story regarding the Milwaukee BLM Riots that puts a prospective on this agitated race issue, showing that is totally orchestrated (many protesters paid by Soros) and debunked by a black conservative columnist. Here is that link:
http://www.gopusa.com/?p=13908?omhide=true
Please take the time to examine these important stories and why we MUST pressure our representatives to have Obama escorted out of his office without delay. When a nation loses all morality and turns to perversion, that nation is greatly weakened, which is why this is all taking place, weakening us so we are easier to dominate.
This Scripture verse sums it up succinctly:
"Lay hands suddenly on no man,
neither be partakers of other men's sins;
keep thyself pure."
1 Timothy 5:22
.
Is anybody listening?
Final note to the Democrats: Mental Illness should be treated, not celebrated.
Photo Caption: Joe Biden
Photo Credit: thefederalist.com
***
© Rev. Austin Miles
---
The views expressed by RenewAmerica columnists are their own and do not necessarily reflect the position of RenewAmerica or its affiliates.
---