Rev. Austin Miles
Chaplains certified for duty in colorful ceremony

By
Rev. Austin Miles
September 28, 2016
BRENTWOOD, Northern California 9/25/16 – In a colorful ceremony complete with pageantry, 21 Chaplains were certified for duty in the East Bay area area of Northern California. The sacred and joyful event began with this writer (who founded the
East Bay Chaplains
and trained them), starting the ceremony with a brief talk and opening prayer, then introduced
Priscilla Martinez
who had been appointed as the new Chaplain Instructor.
Following her informative address, she next introduced the graduates.
General Dan Helix
and
Colonel Timothy Vaughn
, both in dress uniforms, led the processional. After each was standing in place, the certificates were presented.
General; Helix gave the keynote address which was
interrupted several times with appreciative applause
. Then, in a totally unexpected move, The General called this writer up, "Front and Center." to present an award certificate and metal of honor for having organized and taught the original chaplain classes.
Pastor Felix Golden,
who graciously hosted this event in his church,
His Presence Christian Worship Center
in Brentwood
,
the home church of Chaplain Priscilla and many of the chaplains, wrapped it up with a brief but very meaningful talk. And the entire event packed with action, went exactly one hour.
The East Bay Chaplains play a vital role in Contra Costa County. Their motto is: Stand Ready, Be Prayed Up, and Keep the Vessel Clean.
Several have already received assignments. New chaplain
Felicia Purcell,
dressed in colorful African apparel, is being asked to be the
Chaplain of The San Francisco Warriors basketball team
.
Joan Segura
is already officially the Chaplain for El Peblo low income housing in Pittsburg.
Christian Rap Artist George Miller
and his wife,
Salena Boatner-Miller
will be chaplains for their concerts while
Bill and Julie Swenson
who both were certified, work as a team to broaden their ministry to the homeless and addicts..
All others will be placed, some with Instructor Priscilla, who is chaplain of Shepherd's Gate, a home for battered women and children. And this is just the beginning.
At the end of the service there was a long standing ovation. The chaplain's motto is;
"To serve others at their time and place of need."
It is a totally devoted ministry where they willingly give up all rights to themselves to always be available to others. There is no such thing as 'convenience' for chaplains. They are there for the convenience of others who need them, often at a split second notice. It is a totally unselfish endeavor that places all others before themselves.
Thus new class it is an example of diversity at its best, with graduates coming from all backgrounds and a couple from different countries. Each one would be a welcome addition to any community.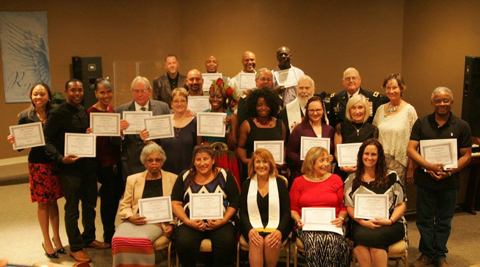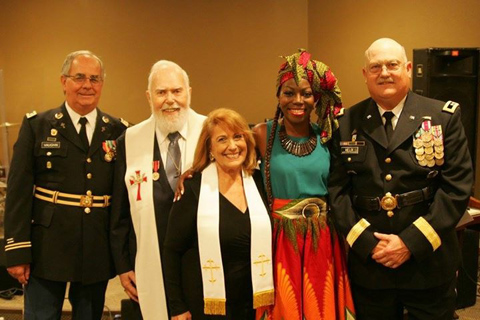 Photo #1-Group-Newly Certified Chaplains

Photo #2 Five Chaplains Caption: L to R-Colonel Timothy Vaughn, Rev. Austin Miles,Chaplain Trainer Priscilla Martinez, Felicia Purcell, General Dan Helix.
Photos by Jane Vaughn
© Rev. Austin Miles
---
The views expressed by RenewAmerica columnists are their own and do not necessarily reflect the position of RenewAmerica or its affiliates.
---