Rev. Austin Miles
The solution: let Russia arrest George Soros!!

By
Rev. Austin Miles
May 22, 2017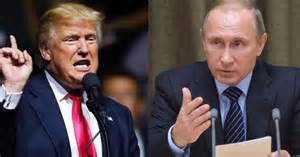 President Donald Trump Take Note!
The man who has caused the most evil in history,
George Soros,
who is determined to destroy you, Mr. President, (along with our country) by using every deceptive device at his disposal, can be and MUST be taken down immediately.
Here is the key for doing it
and stopping his
scheduled final action.
And yes, that 'final action' IS scheduled! Unless.....
An active international arrest warrant has been filed by Russia to take Soros into custody. It is a simple matter for the U.S. to allow Russia to come in and take him back with them, prosecute him and either hang him or put him in prison for the rest of his life.

It is Soros who has instigated tension between the U.S. and Russia and for good reason. He does not want the U.S. to cooperate with Russia regarding him and the Russian warrant.
Soros is the one behind the false news that Russia "meddled in the election," which of course, say they, put Donald Trump in office. The Main Stream Media is full of...custom made narratives.
By the way, this writer did not see one Russian when voting nor did the millions upon millions of Christians who came out of the shadows to vote to clean up D.C. This accusation of Russia swaying the election is absurd. And stupid.
The U.S. and Russia would be on friendlier terms had it not been for Soros. Blacks and whites would not be at war with each other without the deliberate agitation between the races by this billionaire Hungarian Communist Jew in his quest to weaken our country.
For sure, if President Trump would cooperate by letting Russia come in and arrest Soros the relationship between the two countries would greatly improve.
It might be that Trump may offer a 'prisoner swap.' Does Russia have someone in custody that we want to get our hands on? In any event, this would kill two stones with one bird.
The "Main Stream Media" (MSM) is owned by Soros and employs rank amateurs posing as 'journalists.' CLARIFICATION: To be a journalist is to have formal training for news reporting. Today the once professional journalists have been turned into manipulative hacks offering tailored news.
To prove this, every news story states that 'Russia meddled in our last election," or Russia manipulated this past election. A professional journalist
would properly write this line
as: "Russia ALLEGEDLY meddled in our last election," or ALLEGEDLY manipulated it or ALLEGEDLY influenced it. That word is not used in today's yarns passed as news. Legally that would be required. Otherwise they are declaring one guilty without a trial which jeopardizes the defendant. So the media breaks the law every time they eliminate that word when making an accusation.
These are NOT legitimate news reporters. They are propaganda hacks hired to sway the ideas of an evil man whose goal is to maneuver The United States of America into the New World Order under Communist dictatorship. America is the only country standing in the way of this ruthless ambition.
Democrat Communists – one and the same – are 'outraged' that President Trump fired James Comey who headed the FBI. Comey refused to prosecute Hillary Clinton for circulating CLASSIFIED emails with national secrets stating that "what she did was not a crime, it was simply...careless." Yea...right! And that was the end of it even though Hillary Clinton obstructed justice and National Security by sending these classified government emails randomly.
So if one commits a crime, simply plea that it was only careless, and get off Scott free. At least that is the reasoning of the properly fired FBI Director.
J. Comey was a sworn official in the Justice dept. – and so was REQUIRED to report any person who he perceived as obstructing an investigation for the Justice dept. – period.
He did not report this incident
– Indeed, he simply let it go without any sanctions or punishment for Hillary, dismissing it as a 'careless' action.
He refused to institute charges even though his position demanded that he take action against her. So Comey DESERVED to be fired. President Trump was absolutely right to fire him. He was incompetent, corrupt and used his office to help a criminal politician from being charged with a treasonous crime so as not to hamper her determination to be president. Talk about conflict of interest!
Russia is not the only country wanting to get their hands on George Soros. Israel wants him, France and Hungary along with many others want to take him into custody. So let them have him.
THIS IS A CALL TO ACTION FOR ALL READERS. Contact President Donald Trump at this website:
https://www.donaldjtrump.com/contact
, plus all websites that report inside news of him. The more voices demanding that our president allow Russia to arrest George Soros, the more effective it will be.
Then contact your representatives demanding that they take part in this action to get George Soros taken away for good plus send this same info to Newt Gingrich and Mike Huckabee. Even so, Soros has BOUGHT trusted people in our government. If we gave you the names, readers would be SHOCKED!
Soros has placed others in D.C. offices with many Communists and Muslims in Homeland Security. Wow, that should make us feel safe.
And this is precisely why God put into the Oval Office a boisterous bullheaded stubborn man who thrives on controversy and verbal battles who can take the heat being blasted at him from every angle. It would be difficult to imagine any other man being able to stand up under such orchestrated pressure. Anyone else would have folded before now. This is why God Himself chose Donald Trump to give America one last chance to get back on track.
The door to our enemies led by Satan has been widely opened by sin. Preachers-man your pulpits and preach against sin. The reason our enemies have been able to advance against us was directly due to our sins which has weakened us...love of money, pride, ego, position, covetousness, immorality and leaving God and His Word out of our lives. And we are paying a severe price in so doing.
All readers MUST do your part in this extremely important matter. Otherwise we lose our country, our futures and our very lives. This is how serious it is. Soros recognizes the importance of numbers which is why he bombards areas with disruptive protests. Most people are sufficiently bullied to simply lie down.That same effect can help America by us sending large numbers of demands to Washington, D.C.
I remember when I was in the army, a sergeant who prided himself on his toughness ready to take anyone on, came riding in on a horse. Then he stopped the horse and began beating it in the face with a whip. The horse cried and whinnied. Being an animal lover and protector I yelled out, 'AT EASE!!!'
The tough sergeant stopped and boomed, "WHO SAID AT EASE? Everyone stood quiet. The sergeant scanned the soldiers in formation, stopping on me. He knew it was me. I stood quietly, took two steps forward and held him eye to eye. There was no question that I would have been badly hurt if a fight had ensued but I stood my ground. Then, about a dozen or two of the recruits quietly came forward to stand close beside me. The startled tough guy then turned his horse around and rode off into the distance.
You don't have to be physically tough to accomplish the best for our country. All you need is determination, like I had when I put a stop to the mistreatment of that horse. Those who came to stand solidly with me against the cruel sergeant supplied the visible muscle to back him off. It is the same with our petitions and emails.
If all patriots truly come together and help each other, we can put a stop to this nonsense. Send emails, snail mail, make phone calls and leave messages to representatives to demand that Soros be taken down. But you cannot just sit there and think about it.
You are needed to take an immediate stand.
It is to be noted that Soros has 5 children, as evil as he is, especially his two sons, Alex and Jonathan who will also need to be dealt with. Here are the names of his children: Robert, Jonathan, Gregory, Andrea, Alexander. Keep those names in view since they have their father's money and resources to carry on his work.
However, they will be charged as well. That will be immediately in the works. They will not continue their father's evil work. All the money will be confiscated and applied to repair damages caused by the Soros riots.
So who amongst you will leave the ranks, like the dozen or so recruits at Ft. Riley Kansas, who came forward to stand with me against that tough guy sergeant? Each and every one of you is needed to help stop Soros from making it to his 'scheduled final action.'
Yes this is dangerous and risky. But we will all be killed anyway if the Soros scheduled Final Day takes place. I would rather die pushing back against this murderer than to die by lying down and waiting for Soros and his army to come to take my property and kill me.
Meanwhile, Soros is constantly stirring up evil against our president and we the people.
He has scheduled a mass violent protest against President Donald Trump on July 2nd
. If we tackle this correctly with immediate action as detailed above, that will not happen or the Soros Scheduled Final Action which he confidently has plotted to pull off. It is up to US. Arise people and take action.
See my earlier story about Soros, The Man With the Air Hose. Here is the direct link:
http://www.renewamerica.com/columns/miles/170116
GOOGLE: George Soros' Sons for extra info.
Photo Caption: Putin and Trump Can Agree on Soros Arrest

Photo Credit: Conservative Tribune
ANALYZING TODAY'S NEWS FOR TOMORROW'S HISTORY
© Rev. Austin Miles
---
The views expressed by RenewAmerica columnists are their own and do not necessarily reflect the position of RenewAmerica or its affiliates.
---