Rev. Austin Miles
Gov. Moonbeam's gay porn push in schools

By
Rev. Austin Miles
August 5, 2018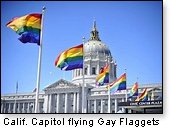 SACRAMENTO 8/4/18 – This morning I published an excellent column on my website:
www.revaustinmiles.com
, which at this moment has more than 6 and a half million readers.
That column, written by Coach Dave Daubenmire, told about the war we are in, not with opposite political parties or foreign invaders, but "Spiritual Wickedness in High Places," Yes, it is a spiritual battle between good and evil as The Bible reveals accurately who will oppose us.
Here is the link to Coach Dave's column which gives full background of this warfare:.
http://revaustinmiles.com/index.php/more/1446
So there is no question that California Governor Jerry Brown, a Democrat, better known as "Governor Moonbeam" is a footman for the devil. Exactly the individual described in Coach Dave's column, that everyone must read, for gaining understanding of what is going on during this time.
At the first of the year, Gov. Brown mandated that, now sit down, all public (govt) schools MUST show Gay Porn....yes, PORNOGRAPHY to grade school kids! And this made California the first in the nation to order 'Gay' Pornography to be shown to grade school children. Indeed, no kind of pornography was ever allowed to be shown to school children. But California is advanced dontcha know.
Then on the first of the year, Gov. Moonbeam ordered all California public schools to add lessons about gays and lesbians to Social Studies classes in those pubic schools where you surrender your children every day.
The bills were pushed by State Senator Mark Leno who authored the bills, who himself has lace in his pants.
"Today, we are making history in California," Leno burped, "by ensuring that our textbooks and instructional materials no longer
exclude
the contributions of LGBT Americans."
This daily instruction of our children details,
now listen to this
,
the various sexual choices a gay person has.
Yep they have plenty of choices for sure. And here is the closing statement: "There is no room for
"discrimination"
of any kind in our classrooms, our communities, or the state," said
Dean Vogel, President of the California Teachers Association
. So there.
We wonder if those LGBT lessons will discuss the one NORMAL activity they include in their sex lives?
Again, to them, this is a normal activity.
It is called
"Scatting," where rubber sheets are put on their bed.
We suggest that sensitive people skip this next paragraph.
Scatting is when the partners defecate on each other, then lick the excrement off the other. This is pure insanity. Yes, and it is absolutely true. The first time I knew about this perverted sickness was when glancing through a free newspaper from a plastic rack in San Francisco.
Thumbing through it I came across an advice column for sodomites. So what else could be expected...this WAS in San Francisco after all. The first writer complained that "when scatting, his partner would initially be turned on but when they 'got into it,' the partner could not stand the smell and went limp." The whole glorious experience went down the toilet – which should have been done BEFORE the ultimate sport of Scatting ever began.
It will come as no surprise that a powerful entity,
The United Nations, has Partnered with this evil organization
to force-feed this sick agenda on the entire world. As if this could not get worse, the Document proclaims that
these new so-called rights supersede any claims of religious freedom.
Now, all manner of sexual activities would be a human right to be protected by governments and courts.
There is even a renewed effort to push acceptance for pedophilia,
adults having sexual relations with children. Even this would be protected by what is now known as
"the Yogyakarta Principles."
I can write no more on this nasty sickening practice. So will just say that all parents should be aware that sending their children to public schools will expose your precious kids to be forcefully instructed in practices that could only be found in Insane Asylums back in earlier days.
Parents reading this:
Please talk to your church pastor about starting a Christian School at your church. It is not complicated to put together and operate. We must get our children out of this madness. It is our profound duty to protect our children. And they do indeed need to be protected from the Public School System.
Most sane people would assume that this would have to end. That is not true. Once something like this gets released into the atmosphere, it will only increase with more atmospheric pressure.
Now this sick perversion has taken the next step, since it was not stopped when it started, which it could have been. The richest and most powerful bodies in the world have now banded together to promote a radical homosexuality/transgender document called the Yogyakart Principles according to Center for Family and Human Rights, based in New York. And that partner is –
The United Nations.
The Yogyakarta Principles is a document about human rights in the areas of sexual orientation and gender identity, published as the outcome of an international meeting of human rights groups in Yogyakarta, Indonesia.
The Document was drafted by activists including a disgraced Catholic priest named
Michael O'Flaherty
in order to force "gay marriage" on Ireland. It is a wicked document that seeks to impose the gay ideology on the whole world,
The Yogvakart Principles declare that all forms of human sexuality are a human right.
They say that anything anyone wants to do with anyone else is, now get this, protected by international law.
Citizens, it is time to push back against this sick agenda. If we do not stand firm on this by phone calls, letters to the editors, radio program call-ins, and from the pulpits, then we are doomed to live the rest our lives surrounded by perversion.
We cannot further allow this to happen.
Our profound thanks to Center for Family and Human Rights, Austin Ruse-President/C-Fam, for alerting us to this story and providing us with undeniable facts.
ANALYZING TODAY'S NEWS FOR TOMORROW'S HISTORY
© Rev. Austin Miles
---
The views expressed by RenewAmerica columnists are their own and do not necessarily reflect the position of RenewAmerica or its affiliates.
---