Rev. Austin Miles
Illegal health care worker murders 12 patients

By
Rev. Austin Miles
May 22, 2019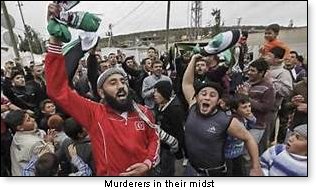 Did you know that Democrat-Communists accuse anyone as being a racist who inquires about someone's legal status? Yes, this is the latest, despite the fact that intruders from Central America are mostly connected with the cruel murderous gang, MS-13. Gang-style murders committed by illegal aliens have become common both on the Maryland and Virginia sides of Washington, D.C.
Yet nobody in the George Soros "main stream" media have reported on the immigration status of these roaming killers. The 'press' has been silent on that point. And of real concern is the close proximity to Washington, D.C., the most important area of The United States. It would not take much for them to show up to interrupt and cause havoc in the houses of Congress and Senate.
Last week, three teens, including two confirmed illegal aliens from El Salvador, were charged with first degree murder in Prince George County, Maryland for literally butchering to death a 14 year old with a bat and machete. So when was the last time this happened? It did not until now.
This grisly crime has taken place now as the Democrats feel it is their duty to open the borders and overwhelm America with illegal hoodlums, for the purpose of weakening America. The Democrats are an evil party who want only evil to infect our country. Their obvious connection to Satan is compelling.
Here is the full story with embedded links documenting that this is COMMON:
https://www.conservativereview.com/news/two-illegal-immigrant-central-american-teens-charged-murder-previously-released-maryland-sanctuary/
The Soros owned media has refused to inform the public that an illegal, who had barged into this country and obtained employment as a health care worker murdered at least 12 elderly women in Texas.
Billy Chemimir
(the name he gave), a 46 year old healthcare worker, had already been charged with capital murder in March of 2018 in the death of Lu Thi Harris, 81, according to One News Now, but was indicted on Tuesday for 11 additional deaths.
Chemimir, a citizen of Kenya (like Obama) was living illegally in the United States and
smothered his victims with a pillow and then robbed them.
This illegal savage killed them to rob them.
So the government benefits are not enough for them.
Here is another brutal attack on citizens by illegals to steal their money,
unreported by the so-called 'main stream media.'
A group of 8-10 Somali teenagers armed with hammers attacked and injured several people at a rail station in Minnesota on Friday night, May 17th. This took place at the East Bank Light Rail Station near the University of Minnesota and, now get this, the infamous Little Mogadishu neighborhood. Yep, the robbers own neighborhood. There were several injuries.
One witness stated that it was a group of Somalis who were attacking anyone who looked like they had money or were white. Remember it was a Somali who threw the little boy off a balcony in a mall. It would seem that profiling would be in order.
The district where the attack happened is run by, Muslim Rep. Ilhan Omar and has been labeled as "the terrorists recruitment capital of the U.S." by Fox News.
In 2016, investigative journalist Ami Horowitz exposed the radical ideology of citizens who live in little Mogadishu as they openly admit they would prefer Sharia Law over the U.S. Constitution.
For God's sake people, WAKE UP!! Never EVER vote for a Satanic Democrat Communist.
Vote them all out of office in this next election
.
There was a time when every country had a border that was impenetrable. Going into another country one was met with a guard house with armed soldiers. A barrier was lowered so one could not go forward. You were to show your papers, your passport and any other identification, and declare who you were going to see and why. When the guards were satisfied with your ID, the gate would open. Every country was secure.
To simply throw open the borders so anyone from anywhere can waltz in and out as they please has caused nothing but chaos and given every criminal open territory. This does not work and must be stopped.
As for these misled clergy who chirp how we must be hospitable and show love and caring, this minister would like to stuff their mouths full of Mr. Whipples product. Preachers, there comes a time when WISDOM is required for the sake of all.
ANALYZING TODAY'S NEWS FOR TOMORROW'S HISTORY
© Rev. Austin Miles
---
The views expressed by RenewAmerica columnists are their own and do not necessarily reflect the position of RenewAmerica or its affiliates.
---