LATEST UPDATE on Callan Stone's battle against corrupt 'insurance medical examiners' (Aug. 23)

RenewAmerica staff
August 23, 2019
August 23 UPDATE
On August 12, Callan Stone submitted to the Utah Supreme Court a formal
Reply
to Respondent's opposition to his
Petition for a Writ of Certiorari,
a petition he submitted to the Court on July 8 (see the
July 23 UPDATE
below).
Both his
Petition
and
Reply
(see the attached redacted copies) clearly explain the
"precedential"
value of his case – that is, its value for helping other injured workers who are deprived of their lawful rights by Utah's corrupt workers' compensation system, which allows corrupt insurers to hire corrupt doctors to fraudulently deprive unhealed injured workers of needed medical and other benefits, as happened to Callan.
If Callan's case succeeds, it will clarify the rights of
all
workers in the state and correct current deficiencies in the application of existing laws. It will also likely have a ripple effect beyond Utah.
The
Petition for Writ of Certiorari
Callan filed is a 20-page formal request for the Court to review his case, and the Reply he filed is a brief response to the other side's opposition. Both filings expose the errors of the district court in siding with the Defendant / Respondent without a legal or factual basis, as well as the Court of Appeals' equally egregious error of upholding the district court's unjust decision.
Since all the essential legal and material facts are on Callan's side – and the Defendant / Respondent has no defense other than misrepresentation, obfuscation, and clever lawyering – Callan anticipates that the state Supreme Court will accept his Petition and give his appeal a full review and hearing.
He should know the Court's decision in a matter of days. If the Court grants his Petition, he has lined up at least one major law firm willing to represent him, and another respected lawyer is tentatively agreeable. In the meantime, he still needs your help with his considerable costs to this point and for the remainder of his case.
To help Callan continue with his lawsuit, please see his GoFundMe page
August 1 UPDATE
On August 1, a highly respected appellate law firm in Utah agreed to help Callan with his appeal if the Utah Supreme Court decides to review the case. Callan will know fairly soon if the Supreme Court is willing to review his appeal.
In the three years Callan has been fighting, without an attorney, to put an end to the corruption in Utah's workers' compensation system – which allows unscrupulous "insurance medical examiners" to unlawfully deprive injured workers of needed medical care
with impunity
–
this is the best news he has received yet.
We'll keep you posted. In the meantime,
any donation you could make to help Callan pay for the services of this premier law firm
would be greatly appreciated, as Callan and his family continue to work nonstop in his fight for injured workers' rights. Please go to
Callan's GoFundMe page.
July 23 UPDATE
Because Callan and his dad submitted the urgent document described in the
June 7 UPDATE
below (a motion for an extension of time) by the June 7 deadline, Callan was granted an extension that not only prevented his case from ending, but gave him 25 days to file a
Petition for Writ of Certiorari,
a critical petition to have his appeal formally reviewed by the Utah Supreme Court following egregious errors by the Utah Court of Appeals. (It worth noting that, had the Clerk's Office not originally misinformed him as described above, he could have received
up to 60 days
to file that important document – extra time that would have been very helpful.) Callan and his dad were grateful, nonetheless, that they at least had 25 days, and they did their best to submit Callan's
Petition for Writ of Certiorari
on time. They succeeded in doing so just ten minutes before midnight on the last day –
July 8
– after receiving some valuable last-minute suggestions from an appellate lawyer and also receiving more misinformation from the Clerk's Office that cost them valuable time.
Right now, they are waiting for the Defendant / Respondent's written Response, which is due
August 9.
They then are allowed to file a Reply, but the Court doesn't have to wait for it before making its decision.
When Callan filed his Petition, he was required to pay an additional fee of $225. Fortunately, he received donations totaling exactly that just days before it was due.
If you would like to help Callan at this crucial point in his appeal, he would greatly appreciate it, since his savings are almost all depleted.
To help Callan continue with his lawsuit, please see his GoFundMe page
June 7 UPDATE
On June 7, 2019, Callan called the Utah Appellate Clerks' Office with a procedural question and learned that critical information a clerk had previously given him was inaccurate, due to a rule change. The office told him he
therefore needed to email an important document to the Utah Supreme Court by midnight that evening or his appeal would be over.
That call took place at 4:45 p.m. on a Friday. Callan and his father Stephen immediately dropped everything and scrambled for seven hours to re-write a rough draft they'd been working on a few weeks earlier, so they could use it to meet the deadline.
Unbelievably, about 10:30 p.m. the power in their home went off and on during a strong windstorm – disrupting their work and almost causing them to lose their opportunity.
After they got their computers and printer up and running again, the power again went off and on about a half hour later, causing them to have to restore their computers and printer a second time so they could continue. They again almost lost the document they were working on.
Finally, after a frantic effort to finish and email the document before the power went out again
(which it did at 12:02 a.m.),
they succeeded in getting it sent to the state Supreme Court with
seven minutes to spare before the deadline. Had they missed the deadline, Callan's appeal would have ended right then.
Miraculously, they succeeded in meeting the deadline! On June 13, 2019, the court approved the document, and things look good. This is the second major victory for Callan, and it means that for the first time in his case, he now has an opportunity to present his case
on the merits,
without the Defendant and her skilled attorneys having inordinate advantage over the process.
This high-stakes, amazing ordeal was the most stressful situation Callan has experienced during his entire three-year legal effort against a corrupt system in Utah that unlawfully deprives injured workers of the medical and other benefits to which they are entitled under the state's Workers' Compensation system – a system that is workers'
only
available recourse if they are injured on the job.
For more on the intense experience just described, see the
Facebook post
about it by Callan's mom, DeeAnn.
Callan's EMT job
After going a year without work – a circumstance that enabled Callan to devote considerable time to his case – he was rehired a few months ago as an EMT at the local fire department, where he was let go three years ago for health reasons that are relevant to his case. He currently works at least three – often more – 12-hour shifts per week and must also attend additional training meetings, and this significantly limits the time he can spend on his case at this point, but this new opportunity has helped him have the financial means to continue (even though it barely pays minimum wage), along with the thoughtful donations he has received.
His job as an EMT means a great deal to Callan, and he is struggling to balance its time demands with the difficult requirements of his appeal. So far, so good.
Recent marriage
Callan got married May 1, and this adds further challenges (and duties) to his life that require considerable adjustment – especially in the middle of his very difficult and time-consuming ongoing lawsuit. But he now has a partner to help him with the emotional demands of his stressful life, and he and Julie just found out they're going to be parents.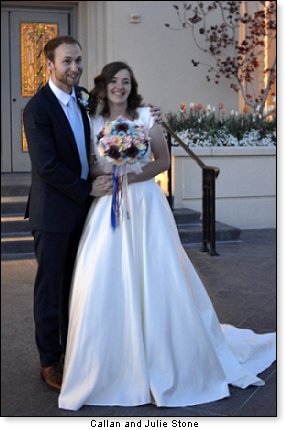 To help Callan continue with his lawsuit, please see his GoFundMe page
---
The views expressed by RenewAmerica columnists are their own and do not necessarily reflect the position of RenewAmerica or its affiliates.
---