Hassan Nurullah
Presidents and Pharaohs

By
Hassan Nurullah
April 27, 2013
"As long as we've got to fight to make sure women have access to quality, affordable health care, and as long as we've got to fight to protect a woman's right to make her own choices about her own health, I want you to know that you've also got a president who's going to be right there with you, fighting every step of the way,"
the speaker concludes:
"Thank you, Planned Parenthood. God bless you."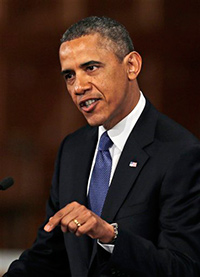 Thus a twelve-minute speech delivered by President Barack Obama yesterday came to an end – with him entreating God to bless Planned Parenthood, the organization he was addressing. How does a man who professes Christian faith, ask the God who said to one of His servants:
"Before I formed thee in the belly I knew thee; and before thou camest forth out of the womb I sanctified thee... Jeremiah 1:5
...to bless an organization responsible for undoing more of the work of God in the womb than any other group in the history of the United States of America?
This is nothing short of blasphemy!
Planned Parenthood, according to their own
annual report
, performed 333,964 abortion procedures between 2011 and 2012 alone. 333,964 babies destroyed as a result of the fight the President passionately and resolutely pledged his fealty to. The only god that could honor such a blessing would be the god of forces, the god that erects a fortress around the evil it blesses as President Obama builds a wall of protection around the mission of Planned Parenthood.
The abortion providers erect a shield of misdirection, rendering more benign health care services to women so it can be about the organization's real work. One wonders if the President is as faithful to the fight being waged by Dr. Kermit Gosnell in Federal Court – is he committed to him walking free?
The liberal press has built a bulwark of silence around this story as well, largely ignoring the satanic doctor's trial as it conflicts with the leftist narrative regarding infanticide. How could Mr. Obama not be in Dr. Gosnell's corner, considering President Obama voted to keep the procedures Dr. Gosnell specialized in from being criminalized?
Dr. Gosnell regularly cruelly murdered babies
who were born alive as a result of his own botched abortions. Yet President Obama went against even the most rabidly pro-abortion reprobates in his own Democrat party and withheld his support of the Infant Born Alive Act when a version of the bill meant to protect the children of his state came to a vote while a member of the Illinois legislature.
Exodus 1:
7
¶And the children of Israel were fruitful, and increased abundantly, and multiplied, and waxed exceeding mighty; and the land was filled with them.
8
Now there arose up a new king over Egypt, which knew not Joseph.
9
And he said unto his people, Behold, the people of the children of Israel
are
more and mightier than we:
10
Come on, let us deal wisely with them; lest they multiply, and it come to pass, that, when there falleth out any war, they join also unto our enemies, and fight against us, and
so
get them up out of the land.
The passage above recounts one of the earliest eugenics efforts in human history inspired by the god of forces mentioned earlier. The same god is still very much at work, one need only read the words of Planned Parenthood's founder to find the same philosophy in action today:
"Our failure to segregate morons who are increasing and multiplying ... demonstrates our foolhardy and extravagant sentimentalism ... [Philanthropists] encourage the healthier and more normal sections of the world to shoulder the burden of unthinking and indiscriminate fecundity of others; which brings with it, as I think the reader must agree, a dead weight of human waste. Instead of decreasing and aiming to eliminate the stocks that are most detrimental to the future of the race and the world, it tends to render them to a menacing degree dominant ... We are paying for, and even submitting to, the dictates of an ever-increasing, unceasingly spawning class of human beings who never should have been born at all." – Margaret Sanger. The Pivot of Civilization, 1922. Chapter on "The Cruelty of Charity," pages 116, 122, and 189. Swarthmore College Library edition.
Make no mistake, Margaret Sanger had an expanded vision of what a "Moron" was:
"Eugenic sterilization is an urgent need ... We must prevent multiplication of this bad stock." – Margaret Sanger, April 1933 Birth Control Review.
As time wore on her mission became more specific, the people she sought to "sterilize" made abundantly clear:
"We should hire three or four colored ministers, preferably with social-service backgrounds, and with engaging personalities. The most successful educational approach to the Negro is through a religious appeal. We don't want the word to go out that we want to exterminate the Negro population. And the minister is the man who can straighten out that idea if it ever occurs to any of their more rebellious members." – Margaret Sanger's December 19, 1939 letter to Dr. Clarence Gamble, 255 Adams Street, Milton, Massachusetts. Original source: Sophia Smith Collection, Smith College, North Hampton, Massachusetts.
Planned Parenthood still recruits amongst the ranks of those with
"social-service backgrounds"
Including our present "Community Organizing" Commander in Chief to do the bulk of it's propagandizing, nay, evangelizing. The god of forces is nothing if not predictable.
This is not new information for the people who follow the God of the Holy Bible and are discerning – people who remember what God has recorded in His Word and relate those lessons to life. Believers who use their faith on days other than Sunday, who allow God's teachings to inform them even in their politics, they recognize men like Barack Obama and warn against them.
But allow me to provide some Biblical context for those who are not paying attention, who call themselves believers but support this vile man and his party. The works of the god of this world always end in the destruction of human life it's what he does. We see this when God records the course of Pharaoh's eugenics program, again Exodus 1:
15
¶And the king of Egypt spake to the Hebrew midwives, of which the name of the one
was
Shiphrah, and the name of the other Puah:
16
And he said, When ye do the office of a midwife to the Hebrew women, and see
them
upon the stools; if it
be
a son, then ye shall kill him: but if it
be
a daughter, then she shall live.
17
But the midwives feared God, and did not as the king of Egypt commanded them, but saved the men children alive.
18
And the king of Egypt called for the midwives, and said unto them, Why have ye done this thing, and have saved the men children alive?
19
And the midwives said unto Pharaoh, Because the Hebrew women
are
not as the Egyptian women; for they
are
lively, and are delivered ere the midwives come in unto them.
20
Therefore God dealt well with the midwives: and the people multiplied, and waxed very mighty.
21
And it came to pass, because the midwives feared God, that he made them houses.
22
And Pharaoh charged all his people, saying, Every son that is born ye shall cast into the river, and every daughter ye shall save alive.
The modern "midwives" do not fear God. The workers who ply their trade in Planned Parenthood and other abortion providers staining our land do not stay their knives and forceps – they carry out the wishes of the god of forces daily and our "Pharaoh" praises them for it.
President Obama would do well to remember the fate of those who do the god of this world's bidding! Pharaoh's orders eventually lead to the story of Israel's deliverer Moses and brought about
the tenth and final plague
God inflicted upon Egypt, bringing about the end of Hebrew captivity and the ultimate destruction of Pharaoh himself. Know this Mr. Obama, American Pharaoh:
Galatians 6:

7 Be not deceived; God is not mocked: for whatsoever a man soweth, that shall he also reap.

8 For he that soweth to his flesh shall of the flesh reap corruption; but he that soweth to the Spirit shall of the Spirit reap life everlasting.
The next verse needs to be heeded by the Church, the Body of Christ that has been lax in our charge to uphold the tenets of God in our lives and our country. We have for too long turned a blind eye to this wickedness, pastors rarely speak of it and too many of us passively do nothing – as this modern day plague wreaks havoc on the helpless!
9 And let us not be weary in well doing: for in due season we shall reap, if we faint not.
But first pastors, church, we – must – get – in – the – game!
Digital Publius
Share your thoughts here!
Join the Digital Publius community on FaceBook
© Hassan Nurullah
---
The views expressed by RenewAmerica columnists are their own and do not necessarily reflect the position of RenewAmerica or its affiliates.
---