Victor Sharpe
ISRAEL: Obama will not bring glad tidings

By
Victor Sharpe
March 5, 2013
In an, as yet, unconfirmed report appearing in World Tribune, anonymous Israeli sources claim that, "U.S. President Barack Obama has demanded a timetable for an Israeli withdrawal from Judea and Samaria," – the name given to the tiny territory between the River Jordan and the Mediterranean Sea, which has been the ancestral and biblical Jewish heartland for over 3,000 years.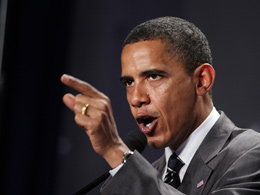 But regrettably and cynically, a hostile world prefers to call it by the name given to it by its Jordanian Arab occupiers, who illegally held it for a mere nineteen years from 1948 when they invaded the territory, expelling its Jewish inhabitants, until 1967 when it was finally liberated by Israel in its defensive Six Day war of June, 1967.
According to sources in the report, "Obama has made it clear to Netanyahu that his visit is not about photo-ops, but the business of Iran and a Palestinian state," a source said. "The implication is that if Israel won't give him something he can work with, then he'll act on his own."
The sources noted that "Obama aides" have stressed that Congress supports the establishment of a Palestinian state as a U.S. priority and the Obama people are making this a litmus test of Netanyahu's leadership and credibility," the Israeli source added. "Obama supporters in Congress have sent Netanyahu a similar message."
This is what I and many others feared was to be the real and sole reason Obama was visiting Israel. And President Shimon Peres, by planning to award President Obama with an Israeli medal, may well be committing an appallingly inappropriate act. But Shimon Peres is not known as Simple Simon for nothing.
The question is, will Netanyahu cave under what may well be Obama's brutal pressure? I, for one, believe so. Notice that Secretary of State, John Kerry, did not visit the Jewish state during his present Mid-East tour but is meeting with the Palestinian Authority's Mahmoud Abbas in Saudi Arabia. Priorities?
Then we just heard Vice President Joe Biden's empty rhetoric, on the Iranian existential nuclear threat to Israel, which he gave at the AIPAC conference, and his insistence and assurance that President Obama, arguably the most anti-Israel president in American history, will support the Jewish state. Heartbreaking was the shameful applause he received from many of the delegates yet with no protests heard. Polite deference is one thing but deafening silence can be as deep as death.
How horribly sad that so few Jewish organizations and leaders in the United States have expressed justifiable outrage at the cold treatment Israel is receiving from this president or with the nomination of the unfriendly Chuck Hagel as Secretary of Defense.
And there are reports that Obama's CIA nominee, John Brennan, secretly
converted
to Islam when he was stationed in Saudi Arabia. For far too many Jewish organizations and politicians what matters above all else is the Democrat party, even though it has swung far to the Left and harbors in its midst many with an animus towards the Jewish state. It is deeply tragic that for many Jews and Christians in America, liberalism has become their new religion.
But there still are outstanding Jewish and Christian organizations that remain as principled opponents to the growing anti-Israel hostility which is inveigling itself into both the Obama Administration and the body politic, whether it be the Hagel appointment or the enmity of the anti-Israel president himself. One of the most outstanding supporters of Israel is Morton A. Klein, National President of the Zionist Organization of America (ZOA), founded in 1897 and the oldest pro-Israel group in the U.S. He stands in honorable and marked contrast to the Jewish Democrat politicians in the House and Senate.
The Wall Street Journal described the ZOA as "heroic and the most credible advocate for Israel on the American Jewish scene today and we should snap a salute to those who were right about Oslo and Arafat, including Morton Klein who was wise, brave, and unflinchingly honest. When the history of the American Jewish struggle in these years is written, Mr. Klein will emerge as an outsized figure."
Along with the ZOA is, of course, the great work done on behalf of Israel by Americans for a Safe Israel (AFSI) and Christian evangelical organizations like Christians United for Israel (CUFI). Like Morton Klein's organization, they too support the reconstituted Jewish state and promote the Jewish pioneers who are restoring, in the face of great adversity, the ancestral and biblical heartland of Israel, namely Judea and Samaria (again known as the West Bank by all who are ignorant of or who spit in the face of Jewish faith and history).
Meanwhile, only yesterday on Fox News, the previous Israeli Ambassador to the U.S., Dan Gillerman, who is now a Fox News contributor, was upbeat about Obama's March 20, visit to Israel and what he, Gillerman, hoped would be the advent of the "two-state-solution" – what Gillerman seems not to care is that hundreds of thousands of Jewish men, women and children will be driven from their homes in Judea and Samaria and neighborhoods of Jerusalem because the Muslim Arabs will never accept Jews living in what they demand will be their Islamic territory: And if that is not Apartheid, what is?
I have previously written that the "TWO STATE SOLUTION" is a horrible euphemism which may spell the eventual destruction of the Jewish state and the slaughter of its 6 million plus Jewish population. There is a sinister and diabolical similarity between that synonym and the German Nazi euphemism, "THE FINAL SOLUTION" which spelled the murder of 6 million Jews during the Holocaust.
It seems that for so many of us, history teaches us nothing. I pray that I will be proven wrong, but I'm not holding my breath.
© Victor Sharpe
---
The views expressed by RenewAmerica columnists are their own and do not necessarily reflect the position of RenewAmerica or its affiliates.
---