Johnny D. Symon
August 3, 2007
Unlocking the truth

Johnny D. Symon
The past week for me has proven to be a break-the-personal-mold session, as characteristically I spend much of my spare time talking to and sounding out the natives.
I've always held the view that if you want to find out the truth about something, in the way of current affairs, politics, etc, ask a good number of normal men and women in the street, and pretty soon the true big picture starts to form. But it's foolishness, in my experience, to enquire of such things to the likes of academics, social workers and politicos, because again in my personal experience, and sometimes to my cost, their assurances have been less than trustworthy.
Experts and prime movers on the above subjects find hidden interests in lying through their teeth to you, to put you off the correct trail, and others spin out lines simply due to the fact that they're little more than mental inebriates, and whatever camp this group hail from, and some of them I've found dwell in both, they're all a waste of space.
I still hold a form of respect and trust in the common people, people like myself, because they're the ones who see and experience situations, and when asked of their opinion find no reason to present false scenarios. All you'll get is a personal opinion. And even those who present views that are wildly inaccurate are providing a service to the truth-seeker, because the content of their distorted view will always contain the elements necessary to unlock the truth.
So as I said at the beginning of this week's scribblings, I broke the mold through not enquiring of anyone about anything throughout the past week. And you know something? I felt as if I'd gone on hunger strike for a few days. I felt cold and empty and realized how much I valued and missed the views of others.
"There is an evil which I have seen under the sun,
as an error which proceedeth from the ruler:
Folly is set in great dignity, and the rich sit in low place.
I have seen servants upon horses, and princes
walking as servants upon the earth."

Ecclesiastes 10: 5-7


Old King Solomon appears to be the first guy to clock the truth on leadership and royalty; "Folly is set in great dignity," meaning of course that there's another side to the coin, which is "princes (and princesses) walking as servants upon the earth" ... "the rich sit in low place," a hidden nobility; folks of true worth; they're the ones I normally pass my spare time enquiring of, and they're the ones who, without fail, provide the true big picture on the world.
The other type are adept at the art of providing false trails. They'll wax lyrical about the life and work of a "man of peace and love" named Mahatma Gandhi, yet stop short of mentioning that he was chiefly responsible for the present hell called Pakistan. Will Rogers once said;
"Diplomacy is the art of saying 'Nice doggie'
until you can find a stick."


I reckon he had it in one ...
And they'll talk about the recent floods in England and call it the effects of global warming, yet stop short at mentioning an identical disaster 60 years previously in the same region. They'll talk about the water tables in China being 10 to 12 meters lower than normal, yet fail to mention that it happens decade-in decade-out. Similarly, they fail to mention China's recent floods and how those may affect the water tables.
They'll talk about the possibility of a man-made peace in the Middle East, yet stop short of mentioning that Biblical Prophecy denies it categorically ... "peace, peace, and then a sword" becomes "peace, peace, then another 80 million bucks to the Palestinian cause." This mindset elevated a "gorm but nut forgotten" PLO leader to become the world's richest and oldest terrorist.
I guess those who hold the opposite view to my own on the Israeli/Palestinian conflict might find solace in the belief that despite the fact that God disagrees with them, there's no harm in trying anyway; a mindset that may have been shared by Mahatma Gandhi also, when he enabled part of India to become the Independent State of Prankistan. But there is a slight difference between the Middle East "peace process" and Gandhi's effort: India and Pakistan are not mentioned in the Bible as the region where the last battle shall commence ... and neither is Northern Ireland.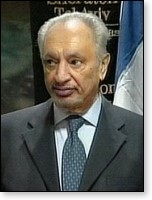 And the moral of the story is this: True analysis of any situation or subject has to be empowered from two sources; the physical and the spiritual realm. To analyze situations purely from a physical mindset is rampant stupidity, and to attempt to analyze purely through spiritual means is an extremely risky business. Deduction is a two-faceted thing and no real truth shall result from the use of only one. That's what sets humankind above and beyond the animal kingdom, with just a few human exceptions; ones fully adept at riding horseback. But they're the ones who ride bareback, because they only saddle the people.
Several years ago I received a copy of "
Psychology of Intelligence Analysis
" by Richards J Heuer, Jr. Initially this excellent book was compiled to aid Intelligence Analysts in the CIA, but it's excellence began to spread out and help other Departments of Analysis, for it provided a solid route map to correct mental deduction. The book has remained in my collection as one of my favorites, and I also found the bibliography to be priceless.
Both an understanding of the psychology behind analysis, and the spirit behind psychology, will lead an enquiring mind onto an open road to truth. Truth in the universal sense.
© Johnny D. Symon
By
---
The views expressed by RenewAmerica columnists are their own and do not necessarily reflect the position of RenewAmerica or its affiliates.
---