Wes Vernon
May 14, 2007
The world government Law of the Sea Treaty: it's baaaaack!

Wes Vernon
Those who scheme night and day to curb America's sovereignty never — never ever ever — give up. Possessed with something akin to the patience of the Asian mind, they brush off defeat as if it were some annoying flyspeck, and then redouble their efforts.
Such is the case with the Law of the Sea Treaty (LOST) — rejected in 1982 by President Reagan and stopped in its tracks in the Senate in 2004 and 2005. It is a Marxist-inspired document. (We'll get to that shortly, so stick with us.)
Now LOST supporters — reportedly led by Vice President Cheney — have moved the Bush administration toward putting it once again on the front burner. That word comes to me from Frank Gaffney — President of the Center for Security Policy and a longtime LOST opponent.
Bush used to be against the idea
What is frustrating is that President Bush — in his heart of hearts — is known to have been suspicious about this World Government scheme in the past.
When a visitor talked to him about it at the White House in the 2004–2005 period and described the document to him, the president reportedly replied, "Well, I'm not for that."
The treaty's provisions
Critics have charged and provided supporting evidence that LOST (an ironically appropriate acronym) is the product of the Soviet-backed so-called "non-aligned" movement agenda of the '60s and '70s.
Among its most egregious provisions, LOST creates an International Seabed Authority (ISA) with unprecedented powers.
The ISA could impose international taxes. If you don't like the idea of international bureaucrats levying taxes without your say-so, too bad. Your congressman or senator would have nothing to say about it. You may have this quaint idea that if anyone is to impose a federal tax on you, it would be your elected representatives who need your vote in the next election. But LOST would toss that into the ash heap. One-worlders have been dreaming of this for years.
And just to make certain that the LOST edicts are followed, the ISA would be empowered to create a multinational court system to enforce its judgments. ISA could also regulate seven-tenths of the world's surface area, impose production quotas for deep-sea mining, oil production etc., and regulate ocean research and exploration.
War on terrorists hindered by LOST
The treaty also mandates sharing information that could be used by our enemies to facilitate attacks on our country. And obligatory technology transfers would equip our enemies — real and potential — with useful equipment and know-how.
The Law of the Sea Treaty would prohibit any American effort to interdict and board vessels suspected of ties to terrorism or carrying weapons of mass destruction. Communist China has a fixation on getting us on board with LOST, largely for that very reason. At a Senate hearing back in '04, I was approached by Liyu (Laurie) Wang, then first secretary of the Chinese embassy. She said her government was hoping the U.S. would "sign up" so all nations could have a standard for settling disputes. Given that China's People's Liberation Army (PLP) views the United States as "the main enemy," Ms. Wang's stance should make us all feel better — right?

Senators tried to sneak it through
On Feb. 25, 2004, Senator Richard Lugar (R-Ind.) who then chaired the Senate Foreign Relations Committee, tried to ram the Law of the Sea Treaty through his panel.
A spokesman said at the time, the committee "looked around" and "couldn't find" opponents of the treaty to testify at the hearings the previous October (of 2003). Of course, with no publicity or warning that this was coming down the pike, you might as well have entered a cave out in the middle of a desert and "looked around" and — lo and behold — " couldn't find" opponents to testify.
Once the word got out, however —
Mirable dictu!
— opposition came from all directions, as if by magic wand, without any "looking around."
With the Democrat takeover, the new chairman of the committee is Senator Joe Biden (D-Del.), a presidential candidate, who — to this writer's knowledge — has never seen a binding entangling international treaty he didn't like.
Frank Gaffney — in an interview with me at the time — noted that the treaty was drafted before and without regard to the War on Islamofascism.
Just for starters, he said, President Bush's then-new Proliferation Security Initiative (PSI) would be endangered. Already — even then — the Communist Chinese cited LOST to protest PSI maritime interdiction and boarding of suspect vessels. No wonder they want us to "sign up." Collecting intelligence in submerged transit of territorial waters would be prohibited under LOST.
Jeane Kirkpatrick weighed in
On April 8, 2004 — after opponents had become aware of the Lugar effort at what conservative icon Paul Weyrich labeled the equivalent of a "midnight raid," the Senate Armed Services Committee held a fair, two-sided, very public hearing.
Former U.N. Ambassador Jeane Kirkpatrick (since deceased) testified that the Law of the Sea Treaty threatened America's sovereignty not only on the high seas, but in the air and outer space, as well. That could affect space exploration.
"Absolutely!" the Reagan administration official responded when the issue was raised by Sen. James Inhofe (R-Okla.), a treaty opponent who noted that air travel involved motion above the seas and over most of earth's surface. State Department Counsel William Howard Taft IV confirmed Inhofe's interpretation.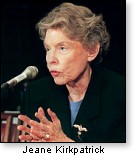 BTW, a couple of weeks earlier, Inhofe — then chairman of the Committee on Environment and Public Works — had stumped Taft and Assistant Secretary of State John F. Turner when he asked them if the treaty legally prohibited the U.S. from protecting itself by interdicting vessels whose mission is suspected of endangering the lives of Americans.
Senator Inhofe's reaction to Taft and Turner was, "Here we are at war. It's a little strange that you wouldn't have an answer to that."
Why did Reagan oppose? Back to Kirkpatrick
Do you like the soaring gas prices that have crept back up in recent weeks? Then you will just love what LOST has in store for you. Kirkpatrick said at the April 2004 hearing that President Reagan's rejection of LOST was based in part on its potential to "encourage the proliferation of OPEC." That in turn would threaten even higher gas prices, and put a drag on the economy.
Window-dressing amendments
Kirkpatrick — a patriot to the end — told the senators she was unimpressed with the widely-hailed (by proponents) amendments to the treaty added by President Clinton in 1994. She said they "did not alter" the treaty's threat to America's rights to make decisions in its own interests without foreign interference. The Reagan-era ambassador noted other nations could easily put a different interpretation on the changes.
All of this contradicts Senator Lugar's assertion that those who now oppose the Law of the Sea Treaty were using 20-year-old information and that certain "understandings" or "side agreements" have met the serious concerns of the opposition.
But a "side agreement" has no standing, Gaffney reminded me then. The treaty is what it is, regardless of side agreements, reservations, or intentions.
These window dressing caveats had been sought by the Clinton administration in the mid-nineties in hopes of easing its task of selling the treaty. But when the Gingrich Republican Congress was elected in the midst of President Clinton's first term, LOST lost its congressional legs.
So who came up with this?
If you want to find out what inspires any questionable idea, it is necessary to go to the source.
For that, we are indebted to Cliff Kincaid whose
America's Survival
website has dug deep through a mountain of research on that specific question.

It turns out that one of the authors of LOST is one Elisabeth Mann Borgese, a socialist and key figure in the pro-world government World Federalists of Canada. Kincaid cites original source material for the first Peace in the Oceans Conference which the German-born Borgese (who died in 2002) organized. Out of the conference emerged the idea of an "Ocean Development Tax." Revenue derived from that source, according to Borgese, would help underwrite the United Nations.
In her book
The Oceanic Circle: Governing the Seas as a Global Resource,
Borgese openly proclaimed her admiration for Karl Marx.
While establishment figures such as John Temple Swing of the Council on foreign Relations (CFR) endorsed the effort to pass the United Nations Convention on the Law of the Sea (UNCLOS), Kincaid's ASI has come up with solid documentary evidence that "the treaty was viewed by many early supporters as part of a communist-supported New International Economic Order to undermine the U.S. Some key treaty backers were pacifists, proud members of the world government movement who opposed a strong national defense for the U.S. and feared that the U.S. would unilaterally exploit the resources of the ocean. They were outraged by opposition to the pact by President Reagan and his top advisers."
President Bush's better advisers should try to talk him out of this. Otherwise, conservatives need to treat it as a Harriet Miers moment and apply their shoes to the sand, and let the foot-dragging begin.
© Wes Vernon
By
---
The views expressed by RenewAmerica columnists are their own and do not necessarily reflect the position of RenewAmerica or its affiliates.
---