Wes Vernon
June 4, 2007
Immigration bill: Go ahead--break the law! Who cares?

Wes Vernon
Imagine all the money we've wasted putting bank robbers behind bars. After all, they just "wanted a better life." How else are they going to feed their families if we don't let them rob banks — one of those "jobs [other] Americans won't do."
The Senate immigration bill is a threat to the rule of law. But then Washington's scofflaw approach to immigration for over 40 years has made a total mockery of "the law."
Oooooh! Stop scaring people
President Bush has accused conservatives of "scaring" people merely by pointing to the many flaws in his immigration proposal. Not satisfied with an approval rating that threatens to match Nixon during Watergate — Mr. Bush seems complacent about driving it down to the basement. Incumbent Republicans who face the voters next year are horrified as the White House now shakes its fist at the party's base and says, "Charge! — we'll show 'em! That's what they get for sticking with us when we needed them."
Longtime Bush voters who put a premium on protecting the borders are standing more in wonderment than in anger. Support for the war on Islamofascism, including Iraq — despite mistakes in conducting that war — and for Social Security reform and embattled court nominees, account for nothing at the White House. For the president to turn on his most loyal supporters reflects a mindset that is about as close to reality as was that of John Jacob Astor IV aboard the Titanic, who dressed in formal garb so that he would "go down like a gentleman."
The bipartisan amnesty train is leaving the station. Kennedy, McCain, and Co. scoff at mere legalities. To them — to paraphrase Lenin — laws are like pie crusts, to be broken.
To them, illegal aliens — excuse me, "undocumented immigrants" — in our midst are a "tolerance" issue. Why can't we be "tolerant" of drug dealers — excuse me, "unlicensed pharmacists" — crashing the gates? We don't have enough of them here already. We need more, to do those — altogether now — "jobs [most] Americans won't do."
Criminals welcome
Me? Scared? In disproportionate numbers, illegal aliens do things that are — well — illegal. Murder, rape, robbery, manslaughter, violent drug traffic — you name it. Criminals need love too. A throwback to President Clinton's Surgeon General Joycelyn Elders, who proclaimed the problem with criminals could be found in "the root causes" (i.e., maybe they had to wait five minutes for their bottles)?
In her book
Invasion,
Michelle Malkin has documented that America's lax immigration enforcement has allowed some of the world's worst thugs and war criminals into our midst — including a Haitian death squad leader; an Ethiopian war criminal who hung naked women upside down from poles and beat them with wire; and a Cuban nurse who tortured political prisoners with wet electric prods wired to their temples and genitals.
A "how-to handbook on law-breaking
And why shouldn't the illegal arrivals assume lawbreaking is OK? In my own backyard, there is a pro-illegal alien outfit called Casa de Maryland, funded by Montgomery County. That's my wallet. But you'll get yours, too. Casa de Maryland also has received funds from the federal Department of Housing and Urban Development. That's my
and
your wallet. But then who are we to complain? As taxpayers, our job is to shut up and pay the bills.
This taxpayer-funded Casa De Maryland has been instrumental in preparing a pamphlet flat-out advising the "undocumented" how they can break the law and get away with it.
Its advice is: If you are questioned by authorities, don't provide them with information about your immigration status. If the police, FBI, or immigration officials should come to your home, don't open the door. Instead (paraphrasing now) put them through all kinds of hoops and legal technicalities.
Better use of my tax dollars would be to send the local cops (with a warrant) to knock on the Casa de Maryland door, seek out its leaders, and cuff them for aiding and abetting in the commission of a crime. Oh, but that's a mere law, you see.
Collaborating with Casa in its advice to lawbreakers are the Detention Watch Network and the National immigration Project of the National Lawyers Guild.
The National Lawyers Guild (NLG), according to a September 1950 report by the House Committee on Un-American Activities (HCUA), was organized in 1936 by a caucus of the Communist Party USA. The title of the congressional report was
"The National Lawyers Guild: Legal Bulwark of the Communist Party."
In the post-Soviet World, NLG is reported by
Wikipedia
as having received funding from George Soros's Open Society Institute, the Catherine T. MacArthur Foundation, the Ford Foundation, "and others."
You pay, you stay
What are newcomers to think of our "rule of law" when they know that immigration officials have (1) traded visas for money, sex, and gifts; (2) accepted bribes from felons awaiting deportation; (3) smuggled drugs and people and peddled fake documents; (4) punished and intimidated whistleblowers; and (5) jailed border guards doing their jobs, and even hauled an "unlicensed pharmacist" back to the U.S. to be a witness against them in court. Talk about stop hitting my fist with your face.
More laws to be ignored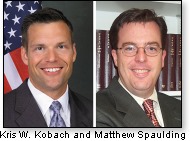 Now, having disregarded immigration laws on the books, you are earnestly urged to believe that
new
laws on the books somehow will take on the aura of respect by the criminals who have profited by ignoring the old ones.
In truth, the amnesty bill that the president and a bipartisan coalition are trying to ram down our throats without so much as a Senate hearing also — (surprise!) — makes fools of those who respect laws. For details, we are indebted to Kris W. Kobach and Matthew Spaulding (Ph.D.) of the Heritage Foundation:
1 — It would create a new "Z-visa" by granting massive benefits to those illegal aliens or — in legalese — "those who were previously in unlawful status." In contrast, it would deny benefits to those immigrants and would-be immigrants who have played by the rules. And just for good measure, some of those benefits would be denied American citizens.
2 — The "temporary" Z-visa can actually be renewed every four years, or until the visa holder dies, and would allow the holder many privileges (work, attend college, travel, and re-enter) that are denied
legal
law-abiding aliens holding normal visas.
3 — The bill would make it extremely difficult to prevent criminals and terrorists from obtaining legal status. If a background check isn't completed by the end of the day after applying for the Z-visa application — which is unlikely — the applicant gets a probationary Z-visa, good for six months, plenty of time to work legally regardless of background, or to plot a terrorist attack.
4 — Amnesty would apply even to fugitives ordered deported but who defied the orders. About 636,000 absconders have ignored the law — in some cases twice.
5 — If an illegal is in the deportation process and is deemed "prima facie eligible" for a Z-visa, an immigration judge must halt the proceedings and offer the alien a chance to apply for amnesty.
6 — Immigration and Customs Enforcement (ICE) would be transformed from a law enforcement agency to an amnesty distribution center.
7 — Gang members would be eligible for amnesty. Deporting gang members (who have created mayhem in American cities) has been a top ICE priority. Not any more, if this disaster becomes law. The over-the-border gangster-dominated Mexican town of Nuevo Laredo may become a model for U.S. towns in the 33 states where illegal gangs have operated.
8 — In-state tuition (or tuition subsidies) would be available to illegals, but not to mere out-of-state naturalized or native-born American citizens.
9 — Contrary to current law, many illegal aliens would be entitled to taxpayer-funded lawyers.
10 — So-called "provisional" Z visas would actually give the aliens immediate lawful status, protection from deportation, authorization to work, and ability to exit and re-enter the country (with advance permission).
This column knows of an individual — a professional person — who came to America, played by the rules, has contributed to the economy, applied for citizenship, and went through all the legal hoops. But he is required to travel a lot on company business. When it turned out he had been out of the country for just one day beyond that allowed in the year prior to acquiring citizenship, he had to go back to the end of the line and start the process all over again. No Z visa for him.
Of course he complied, but the point is immigration enforcement can be ultra stickler-like on legal immigrant applicants. However, if you're illegal — hey, we don't need to obey any stinkin' laws. Forget it. Y'all come!
This immigration bill
is
a "compromise" of sorts. It badly "compromises" law enforcement and tosses the "rule of law" to the four winds.
© Wes Vernon
By
---
The views expressed by RenewAmerica columnists are their own and do not necessarily reflect the position of RenewAmerica or its affiliates.
---