Wes Vernon
July 23, 2007
From the Novak diaries--Part 3

When Hillarycare might have meant death

Wes Vernon
(See Part 1: The Plame affair, and Part 2: Mud-wrestle over peace talk sabotage?)
Looking back over a half century of reporting in Washington, Robert Novak reveals in
The Prince of Darkness
that as a survivor of three bouts with cancer and a severe case of spinal meningitis, he might very well be dead now but for one saving grace: the much-maligned American health care system.
On the brink
A reporter in Washington who does his job better than most risks his health. This is a competitive town, and a journalist in perennial search of an exclusive or "scoop" will find sources in direct proportion to his readership/viewership/listenership.
Bob Novak for decades has lived by the scoop. Making contacts that give you something other than what every other reporter gets in news conferences and press releases; phone calls in the middle of the night; sudden trips at odd hours; lunches with sources at restaurants that serve rich cuisine; buying them drinks in furtive out-of-the-way locations; entertaining in your home; being entertained elsewhere — the fast paced life catches up.
And of course, when you've done all the above, you still have to sit down and do the writing and file the story or column, or do the broadcast and meet unforgiving deadlines. That takes time, too, and can mean late evenings at the home dinner table. No 9-to-5 schedule for the truly competitive journalist in this town.
The downside
While all the whirlwind activity makes for an interesting life, it can be brutal in taking its physical toll. In Novak's case, it led him to fly across the country to Los Angeles for an operation. That was the only way he could be certain of the best medical care available.
At an interview in Novak's office

Me:
Now if Hillarycare or Barack Obama's [health care] plan had been in effect then, do you think there's a chance you might be dead now?
Novak:
I think that's entirely possible.
Comment:
People might say, well, not everyone could have afforded a cross-country trip even if life itself hung in the balance. OK, but you can bet that if your life is at stake, you don't get shunted off to some waiting list so unprioritized that you die while waiting your turn. Long, long wait times are par for the course in the socialized medicine countries. And that is why the American public drags its feet on "joining the world" in government-run health care.
"My freedom to pick the best doctor I could find brought home the danger to me — and all Americans — posed by the Clintons' plans for government health care," the veteran journalist writes.
Other Novak experiences and insights
— Newt Gingrich — a high IQ academic and brilliant backroom strategist — was instrumental in engineering the first House majority in 40 years. Yet, once he became Speaker, the Georgian seemed bored with the nitty-gritty of legislating. Over breakfast early in the "Gingrich Congress," Novak noted speculation the Speaker might run for president against Clinton in 1996. Expecting a routine denial, the columnist was stunned to hear Gingrich reply, "Well, wouldn't you say that I had accomplished everything here [in the House] that I could?" The 104th Congress was just days old — no tort reform, no expenditure reform, no Social Security reform, no welfare reform — and Gingrich was ready to move on. (The only ultimate accomplishment of those four goals was welfare reform).
— Former Tennessee Governor and then-future Senator Lamar Alexander would have been "the kind of candidate who could beat Clinton" in 1996, according to the journalist's memoirs. Though Alexander was too "moderate" for his own tastes, Novak believes the soft-spoken former education secretary would have run a better race that year than Bob Dole. (Having interviewed Alexander when he was Secretary of Education in the first Bush presidency, I concur that his honesty, demeanor of good will, and intelligence just might have been the right formula to end the Clinton criminal nightmare, though the Tennessean is much too "moderate" for my tastes, as well).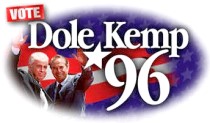 — Bob Dole, the longtime Kansas senator and former Senate majority leader who failed to oust Clinton in '96 was deemed by Novak to be "temperamentally and managerially unsuited to be president." (I guess one example of what Novak is talking about came when the senator "lost it" while being interviewed by Katie Couric on NBC. You can't help wondering if he can do that on national television, what would he be like in the White House with his finger on the button? But Dole had a memory that was amazing even for a politician — enough to succeed on the Senate level, but obviously not enough to carry him to the White House.)
— Jack Kemp — Dole's running mate — told his briefers minutes before his debate with Vice President Al Gore in the '96 race that "my mind is mush" on the GOP's own economic policy. Novak's source for that Kemp comment still (after more than 10 years) won't give the columnist permission to reveal his identity. That was a startling admission by Kemp (even in private), but a valid one given his performance — likely the most ill-prepared debate participant in political history.
— Joan Braden, mother of 8 and wife of liberal columnist and TV commentator Tom Braden, had a romantic relationship with former (Kennedy/Johnson) Defense Secretary Robert McNamara — apparently with her husband's approval.
— James Baker — Reagan's first White House Chief of Staff — gave Novak a tongue lashing for some of his writings. When the response was the Evans and Novak column had been consistently supportive of the Reagan tax cuts and Cold War policies, Baker responded that was all well and good, "but you haven't been fair to me." This verifies widespread suspicions that Baker put himself first ahead of the president he served — though Novak does credit Baker's success in getting the Reagan tax cuts through Congress. This reporter recalls complaints about Baker (a protιgι of then-Vice President Bush) from loyal Reaganites within the government and White House who muttered, "Everything is Bush! Bush! Bush!" The Gipper's focus on longterm goals enabled him to succeed, anyway.
— A classic example of the Reaganites' complaint about "Bush! Bush! Bush!" was Richard Darman, a Baker protege whose presence at the White House is described by Novak as "malevolent." Amen. And though Reagan steered his own course and disregarded Darman's anti-supply side advice on economic policy, George H.W. Bush did not. Thus, Darman almost single-handedly made Mr. "Read-my lips" a one-term president.
—
The Prince of Darkness
records that Senator Daniel Patrick Moynihan was "treated badly by the Clintons." My own comment: That may explain why Pat Moynihan and his wife Liz gritted their teeth when Hillary replaced him as Senator from New York upon his retirement after 24 years.
— Gerald Ford (as a congressman), opines Novak, "seemed a little shallow." For further verification, read Novak's insightful comments on Ford's later presidency. For verification in spades, see this column
Gerald Ford settles old scores from the grave? -
1/22/07.
— Wayne Hayes — House Democrat stalwart — was "mercurial," says Novak. The pot-bellied Hayes is best remembered for his seventies affair with a staffer named Elizabeth Ray, who confessed not even knowing how to answer the phone. However, even prior to Novak's own decades-long presence in this city, Hayes — a young irascible congressman in the early fifties — was a one-man jeering section of the peanut gallery on a House committee investigating the anti-American mischief of tax-exempt big monied foundations, a problem that has only become worse in intervening years, and yet Hayes acted as a shill for the Rockefeller/Ford complex in committee hearings, constantly hectoring the probe led by Committee Chairman B. Carroll Reece.
— Senator William E. Jenner, Novak notes, "detested moderate Republicanism." Yes, and Jenner was one of the Senate's historical giants, in my estimation — in many ways the Jesse Helms of his day.
— When Novak came to Washington, he roomed with five other bachelors in a large house — among them, a CIA undercover man. He notes, "The idea of CIA operatives living together is unthinkable today." Yes, but given today's CIA operatives' penchant for leaking to the press stories undermining the commander-in-chief in a time of war, they might as well be under one roof.
— When Rowland Evans first contemplated retirement, Fred Barnes came close to replacing him as Novak's partner, at Novak's invitation. As to why that didn't happen (after Barnes took two months to contemplate it), Novak explains in the book. But considering Barnes's much higher profile today, it would be interesting to speculate how the column would have evolved. In our interview, Novak noted that he and Barnes — though both conservative — have different views about when and under what circumstances this nation goes to war (not a factor in Barnes' ultimately not filling the slot). Would a Novak/Barnes column have developed a split personality?
The booze flows in Washington
— Lyndon Johnson — then "emperor of the Senate — was "drunk as a loon" at the National Press Club, and twirled Novak around ballet-style saying, "I
lahk ya, but you don't lahk me." A few years later, Senator Pat Moynihan showed up at a dinner obviously drunk. His first action was to pick up Ed Meese's glass of wine off the table and gulp it down. Bombed to the gills though he was, the New York senator was able — albeit thick tongued — to mount the podium uninvited and deliver a highly articulate tribute to that evening's honoree, thus giving Moynihan bragging rights to making more sense when drunk than many others in this town do when sober.
— Speaking of Meese, Novak says the then-future attorney general and other close Reagan confidantes were at first uncertain as to whether the former California governor should aggressively pursue supply-side economics in his 1980 bid to unseat Jimmy Carter. That they ultimately bowed to Reagan's wishes led to a successful campaign and "Seven Fat Years," as the
Wall Street Journal's
late Robert Bartley was to cite in a best-selling book on the Reagan years.
— Richard Nixon — who won GOP brownie points in 1964 by campaigning for Goldwater in a style whose thoroughness historically rivaled Harry Truman's whistle-stop tour in 1948 — nonetheless had worked tirelessly behind the scenes at the GOP convention in San Francisco to undermine the Arizona senator's nomination.
— Jimmy Carter succeeded in getting Novak bumped as a panelist on CBS's
Face the Nation
after the columnist posed an "emperor has no clothes" question to him on the Sunday show.
Hatred — then and now
In 1968, the Evans and Novak column declared, "The passion of political hatred against a Lyndon Johnson or a Bobby Kennedy passes old bounds." True. 1968 was the 20th Century's most incendiary year in U.S. politics. But irrational hatred is rampant today — largely by the same people who hated Johnson for the Vietnam War.
Today, the visceral hatred is directed at George W. Bush for the Iraq war. The 1968 hatred for Bobby Kennedy was more complex. To some extent, it was a class issue among committed leftists. Kennedy's support was in blue collar precincts, whereas "Clean Gene" McCarthy derived his backing from white collar types and academics. To be sure, these tendencies to view political opponents in the same way we all hated Hitler during World War II has also affected Bill and Hillary Clinton. Though I personally abhor this "two-for-the-price-of-one" Bonnie and Clyde duo, there's no escaping that the politics of raw loathing has affected all parts of the body politic. The Clintons bring out the worst in both many of their admirers and many of those who cannot abide them. Their "permanent campaign" and serial scandal cover-ups have helped ruin politics.
As for the rest...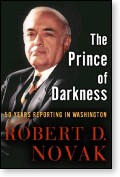 You'll have to read the book. Bob Novak — whether one agrees with his politics, as I do on most issues — has clearly made his mark in the last 50 years. He came up the hard way — from cub reporter to famous pundit. Until very late in his career, Robert Novak and his family lived pretty much a normal middle-class life — as opposed to his partner Rowland Evans, who could fall back on inherited wealth.
Anyone wanting to know about Washington and politics and world affairs in general — including the author's trips to cover the Vietnam War — will find it well worthwhile to wade through the 638-page volume
The Prince of Darkness
. I hated to come to the end of it. Novak had to edit the book down from an original 1400 pages. One anxiously awaits Volume 2 — if ever there is one.
© Wes Vernon
By
---
The views expressed by RenewAmerica columnists are their own and do not necessarily reflect the position of RenewAmerica or its affiliates.
---