Wes Vernon
October 8, 2007
The World Dictatorship Treaty: Does that get your attention? Many senators in the dark

Wes Vernon
Only three Republican members of the Senate Armed Services Committee knew what the Law of the Sea Treaty (LOST) is, according to a recent survey. Only 3 out of the 12 GOP committee members. There was no known survey of Democrat members.
That reinforces this column's point last week (
"What's the rush?" — Oct. 1, 2007)
that there are 10 other Senate committees besides Foreign Relations (dominated by the bipartisan internationalist Biden-Lugar cabal) that need to hold open and (hopefully) well-publicized hearings of LOST to inform senators.
LOST has very serious military, security, indeed survival consequences for every man, woman, and child in America. And if so few on a key military-oriented Senate committee understand this threat to America, you can bet that an even smaller percentage of the public at large is aware of it.
In the Senate Foreign Relations Committee, the Biden-Lugar axis has no problem with it. In a previous Congress, Chairman Richard Lugar (R-Ind.) tried to railroad the treaty through in the dark of night. In this Congress, Chairman Joseph Biden (D-Del.) is doing likewise.
The Bush administration and the Clinton administration before it have strongly supported LOST. The leading force behind the LOST campaign in the current administration is Vice President Cheney. Fortified with this gigantic high-powered metaphoric mowing machine, the idea is to make it a done deal (the administration hopes by the end of this month) before the grassroots folks know what's going on.
The scars
This is the classic people vs. the establishment divide. Biden and Lugar know this. Earlier this year, they got a taste of what happens when the sleeping grassroots giant fights back. Millions of Americans rebelled and successfully demanded the defeat of another "fast track" proposal. Once the lawmakers got a dose of the people's temper, the immigration bill (dubbed by critics as amnesty) went down in flames. Former supporters in the Senate deserted in droves from that tar baby.
The Bidens and Lugars of the world still bear the scars from that fiasco, and they're not about to let it happen again. So they want to rush this LOST through before you know about it.
Just 33 plus 1
Any treaty ratification requires a two-thirds vote in the Senate. Thus, in the 100-member "greatest deliberative body," all that is required is for 34 senators to vote no. But as of this writing, there are fewer solid votes for rejection. That is why your senators need to hear from you.
Conservative base swings into action
A letter — over the signatures of 28 (at last count) conservative leaders is (or soon will be) going out to Chairman Biden protesting that the committee gave short shrift to witnesses opposed to LOST.
The history of that process is in itself a scandal. After Lugar's rush job, the conservative base then coalesced, brought pressure to bear, and it was stopped. Normal process requires that when one Congress expires, any pending legislative or ratification business that failed to pass must start from scratch and go through the entire Congressional meat-grinder all over again in any succeeding Congress. The conservative letter to Biden urged that he do just that — take a new vote on the treaty in committee (especially given that the panel has two new members (David Vitter, R-La., and Jim DeMint, R-S.C. — both of whom not incidentally are very skeptical of LOST).
The Senate Foreign Relations Committee has not done that, though it has held quickie hearings with a lopsided pro-LOST witness list. The protest letter was signed by a who's who of the conservative movement — led by David Keene, American Conservative Union; Phyllis Schlafly, Eagle Forum; Paul Weyrich, Free Congress Foundation; Fred Smith, Competitive Enterprise Institute (CEI); and Frank Gaffney, Center for Security Policy (CSP).
Token Opposition
Against a long list of pro-LOST witnesses at the September 17 and October 4 hearings, the committee allowed a grand total of two treaty opponents to testify at the tail end of the October session. Gaffney and Smith presented very thoughtful and thoroughly documented written statements, but were tightly restricted time-wise.
An obviously outraged Gaffney told the senators that it is "appalling to me that the present approach to Senate consideration of this accord amounts to little more than a rubber stamp."
While expressing delight at being accorded some time to express his group's views, Gaffney cited the Senate leadership's "seeming intention... to restrict such criticism to two experts, each of whom is given five minutes publicly to" speak to concerns about "one of the most far-reaching international agreements in history."
Gaffney — an alumnus of the Reagan Pentagon — charged that the committee's process amounts to "a determined effort to keep the American people in the dark about what is going to happen to their rights, their constitutional representative form of government, and our national interest until
after
LOST is ratified and [it] is too late to do anything about it."
Again what's the rush?
The CSP president said he had written letters to 8 other Senate committees urging that they too thoroughly examine the treaty's ramifications,. "It would be incomprehensible and irresponsible were each of these 8 panels to fail to conduct their own hearings." (This column suggested 10 Senate committees. 8 would be okay as a compromise.)
Senator Robert Menendez (D-N.J.), an alumnus of New Jersey's notorious Hudson County machine, chaired the hearing in Biden's absence. He responded to Gaffney with a disingenuous air worthy of one who was exposed by New Jersey media for "questionable real estate deals, backroom brokering and political friendships with disreputable individuals (
Bergen Record)
."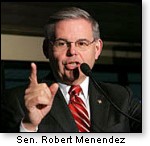 The New Jersey lawmaker said it wasn't true that the committee was railroading LOST through in the fashion of Hudson County machine icon Frank "I am the Law" Hague (I added that last part, but you get the idea). Why, didn't Gaffney know the treaty had been pending in the Senate for 13 years and had been the subject of four hearings?
Not mentioned was that in at least 10 of the 13 years, the measure was considered all but dead, as everyone knew the Republicans in the late nineties and very early 21st Century wouldn't let it see the light of day. Moreover, those "four hearings" included aborted attempts to ram it through in the dead of night.
Where are the chairman and the "rock star"?
Noting that two committee members — Chairman Biden (D-Del.) and Barack Obama (D-Ill.) — were too busy campaigning for president to show up for the October 4 hearing, Gaffney added, "If I were running for president, I would want to know if I'm doing damage to the country."
At the end of the proceedings, Senator Vitter urged that the panel hold another hearing to hear more opponents of LOST.
The Louisianan called LOST a "disaster" for America, noting it would enable America's enemies to maneuver the mandatory dispute settlement provisions so as to make the UN Secretary-General the key decision-maker. In fact, the senator's tough questioning resulted in a treaty supporter admitting as much.
That vulnerability in and of itself could affect America's ability to free itself from dependence on terrorist states for oil and stop us from defending ourselves from terrorists who want to kill us. It could force us to implement policies forcing millions of Americans out of work.
What must be done
Only on rare occasions does the grassroots rise up and put the establishment in its place. One was the immigration fight this year to which we have alluded. The people won that battle (for now). Another such occasion was the Panama Canal giveaway of the late seventies. The people lost that one, and several politicians paid with their political careers justifiably in a shambles.
What those two issues had in common was that the public had a clear understanding of them. The name "Law of the Sea Treaty" by contrast sounds academic — not "sexy" enough for newspapers, TV anchors, or (sorry to say) even some conservative talkshow hosts. Which is why conservatives might consider referring to it as the "World Dictatorship Treaty." That may sound sharp, but it is meant as an accurate designation that everyone will understand.

For example:
LOST empowers the UN (with a history of corruption and hostility to America and our allies) to override many decisions of our own U.S. elected and appointed leaders; includes an International Seabed Authority (ISA) to levy global taxes (the dream of one-worlders) and authorizes a global tax court to settle disputes under the treaty; lets any "environmental" extremist go to federal court and force an anti-American ruling of the LOST tribunal, perhaps putting many of our people on unemployment; could hamstring our military and intelligence activities at the cost of our security, endangering American lives; could enhance a legal culture of "international law" (as opposed to American law); is a treaty that has been "pending" for years because Ronald Reagan rejected it.
Bottom line: You need to contact your senators now. Capitol switchboard is 202-224-3121.
© Wes Vernon
By
---
The views expressed by RenewAmerica columnists are their own and do not necessarily reflect the position of RenewAmerica or its affiliates.
---