Wes Vernon
January 28, 2008
Conservative leader to bolt GOP if McCain is nominated

Also: America's crumbling infrastructure (Part 2) -- Peters rewarding friends, punishing dissenters?

Wes Vernon
Another top leader in the Reagan coalition and the conservative movement says he will not vote for John McCain if the Republicans nominate him as their candidate for president of the United States. That non-endorsement is based (but only in part) upon McCain's attitude on rail transport, amidst questions about the current administration's maneuverings with a DOT commission.
Paul M. Weyrich, national chairman of Sixty Votes Coalition PAC, says if the November choice is between Hillary Clinton and McCain, he would then look for a third party candidate whom he could back. This is no small matter. Weyrich has only one vote like the rest of us, but many conservatives would at least take his views into consideration when making up their own minds before casting their ballots.
"I will not vote for him [McCain]," Weyrich told this column in an interview. "I can't." The longtime conservative icon added, "It's a case where worse would be better. If [Hillary is elected], she'll do enough damage that two years from now — just like with Bill [in 1994], we can recover politically if they don't shut us down. If we can keep talk radio and if we're not shut down in other ways, I think after two years of her that there'll be a real reaction — just like there was with Carter and there was a big one with [Bill] Clinton."
As horrifying as the thought of a Hillary presidency is to many Americans, Weyrich says, "It would be better than McCain, who would fight us on everything."
The issues
Weyrich's comment came during his discussion of the latest developments in the behind-closed-doors give-and-take negotiations at the National Surface Transportation Policy and Revenue Study Commission (NSTPRSC) regarding his effort to see that electric railway (streetcar) transit is given its due in the final commission report. (See last week's column
America's Crumbling Transportation System.
)
Weyrich knows that Senator McCain, throughout his career, has been very anti-rail, and in that respect "would be [even] worse than the present [Bush] administration," whose Transportation Secretary Mary Peters (a big highway booster) has fought tooth and nail (as commission chairman) to block the pro-rail efforts of Weyrich and others allied with his 9-to-3 commission majority.
McCain "would fight us on everything," Weyrich opined, and not just on rail issues, but also regarding several conservative concerns such as the Arizona senator's open-borders stance on immigration — and "He hates talk radio. He [McCain] has indicated he would favor shutting it down. He hates the religious right."
To sum it up, the conservative leader expressed the views of many principled conservatives: "What would we want him [McCain] for?"
The Arizonan has said shutting down Amtrak — he's if elected — would be "a non-negotiable issue" for him. Short-sighted, indeed.
The senator is running largely on a war hero record and hawkish views in foreign policy (and even on the latter, he wants to shut down Guantanamo Bay and — unlike our captured enemy combatants in previous wars — the imprisoned terrorists there would be allowed into our American justice system; thus, they would have the same rights that our own citizens enjoy).
Weyrich has endorsed Mitt Romney for the nomination and believes the former Massachusetts governor, with whom he has had in-depth dialogue on a wide range of issues, would be "willing to listen."
Weyrich could live with other prospective GOP nominees — in a couple of cases, hopefully gaining some concessions to the conservative position. But McCain — never.
For principled conservatives, a Hillary-McCain race would indeed be the worst Hobson's choice since Roosevelt-Willkie. You could take your pick: the Clinton criminal enterprise or a nominal Republican out to destroy the conservative movement.
Now as to the DOT commission
Weyrich's non-endorsement of McCain came as he discussed the continuing saga of the transportation commission on which he has participated.
As we reported last week, Secretary Peters got her nose bent out of joint when she was relegated to a small 3-member minority on the panel. She boycotted the commission's unveiling of the report January 15. When the House Transportation Committee held a hearing on the commission findings two days later, Madame Secretary wanted to appear as the leadoff witness because — minority or not — she and she alone chaired the panel.
No way, said Congressman James Oberstar's congressional office. The majority would be heard first since its (more balanced transportation) view was voted as the official position of the commission itself, though the minority dissent was duly mentioned at the end of the commission report. Only afterward would the minority view be heard. So Madame would not grace the congressmen with her presence. Chairman Oberstar told this column his committee was still negotiating to hear Peters and was confident the lawmakers could receive her testimony in some format, presumably one that she would not view as an affront to her dignity. (BTW-That nine-member majority was 5-to-4 Republican, so it represented a true bipartisan consensus).
"Misunderstanding"
Both Weyrich and Commission Vice Chairman Jack Schenendorf — in discussions with us — agreed that a dispute (again see last week's column) over a last-minute deletion of a pro-rail transit section of the commission study was a "misunderstanding."
There seemed to be agreement among the majority commissioners, including Steve Heminger of San Francisco — whose role in the controversy was discussed also here last week — that the situation "wasn't handled right," and that the deletion "should not have been made." The Bay Area Metropolitan Commission executive director has now signed off on a revised draft of the deleted section which was crafted — with Weyrich's approval — primarily by Commissioner Frank McArdle, a contractor from New York. (Bear in mind, again, we are referring here to discussions among the pro-rail majority. Peters and Co. are out of this particular loop.) The wording changed in some emphases, but in the end still stipulated that "Public transportation, especially in the form of electric railways, must and will play a significantly larger role in Americans' mobility over the next 50 years and beyond."
Peters strikes back?
There is some circumstantial indication that Secretary Peters might be in the process of rewarding some members of the commission and punishing others. She has all but killed a rail project in Weyrich's backyard, while approving a road project on Heminger's home turf.
Rail project: Thumbs down
This commission report came into focus at the very time that the feds were playing Mickey Mouse games over plans to build a new extension of the Washington D.C.-area's Metrorail system to Dulles International Airport. Some suspect that Secretary Peters, furious at being consigned to a minority position on the commission she chaired, is taking it out on the scores who have put hard work into planning for the badly needed project.
This is not strictly a local issue. Washington hosts millions of tourists and international travelers each year. London, Tokyo, Sydney, and Hong-Kong have train-to-the-plane service to their largest airports. Washington does have Metrorail to the smaller Reagan National Airport, which is busy but has less air traffic, mostly domestic. Dulles has that plus a heavy load of international air transport. It is Washington's premiere airport. It can more easily accommodate the larger aircraft. Dulles now serves 25 million passengers each year. That is expected to skyrocket to 55 million in the upcoming years. For that much humanity moving through Dulles (which is farther away from the city than Reagan National) the rail option is imperative.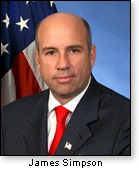 The state of Virginia, local governments, and the private sector have gone out of their way to meet the demands of the Federal Transit Administration (FTA) to curb costs. Every time the demands are met, FTA raises the bar higher — and higher — and higher — there's no end. Or as FTA Administrator James Simpson bluntly put it, "It's a moving target."
That's it right there. Simpson had earlier given clear indications that his demands for cost-cutting had been met. Weyrich, a resident of Fairfax, Virginia, and longtime advocate of rail to Dulles — points the finger at the secretary:
"Mary Peters came out against this," he said. "It's outrageous." For FTA to stop this now is an "unspeakable travesty."
Apparently, Simpson and others were planning to go around Peters with a visit to the White House to argue the case for the project. Madame Secretary, it seems, got wind of that and stopped it. And so — as Weyrich puts it — Simpson "is now taking the party line."
There will be another administration next year. Weyrich hopes it will be a Republican presidency that he can support. He thinks his candidate Romney would (as president) see the logic of Dulles rail. But if there's another year's delay, "all the costs go up."
Road project: Thumbs up
As we were going down to deadline, some residents of the San Francisco Bay area called my attention to a bridge issue in their community.
A story in the
San Francisco Chronicle
for October 17, 2007, reads, "It's not too often that the Bush administration points to the San Francisco Bay Area as a role model for the rest of the nation. But the region's proposed efforts to combat traffic congestion were held up by the president's transportation chief Tuesday as an example to emulate."
The initiative includes "a proposal to charge motorists an extra toll as they come off the Golden Gate Bridge into San Francisco," and also "use of high-tech parking meters and traffic signals to combat congestion on city streets."
The secretary said the project would be funded, in part, by the federal government. The feds in August had approved a $159 million grant for tolling, public transit (mainly buses), and anti-gridlock technology in the San Francisco area. (Federal DOT majority) Commissioner Steve Heminger — recall — is Executive Director of the (San Francisco area) Metropolitan Transportation Authority (MTA).
Conclusion
Receiving information on this angle just before our deadline left no time to inquire about it beyond what has been outlined here.
This column cannot prove that Secretary Peters opposed the Dulles rail project just because Commissioner Weyrich has been seen as a pro-rail thorn in her side. She does have a philosophical problem with rail transit, period. Nor can we prove that Commissioner Heminger — via his role in the deletion of the original pro-public transit section of the report — acted out of the desire to please Peters, who no doubt was unhappy with Heminger's signature on the commission's majority report. That $159 million could be withheld.
Similarly, we have no desire to arouse the sleeping dogs here. As mentioned above, the fragile nine-member majority on the panel has closed ranks behind the final version of the public transit outline. We can only hope that Dulles rail can be saved this year.
We thought these circumstances deserved some attention, bearing in mind that coincidences do happen.
One final word
The issue of transportation, of course, goes straight to the question of infrastructure. That is why the commission majority — representing all shades of political opinion — could come together on it.
Consequently, Weyrich and other conservatives are able to make common cause with liberal Democrats on this very serious matter. Adam Smith and Alexander Hamilton — no socialists they — saw defending the nation and supporting its infrastructure as the two basic responsibilities of the central government. Peters and other Republicans miss the latter point. That is because the sixties focus on public transportation came from the left, which characterized it as something of a welfare handout for those who have no cars and therefore have no choice but the bus or the train. This caused some conservatives to get their backs up against public transit in general and rail transit in particular.
If you look at transit systems such as the Metra commuter rail operation in the Chicago area (for example), you will note that the riders — with their suits, ties, and briefcases — hardly fit the role of welfare cases. They have their own citizens' advisory panel and decide when it is necessary to recommend local taxes and/or increased fares to keep this vital engine of the Chicago-land economy operating. That information was passed on to me by the late railroader Christopher Knapton, whose last employment was with Metra.
The case can be made for passenger rail — both inter-city and local/regional transit — as a key part of the conservative ethos.
© Wes Vernon
By
---
The views expressed by RenewAmerica columnists are their own and do not necessarily reflect the position of RenewAmerica or its affiliates.
---