Wes Vernon
April 21, 2008
Violent chickens roost on candidates' shoulders: exploring the liberal/Marxist nexus

Wes Vernon
Last week's Clinton/Obama debate opened a new door on an old coalition: What is it about Marxists (violent or otherwise) that attracts liberals (well-meaning or otherwise) to their defense? What is their common goal (to the extent that they have one)?
The counterculture sixties
Here is the mantra of the Weather Underground, as enunciated by one of its leading disciples:
"Kill all the rich people. Break up their cars and apartments. Bring the revolution home, kill your parents. That's where it's really at."
Who said that?
Those were the words of William Ayers, a self-admitted bomber — friend of and contributor to a campaign of Barack Obama.
Is Ayers' violent bombing past something he left behind, having frolicked through the violent sixties and early seventies?
Here is how the man has "matured."
"I don't regret setting bombs. I feel we didn't do enough." Not enough? Of course not. All he did was a bomb the New York City Police Headquarters in 1970, the Capitol Building in 1971, and the Pentagon in 1972.
But Ayers' words that he "didn't do enough" showed up in an edition of the
New York Times
that hit the streets just a few short hours before Osama Bin Laden's terrorists slammed airliners into the World Trade Center, the Pentagon, and the Pennsylvania countryside, murdering nearly 3,000 Americans. Was that "doing enough?"
Media play Mickey the dunce
Information on Obama's association with Ayers has been out there. Obama says it's no big deal that his friend did "detestable things" 40 years ago "when I was 8 years old." No one in the mainstream media took public notice — other than to sweep it under the rug — until George Stephanopoulos was publicly challenged by Sean Hannity to pop the question in the April 16 debate. (Obama was actually 6 years old 40 years ago, but proficiency in simple math is not our concern here.)
The candidate brushed off the Stephanopoulos question by saying Ayers is a neighbor who is "an English teacher." Right, and Benedict Arnold was a former Revolutionary War general.
Ayers was on the lam for ten years until he and fellow Weather Undergrounder Bernadine Dohrn turned themselves in in 1981
after
they knew they would get off on a technicality.
Ayers and Dohrn ultimately married. They are now tenured professors. There again, an example of how, as the Communist Soviet Empire collapsed, its soul mates found refuge in U.S. academia.
Hillary adds coals to the fire
Hillary Clinton followed up by adding in the debate that Obama and Ayers also served together on the board of the Woods Fund — a radical activist group (my words, not hers) — after Ayers' past had become well known. Again, Obama's rejoinder that — Hey! All that's in the past, etc. etc.
Hillary's point — made only after Stephanopoulos brought it up — was accurate, but she would dare not make too big an issue of it (see below).
But there's more
Now that Barack Obama is running for president, even his adoring media echo chamber has been unable to bury the more unsavory parts of his record and associations.
In his successful run for the U.S. Senate in 2004, his then-opponent Alan Keyes raised issues suggesting an Obama affinity for Marxism. Obama brushed that aside.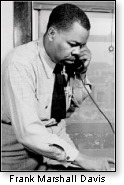 However, the issue has been raised anew by
Accuracy in Media's
Cliff Kincaid in a recent report. Pinpointed in this instance is one Frank Marshall Davis. Davis, a "poet," was identified as a communist by the Subversive Activities Commission in Hawaii, where young Obama lived in the seventies. Davis's communist-front record was unveiled by the U.S. House Committee on Un-American Activities.
The
AIM Report
cites New Zealand researcher Trevor Loudon as connecting the documentary dots identifying Davis as the "Frank" mentioned only by his first name in Obama's book
Dreams of My Father.
It seems that "Frank" advised Obama on pursuing his career in life.
And still more
Early this year, the offices of two Texas Obama volunteers (one of them a precinct captain) were decorated with Che Guevara pictures and Cuban flags as backdrops. When Fox News publicized it, the Obama campaign said the posters were "inappropriate."
Guevara has, among other things, advocated the "extermination" of the United States, and in 1962, his agency was involved in a foiled plot to bomb crowded department stores and New York City's Grand Central Terminal on the day after Thanksgiving.
But what about Hillary?
When Hillary Clinton piled on about Obama's connection to Ayers in the ABC debate, the Illinois senator replied that President Clinton had pardoned two members of the same murderous Weather Underground (Linda Evans and Susan Rosenberg), "which is a bigger deal than serving on a board with someone." That happened in Bill Clinton's last days in office. Lest you say a wife can't be blamed for what her husband does, we were promised "two for the price of one." Remember?
More about Hillary
Hillary Rodham served as a summer intern in the Berkeley law offices Robert Treuhaft, a lifelong member of the Communist Party USA. Jonah Goldberg, in his current best-seller
Liberal Fascism,
says Treuhaft "cut his teeth fighting for the Stalinist faction of the California labor movement."
Before he died, Truehaft was quoted as saying he was absolutely convinced Hillary joined the firm not just for the experience, but because she believed in the kind of law he was practicing — most notably the defense of radical subversives — some violent.
And how did she get the job?
Hillary Clinton came to Treuhaft's attention through her volunteer work in defending the murderous Black Panthers when its "chairman" Bobby Seale and some of his goons were put on trial for the murder of one of their own members, Alex Rackley, suspected by the Panthers of being a police informer. His body was found floating in the Coginchaug River in Connecticut. He had been tortured — burned with cigarettes, scalded in boiling water and stabbed with a ice pick.
The Panthers' blood-soaked trail was the straw that broke the camel's back for then-radical leftist David Horowitz, who subsequently went from the political left to the right.
In his book
Radical Son,
Horowitz recalls thinking, after the police had questioned him about the murder of Betty Van Patter, an employee of a Panther front, "I sensed that my life had changed, unalterably.
What would I do if the worst turned out to be true?
The great fear behind all my denial, I realized, was that I could not face this possibility [that the Panthers were hip-deep in a murder]. I could no longer sleep without being jolted into consciousness by unwanted thoughts. I had a pressure on my chest that I could not relieve, and a panic that was never absent."
Ultimately, Betty Van Patter's body was found in San Francisco Bay, her head having been caved in by a heavy instrument.
"By now," writes Horowitz, "I was in a state of internal freefall."
Apparently — at the other end of the country — no such worrisome thought had occurred to Hillary Clinton. As an assistant to the defense team of Panther lawyers Charles Gerry and "Tommie the commie" Emerson, she played an active role in getting Bobby Seale and his cohorts off with light sentences for the Rackley murder.
Again, what's the attraction?
The camaraderie (or unspoken alliance) between (usually) well-meaning liberals and Marxist-oriented subversives provides interesting fodder for philosophical probing.
One of the 20th Century's deepest thinkers — Whittaker Chambers — explored just that question in his epic best-seller
Witness,
wherein he recounted his own experiences in breaking with the Communist Party and exposing Soviet spy Alger Hiss.
Chambers writes that most of the New Dealers he knew (when he himself was a Communist) were Communists and near-Communists. Most other New Dealers were sincere liberals. But the "inner drift" of the liberals and the Communists was toward socialism and ultimately (or so the Communists hoped) to communism. The liberals, "carried along" with the "inner drift," believed the Communists were in fact just liberals like themselves.
Thus, any attack on the Communists — such as Hiss — was seen by the liberals as an attack on them as well.
One for all — all for one
Following that predictable script, when Chambers fingered Hiss, he was viciously attacked by powerful liberal forces in the media, academia, government, and elsewhere.
By the same token, Barack Obama would associate with a William Ayers and Hillary Clinton would associate with the violent Panthers and consider it to be "no big deal" because their supposed common goals were "justice."
So it follows that liberals in the blogs and mainstream media critics are now pounding ABC's George Stephanopoulos and Charles Gibson (liberals themselves) for "abuse of the public trust" and playing "gotcha."
One postscript on this: Today's liberals are far to the left of most New Dealers (even FDR fretted that the welfare state could sap the initiative of its beneficiaries). So today's liberal alignment with fringe subversive elements is all the more solidified. I know of a conservative congressman who — in an informal meeting — accused 12 of his colleagues of being "a bunch of Marxists." Not one of them rose to contradict him.
© Wes Vernon
By
---
The views expressed by RenewAmerica columnists are their own and do not necessarily reflect the position of RenewAmerica or its affiliates.
---