Wes Vernon
September 22, 2008
Origin of the credit crisis; fake "drilling"

Also: the origins of a key McCain endorsement

Wes Vernon
Both presidential candidates took a few days to get their bearings and talking points in order after the beginning of the wild week on Wall Street.
McCain
McCain's quick comment: Fire Chris Cox, Chairman of the SEC. That effort to find a convenient scapegoat misses the mark and is also unfair. Cox has responded with a ten-point rebuttal pinpointing specific SEC actions — including strengthened investor protections, targeting fraud, emergency orders against naked short-selling involving Fannie Mae and Freddy Mac, "sweeping" and "landmark" enforcement actions, etc.
It is understandable that McCain wants to distance himself from President Bush. That does not justify beating up on Cox.
Obama
Obama's offering: Raise taxes in the teeth of an economic slump. That kneejerk and discredited idea betrays Obama as woefully ignorant of the economic facts of life. Bush '41 raised taxes in the teeth of a recession in 1990 (albeit without Obama's demagogic rhetoric demonizing the "rich" — i.e., anyone with a job). Of course, it not only didn't work, but made things worse, and we ended up with eight years of Bill Clinton.
Speaking of which...
President Clinton's administration forced mortgage lenders to make loans to high-risk buyers. It amounted to an "affirmative action" home ownership plan. Normal sound business policies were out. Any lender who didn't cooperate ran the risk of stiff government penalties. A house for everyone appeared to be the mantra. This was reminiscent of the old Herbert Hoover slogan "Two chickens in every pot."
Hmm, let's see. Obama wants to mimic Bush '41. Clinton brings back the guts of a Hoover slogan. What is it about Democrats that attracts them to failures in past Republican presidencies, but not to GOP successes?
The blame
There is plenty of bipartisan blame to go around. That does not mean nobody was responsible. Greed and overleveraging to gin up the housing market? You bet. Wrong turns in both parties? Absolutely. Fault Alan Greenspan — now blaming everyone but himself — for slashing interest rates to grease the skids even further? Of course. — But the seeds were planted in the Clinton era of "anything to keep the the good times rolling to keep the approval ratings up."
A case in point
The government-sponsored operations Fannie Mae and Freddy Mac enabled the politically-connected to fatten their wallets.
Franklin Raines
After serving as Clinton's budget director, Franklin Delano Raines went on to become CEO of Fannie Mae. After five years, he took "early retirement," accused by federal auditors of aiding and abetting accounting errors "which included the shifting of losses so senior executives, such as himself, could earn large bonuses." (
Wikipedia
).
The feds sued him for $110 million in penalties and $115 million in returned bonuses. Ultimately, the settlement yielded fines of $3 million from Raines and his cronies, paid by Fannie's insurance policy. He also agreed to give up $5.3 million in "other benefits." He gave up $1.8 million on Fannie stock and forfeited worthless stock options.
The Wall Street Journal
called this "a paltry settlement."
Investors Business Daily
says Raines used Fannie Mae as "his personal piggy bank."
Did we mention that Franklin Raines is an economic advisor to the Obama campaign? Oh — almost forgot that tidbit. Obama says it's not so. But even the liberal
Washington Post
says it is.
James Johnson
Raines' predecessor as Fannie Mae CEO was Jim Johnson. Federal auditors charged that during his tenure, "Fannie Mae had substantially under-reported Johnson's compensation. Originally reported as $6-7 million, Johnson actually received approximately $21 million" (again
Wikipedia
)
Earlier this year, Johnson stepped down from his position as chairman of Obama's search committee for finding a vice-presidential running mate. The reason? He had received loans directly from Angelo Mozilo, CEO of Countrywide Financial, a company "implicated in a subprime mortgage lending crisis" (again Wikipedia).
Among others of the politically-connected in this rip-off was Janet Reno aide Jamie Gorelick, who walked off with a cool $75 million.
All of the above are cheerleaders in the Obama campaign to go after "the rich."
As of this writing, McCain was largely back on message — calling out Obama on the likes of Raines and Johnson, and recalling that the Arizonan tried to take action a few years ago to rein in Fannie Mae and Freddy Mac, but was ignored by both Obama and the White House.
This past weekend, the White House and Congress were forging a bailout that appeared to be calming the markets but would take us one step closer to European-style socialism.
Phony "drilling" bill
Former House Republican leader Tom Delay predicted that a Pelosi "oil drilling" bill would be 1% drilling and 99% stupid. How right he was. Ronald Reagan used to say members of Congress never solve problems. "They only rearrange them." How right he was.
Speaker Nancy Pelosi has rammed through the House a measure that keeps viable Outer Continental Shelf areas off limits. No mention of drilling in ANWR or shale oil in the Rockies.
It increases taxes on the oil companies. Americans for Tax Reform (ATR) says it will cost American jobs. The bill allows drilling on OCS, but only 100 miles or more off the Atlantic and Pacific coasts. Areas closer to land are richer in oil and far easier to access. And the oil-rich Gulf of Mexico is still off limits. The
Wall Street Journal
opines that the measure claims to allow drilling while making drilling all but impossible. A key House Republican told this column it is like a contractor getting the green light to build a house, "provided that he builds only the second floor."
The measure imposes a mandate on states regarding "renewable" energy sources — a mandate that realistically cannot be met (a 28% surcharge) on rate-paying consumers.
Once again, Congress — under Pelosi's "leadership," may have solved the politics of the problem without solving the problem. They know it won't pass the Senate. But Democrat House members can go home and say, "Don't look at us. We did something about it." If your congressman tells you the House voted to drill for oil to lower your price at the pump, you can tell him/her to peddle that fraud elsewhere.
Behind the Weyrich McCain endorsement
Free Congress President Paul Weyrich — widely honored at a recent Washington dinner as the father of the modern conservative movement — now has made to the "reluctant" decision to support John McCain for president.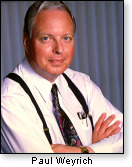 Last winter (see this column "
Conservative leader to bolt
," 1/28/08), Weyrich told me if McCain were nominated, he would either not vote the top of the ticket or vote third party. (In fact, until recently, he planned to vote for Libertarian Bob Barr.)
A recent meeting where Senator McCain asked for — and secured — Weyrich's support was arranged by pollster Lance Terrance, who had done some work for the McCain campaign, and was loyal to Weyrich. McCain and Weyrich had a disdain for each other going back nearly twenty years. For the duration of the campaign at least, that gap has been bridged. Terrance convinced the senator it was in his interest to make things right with the conservative leader. This happened before Sarah Palin was added to the ticket. "That, of course, sealed the deal for me," Weyrich told this writer.
Weyrich disagrees with McCain's opposition to Amtrak and rail transit in general. He told this column if a President McCain is sworn in January 20th, "I will seek a meeting with him to present the conservative case for transit. He will have the option of being reasonable or getting into a fight with an increasing number of conservative members of Congress who support transit."
© Wes Vernon
By
---
The views expressed by RenewAmerica columnists are their own and do not necessarily reflect the position of RenewAmerica or its affiliates.
---