Wes Vernon
China menace, Soviet apologia, light bulbs (winding up 2011)

By
Wes Vernon
December 29, 2011
When the old (2011) gives way to the new (2012), the longer view comes into focus. All of which prompts the following....
Item 1 — Looking forward: Dragon ready to pounce?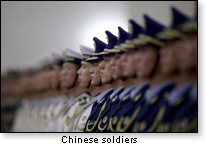 Poor countries cannot fight expensive wars. Considered in and of itself, that would be a good thing. The catch is, as attributed (some say
mis
attributed) to Leon Trotsky, "You may not be interested in war, but war is interested in you."
Whether Trotsky (who made very few other statements that hold water) actually said it, herewith the 21st century translation: We abhor war, but if the U.S. is broke (see our indebtedness figures) and unable to bear the cost of defending itself, the alternative may be surrender to nuclear blackmail.
Or as authors Brett M. Decker and William Triplett II observe, America is bankrupt. This invites our enemies to make mischief as the U.S. signals a green light to the Chinese Reds.
Shades of pre-WWII Japan?
In their newly released
Bowing to Beijing
,
How Obama is Hastening America's Decline and Ushering in a Century of Chinese Domination,
Decker and Triplett note some eerie similarities between pre-World War II Japan and contemporary China.
Emboldened by its victory over Czarist Russia in 1904, Japan rapidly built up its military and industry to achieve a wealthier and more modern society. The Great Depression interfered, depriving Japan of resources it badly needed to maintain its advanced status (note: Japan had
no
domestic access to oil). The Japanese used the military to steal resources from other countries. Its militarization ultimately led to Pearl Harbor in 1941.
"The consequences of Imperial Japanese aggression continue to motivate pan-Asian defense policies today because Chinese militarization and industrialization look all too similar to what came earlier," according to
Bowing to Beijing.
Stop helping them
The book goes on to show how reckless spending and utopian green policies of the Obama administration are empowering Beijing's aggression — such as Chinese proliferation of weapons of mass destruction, including some stationed in our hemisphere (i.e., read Hugo Chavez's Venezuela), thus making our homeland more vulnerable to a nuclear attack right from within our own backyard. China is stealing (with impunity) our military, trade, and company secrets.
Adding to this many other factors, the authors allege "the Chinese communist leadership" and North Korea "are engaged in a massive conspiracy to export ballistic missiles, probably to Iran or other rogue regimes." They cite plenty of evidence to back up the assertion.
This book is a well-researched read. Hopefully we will hear more about the China threat from those who seek to replace Obama in 2012.
Item 2 — Looking back: Soviet collapse a "catastrophe"?
Thoughts of
The Nation
magazine evoke memories of pure unreality, as in its decades-long steadfast faith in the innocence of Alger Hiss. Such flights of fancy serve as a red flag for anything it prints.
Since its recent piece
The Soviet Union's Afterlife
was forwarded by a knowledgeable conservative friend, I had to acknowledge (as does my friend) that while many of the assertions contained therein may be accurate, they do not justify the author's suggested conclusion that the West should have patiently awaited "a democratically reconstituted Soviet Union."
The essayist, Stephen F. Cohen, does know a lot about Russia, having been steeped in its history, his professorial forte. He has been seen as "a talking head" on some left-leaning TV presentations.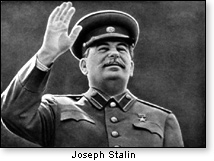 Where to begin as space allows?
Let's start with his assertion that the Soviet Union (mainly its innocent population) did indeed suffer some bad aftershocks from the 1991 collapse of its empire. No doubt true. It is a shame that in its nearly three-quarters of a century history, the aggressor state did not take significant steps to "reconstitute" itself, even after the false hopes that followed the death of Joseph Stalin.
In fact, during the better part of the 20th century, at least 100 million innocent people were murdered to satisfy a Soviet quest for world domination, as a third of the world went communist. Occasionally one hears Soviet apologists challenging that figure on the grounds that it includes the Soviet lives lost in World War II when Stalin was "our ally."
Whether or not that caveat with the figures is true, the claim raises a sensitive issue: Ask Soviet historians about the dates of their nation's involvement in World War II. Many of them have replied 1941-1945. Really? My copy of World History says World War II lasted six years — 1939 to 1945, so — ahem — where was the Soviet Union from 1939 to 1941?
History recalled
On August 23, 1939, the Soviet Union and Nazi Germany signed a "non-aggression" treaty. A few days later, Germany attacked Poland from the west, followed by the Soviet invasion of that unfortunate country from the east. From 1939 to 1941, Hitler and Stalin were allied aggressors in World War II. Only when Hitler broke the pact and invaded the Soviet Union did Stalin, left with no other practical choice, become our "noble ally" (in the words of FDR). That part of history is often carefully airbrushed from memory by the Soviets, but they collaborated to start World War II.
"Our noble ally" prior to the start of the war had secretly conspired with German leaders and trained engineers and officers and also provided bases and factories for war, according to documents released by Soviet defector Viktor Suvorov.
Stalin could very well have been motivated by Lenin's 1918 reported statement that if World War I did not lead to world communism, another war might be needed to accomplish that end. If Hitler conquered the capitalist countries, could the Soviets pick up the pieces?
75 years not long enough?
Professor Cohen suggests the end of the Soviet empire could have been brought about by a more gradual means. Surely he must know the risks that strategy would have entailed.
Hardliners would have obstructed the plot and, more than likely, cost many more lives along the way, with the credible prospect they would have emerged victorious, complete with a comeback for full-fledged Stalinism.
One could suggest opening the gulags (or whatever they called the dungeons at that moment) and allow the inmates to organize and lead a violent overthrow. But does anyone seriously believe that move would not have been crushed before it got off the ground? Such efforts have become considerably more difficult since Lenin and Trotsky overthrew the infant democracy that had replaced the czars in 1917.
The Soviet Union's terrorism of the world might have been ended more gracefully if we and our allies had occupied the territory and helped it rise from the ashes, as we did with Germany and Japan following World War II. Their people also suffered. That often happens to innocents when their governments start fights and/or seek world domination and lose.
Ask the Japanese especially about the price paid by citizens in the payback for their leaders' misbehavior. (On second thought, let's not go there.) But I know of no one who seriously argued for an invasion of the Soviet Union during the Cold War, though General George Patton paid a heavy price for suggesting at the end of World War II that we take on the Soviets when we had the bomb and they didn't.
Though he doesn't mention it, Professor Cohen apparently resents the role of President Reagan in the Soviet demise.
Our sympathies go out to those Soviet citizens who suffered, in part because what followed the collapse was not "familiar" and "secure." Our sympathy also goes to the millions victimized by 20th century Soviet aggression.
Closer to home: light bulbs
You will still be able to buy incandescent light bulbs. Or maybe not.
1 — A spending bill passed by Congress at year's end prevents the Obama administration from carrying out a 2007 law that would have made the traditional light bulb obsolete.
2 — GE, Sylvania, and Philips are furious. Having been told to be ready for the new mandate, they invested huge sums of money to construct new or alter existing plants so as to accommodate the new supposedly "green" fluorescent bulbs.
3 — They are demanding the mandate be re-imposed, obviously concerned some start-up company will reach the market with incandescent bulbs the big companies are no longer offering. That could bring (gasp!) new competition.
4 — That is a classic case of how Big Business leans on Big Government to impose regulations that will disadvantage start-up competitors.
5 — However, cancelation of the mandate could be merely a temporary reprieve since the feds can re-impose it at some future date.
6 — While the big companies have a legitimate gripe that the feds pulled the slats out from under them for doing what the feds had told them to do, here is a humble suggestion: Keep the government out of the free market and its heavy hand off the consumer's prerogative to make choices in a (hopefully still) free society.
© Wes Vernon
---
The views expressed by RenewAmerica columnists are their own and do not necessarily reflect the position of RenewAmerica or its affiliates.
---