Wes Vernon
Part 2 -- 2012: America's last free election?

By
Wes Vernon
July 19, 2012
Tons of cash are behind the giant and hostile metaphorical mowing machine that seeks to take down the United States. Big money. In our last column, we discussed the threats coming at us from all directions: militarily, diplomatically, culturally, economically, by way of intimidation, and subversion/infiltration of our major institutions.
People who hate this country mean business. They will not be satisfied until we are under their heel. They have their own ideas as to how the world should work, be it the communist who wants a Stalinist-like world order, or an Islamist who wants a worldwide Caliphate. Both want a "world order" (read world dictatorship).
As we have noted in this space, credible analyses have suggested we could be heading toward a second civil war: "the makers vs. the takers" as Arthur Herman puts it; or "the ruling class vs. country class," as outlined by Angelo Codevilla in his thin but intellectually solid book
The Ruling Class.
But where do these destructive forces get their money? Obviously not from the proverbial thin air.
Here's your answer (not old stuff)
Regular readers of this column know a huge part of the answer to that question: George Soros, the multi-billionaire who has bestowed his money and attempted influence into almost every corner of American life. That's old stuff? Here's what's new:
Today, at about the time this column is posted, a gathering at the National Press Club was to present a study whose findings verify that the fundamental transformation of the United States is financed by offshore and secret money. That offshore finance is in fact generously provided by George Soros. As we are reminded by Cliff Kincaid (President of America's Survival Inc., the conference sponsor), Soros is a "moneybags for Barack Obama, the Democratic Party, and various Marxist groups."
ASI says Soros operates an offshore hedge fund, Quantum Funds, which makes the source of the funds "practically impossible to determine" (let your imagination run wild with that one).
If you see some irony here, given that agents for Mr. Soros's White House puppet make much of alleged (real or imagined) offshore accounts by the puppet's adversary in the presidential campaign, mark that down as (gasp!) another case of liberal hypocrisy. Presumably one need not scratch his head to determine which is more suspicious: starting up Staples or funding a conspiracy to destroy this nation?
The study released at the ASI conference exposes Soros "using his billions [including offshore] to wipe out American capitalism and the American way of life."
For example
George Soros, Angela Davis, and Critical Resistance
by Tina Trent (Ph.D.) finds, for example, that Soros is bankrolling (just for starters) 1 — the work of the notorious Angela Davis, longtime communist, recipient of the Lenin Peace Prize from the old Soviet Union, still active in pushing for a Soviet-style America; and 2 — the Marxist Center for Constitutional Rights, now defending the criminal Wiki Leaks founder Julian Assange.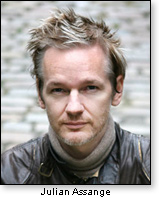 Army soldier Bradley Manning is on trial for passing classified information to Assange. Curiously (or perhaps not, depending on "whose side" the president is on), the Obama Justice Department has prohibited imposition of the death penalty in this case.
Interestingly (again, maybe not, if you look at the big picture), Wiki Leaks has posted an article defending the late Frank Marshall Davis, the Communist Party mentor of Barack Obama (and believed to be Obama's "real father"), and who has admitted sexual relations with children.
Open the prisons
The "Soros-Communist connection," as outlined by Dr. Trent's study, is also exemplified in the multibillionaire's funding of a Communist "prisoner's rights group" actually founded by "a former top official of the Moscow-financed Communist Party USA" (again Angela Davis).
1 — Several "prisoners' strikes" around the country have been supported by Critical Resistance, the Davis-guided and Soros-backed "criminals lobby."
2 — A lawsuit was filed by the Center for Constitutional Rights (another Soros-funded group) arguing that "solitary confinement" amounts to torture and "cruel and unusual" punishment. (Forget the rights of crime victims; they don't count here.)
3 — President Obama's Equal Employment Opportunity Commission is moving toward banning criminal background checks on the grounds that they're "discriminatory."
Soros money is bankrolling the "criminals lobby" movement that hopes to make "prisoners' rights" a cause of the liberal left. The next step, as Kincaid points out, is "to empty the prisons themselves."
One can see this as laying the groundwork that could conceivably amount to a pivotal part of the chaos that will reign (coordinated with simultaneous or near-simultaneous attacks from other sources) during the bringing down of America.
Critical Resistance has championed the cause of fugitive Marilyn Buck, onetime member of the terrorist Weather Underground, who was serving time behind bars for a long list of crimes. That is, she was until she was freed from prison. Her release (as ASI exposed) was carried out by officials of the Obama/Holder Justice Department who falsely claimed that she had "repented her terrorist ways."
Old cause, new money
"Prison reform" has long been championed by the Communist Party and the National Lawyers Guild (a communist front, so designated as long ago as September 1950 by the House Committee on Un-American Activities).
In the 21st century, the cause has been revived by the money showered upon it by George Soros and his satellites.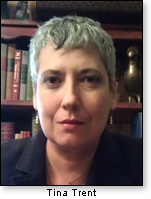 Dr. Tina Trent, in her report released Thursday of this week, cites thousands of dollars Soros's Open Society Institute gave to support a book written by Wilbert Rideau, one of the most cold-blooded, merciless murderers ever to walk the planet, who evaded execution and was released from prison in 2005 for his 1961 crime, thanks to the efforts of Johnny Cochrane (of O.J. Simpson trial fame). In a video, Rideau acknowledged he should have been executed for his crime. His lawyers had "gamed" the appeals system (possible model for "prison reform"?)
The Communist/Islamist nexus & Soros largesse
Frank Gaffney, President of the Center for Security Policy, is one of America's most astute analysts of the threats to America. An insightful quote attributed to him is that Sharia, or Islamic Law is "Communism with a God."
As Kincaid notes at the ASI conference, radical Muslims are working with communists for the abolition of capitalism and the American way of life. Eventually these two ideologies might come of blows, but in the meantime, they constitute "an unholy alliance against America" (an alliance, we might add, that has the cooperation of the Soros interests).
(Repeated disclaimer — again: We're not talking about your Islamic neighbor or the nice lady in a burka who rings up a cash register at the supermarket. It is said that Islamic terrorists make up only 1 percent of the world's Islamic population. The worldwide Islamic population is at 1.62 billion. Meaning: 16 million violent radicals aiming to kill "infidels" — i.e., the rest of us...P.S. — There have been numerous reports of "Death to America" rhetoric preached within Mosques across America).
This column intends to return in the future to the ASI Conference. There are some excellent speakers lined up, and we need to talk about primary points that are made there.
The ubiquitous George Soros
One of the early efforts to expose the anti-American Soros empire was
The Shadow Party
by David Horowitz and Richard Poe.
The "Shadow Party," of course, is the Soros network. (And by the way, Soros's people have warned their critics, in effect, there's no point in trying to stop them because "that ship has sailed," as they privately warned
Fox News
amidst their (ultimately successful) effort to get Glenn Beck off cable TV. (Beck now does quite well on a nightly internet show).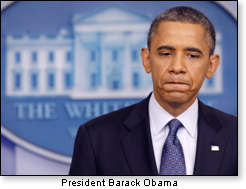 Americans — Horowitz and Poe warn — should know that Soros and Co. have a plan to rewrite the U.S. Constitution. Obama has noted "flaws" in that same document (cherished to most of us) in that it bars him for doing the things he wants to do unilaterally (but which he does anyway, and we'll deal with that issue in the near future, as well).
It has been shown that the Soros machine 1 — has overthrown foreign governments, and might succeed doing the same thing here; 2 — has blanketed America through a vast network of private think tanks, foundations, unions, stealth PACs, and other front groups; 3 — has exchanged favors on both sides of the aisle; 4 — has taken effective control of the Democrat Party; and 5 — has sent its "radical infiltrators" to go about the business of quietly transforming America's societal, cultural, and political institutions "for more than a generation."
Beyond that...
The Soros machine has spent millions building or buying or inserting influence into 180 media outlets and front groups. Researching the extent of the far-flung, octopus-like Soros network is guaranteed to make your head swim. 180 media outlets. Does anyone wonder why no one on ABC, CBS, CNN, The New York Times, or The Washington Post has never — ever — done an investigative report on this individual so phenomenally powerful and influential in our society? Their silence is deafening.
Not only the journalist outlets themselves are tainted, but their "J schools" and supporting professional groups and newspaper "ombudsmen" — i.e., Pro-Publica's Journalism Advisory Board, the Center for Public Integrity, even the Columbia School of Journalism (long viewed as journalism's "crown jewel"!). Whatever happened to avoidance of "the appearance of conflict of interest?"
One source of information on Soros is Brent Bozell's Media Research Center, which has identified people whose names or works you would know. They would include David Gergen (CNN) , Christine Amanpour (ABC), Jill Abramson (Executive Editor — New York Times), Leonard Downie (former editor, now VP-Washington Post Co.).
You see, that's why Soros is not satisfied merely with Beck's removal. He wants to shut down all of Fox News and conservative talk radio. He's not satisfied with a measly 180 media outlets. He wants the entire media to be Obama's de facto propaganda ministry.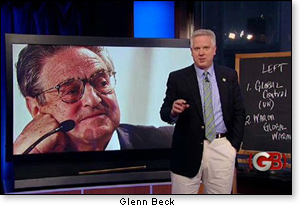 The anti-Fox campaign includes boycotting advertisers; false charges of racism; blaming conservative hosts for inciting violence (never mind many of Soros's favored allies and causes have preached and practiced violence); and forcing small businesses not to allow Fox in their shops or workplaces.
The Soros long-term goals include destroying the Tea Party (of course); neutralizing the conservative movement; putting the boot to market capitalism (through overbearing, unnecessary regulations and taxes); creating a government-controlled-and-funded national "news" organization; and eliminating Judeo-Christian values form our culture.
Again, there is more to come. Meanwhile, once again, the question: Will we be destroyed culturally from within?; by terrorism within?; by military attack?; by a second civil war?; by a one-man power trip? Or a combination of the above? Daunting "choices."
© Wes Vernon
---
The views expressed by RenewAmerica columnists are their own and do not necessarily reflect the position of RenewAmerica or its affiliates.
---