Wes Vernon
Part 3 -- 2012: America's last free election?

By
Wes Vernon
August 6, 2012
(See Part 1 and Part 2)
Months before Barack Obama assumed the presidency, many Americans seeking substance in lieu of "change" sloganeering had an uneasy feeling about the man. There were just enough unsettling reports on parts of his background to raise concerns. But at that time, those questions elicited few answers. That is because Mr. Obama had spent millions to hide his background.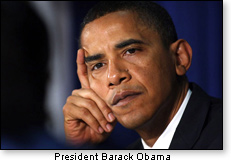 Four years later in July of 2012, as President Obama was gearing up for his re-election bid, it was left to the outspoken John Sununu — former governor of New Hampshire — to encapsulate the widespread unease about the man voters sent to the White House in 2008. He should "learn to be an American," advised the not always diplomatic New Englander.
Granted, Sununu made the remark as he campaigned for the president's opponent Mitt Romney. Politically motivated or not, one will search in vain for a more succinct analysis of what there is about Barack Obama that causes so much doubt in the minds of a significant slice of the U.S. electorate.
But in the final analysis, is that mere superficiality? A conference here in Washington late last month connected the dots of information that have emerged during Mr. Obama's first (hopefully last) term. "Learn to be an American?" The information imparted at the one-day gathering of America's Survival, Inc., clearly shows that Mr. Sununu's phrase transcends mere "gut instinct." The conference, held at the National Press Club, was titled "Vetting Obama," the clear inference being that the president had escaped the normal "vetting" process when running for the highest office in the land.
Obama's mentor
Among the speakers was Paul Kengor, author of
The Communist — Frank Marshall Davis: The Untold Story of Barack Obama's Mentor.
Frank Marshall Davis was a card-carrying member of the Communist Party USA. No, he was not merely an innocent misled "dupe." This man was hard core. A clue to his devotion to Moscow (and Joseph Stalin's slaughter of millions in Soviet gulags and across Eastern Europe) came in Davis's declaration, "I admire Russia for wiping out an economic system which permitted a handful of rich to exploit and beat gold from the millions of plain people....I honor the Red Nation."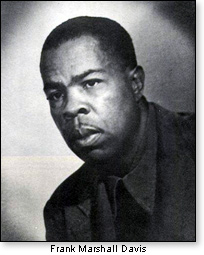 Frank Marshall Davis's writings for communist-controlled newspapers in Chicago and Honolulu followed a rigid pro-Soviet line including 1 — referring to the good people resisting Soviet takeovers in Eastern Europe as "fascists"; 2 — accusing Democrat President Harry Truman of picking up on the conquest of Europe where Adolph Hitler left off; and 3 — blasting the Republican 80th Congress for enacting supposedly "phony tax cuts" that hurt the poor and padded the pockets of millionaires. The "rich" and "corporations," Davis wrote, should pay their "fair share." (Sound familiar in 2012?) That "phony" tax cut, by the way, was a prime factor in America's post-war prosperity.
Lineage from mid-20th to early 21st century
There are several interesting and relevant strands that went into the mindset of the man now in the White House.
A — David Canter, "nurtured in the USSR under Stalin's collectivization," pleaded the Fifth Amendment when questioned by a congressional committee as to his Communist Party membership. This same David Canter would later mentor young journalist David Axelrod, who in 2008 would help get Barack Obama elected president.
B — An interesting timeline traces the rise of Valerie Jarrett — one of the most influential advisors to President Obama: Her father-in-law Vernon Jarrett and her maternal grandfather Robert R. Taylor both worked with Frank Marshall Davis as "joint members of communist fronts or in suspected front activities," writes Kengor.
C — David Axelrod and Valerie Jarrett became President Obama's top advisors. Jarrett reportedly took the lead in forging the anti-First Amendment policy forcing religious-based institutions to provide insurance that goes against their fundamental beliefs. Axelrod is the de facto mastermind of the Obama 2012 re-election effort. His formula — in the current and past Obama campaigns — is to slime every person or entity that gets in Obama's way.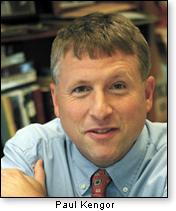 Sources
Paul Kengor's book is a must-read for anyone with a mind open enough to want to discover what makes our 44th president tick.
The Communist
reads like a study of a long-neglected narrative about a conspiracy that has sought to bring down this republic since shortly after the 1917 Russian revolution, throughout the Cold War, and thereafter and right on up to the present day. It is an informative read for that broader perspective as much as it is an outline of what led to Mr. Obama's world outlook. (Note: Davis's influence on Obama was thorough, from when the future president was a young boy and well into his teens).
The above is a mere sampling. The record shows Barack Obama — through much of his life and career — has been so thoroughly immersed in influences totally hostile to the United States that "learning to be an American" is naturally hard for him. He can't help it.
Paul Kengor, in researching for his book, consulted many credible sources, including, for example, Herbert Romerstein — arguably the world's greatest authority on communism and intelligence operations in general. As for how it was discovered that Frank Marshall Davis was in fact a very key influence in Obama's life, the best reference would be "
Obama's Communist Mentor
,"
Accuracy in Media,
Feb. 18, 2008. That report was authored by Cliff Kincaid (now AIM's chief investigator, as well as President of July 19 conference sponsor, America's Survival, Inc.)
Obama & pro-Soviet "agent of Influence"
Barack Obama's lifelong support from dedicated hard-core communists (with both a large and small "c") did not end with Frank Marshall Davis. The woman who was instrumental to the future president's first job in politics was the subject of a talk at the recent conference. The speaker was Trevor Loudon, a New Zealand blogger and author of the 629-page encyclopedic
Barack Obama and the Enemies Within.
(Note — The fact that a New Zealander feels compelled to issue the warning as to what is happening to America at this perilous time in its history speaks volumes as to the failure/refusal of America's mainstream media to inform us of the sheer volume of threats to our security. Loudon, a friend of this column, is concerned, looking from beyond our borders, that once the United States goes down, then so too does Western Civilization. The U.S. is the last bastion, Trevor believes. Once it is overtaken by its "enemies within," then what refuge is left?)
Alice Palmer
In his written research prepared for the conference (that goes into more detail than time for his actual July 19 speech would allow) Loudon briefly reviews such influences as Davis and Weather Undergrounders Bill Ayers and Bernadine Dorn, et al, but adds "the individual in Obama's life most closely tied to the Soviet Russian component of international communism was undoubtedly former Illinois State Senator Alice Palmer."
Indeed, though the relationship eventually went sour (for reasons having nothing to do with her communist affiliations), Alice Palmer "provided the first rung up the ladder to Obama's rise to the Oval Office."
Obama and Palmer were attracted to the Chicago affiliate of the New Party formed by such collaborators as "the Soviet and Cuban-affiliated Institute for Policy Studies" (a far, far left Washington think tank) and subject of past installments of this column.
Obama was Palmer's chief of staff as she prepared for her own (doomed) congressional race.
"Friends of Alice Palmer" included Barack Obama, along with future Democratic Socialists of America members Timuel Black and future congressman Danny Davis, both of whom remain good friends with Obama to this day. Rep. Danny Davis, as recently noted in this column, accepted an award from the Communist Party in Chicago.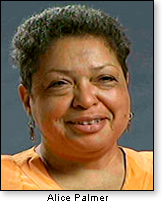 Alice Palmer introduced Obama to the local political community at a 1995 gathering in the Chicago home of Weather Underground terrorists William Ayers and Bernadine Dorn.
So who exactly is this person?
Alice Palmer's propensity for far-left causes dates back to her high school days and early on in her career as an influential photo journalist.
Alice Palmer and her husband were invited by Grenada's government of Maurice Bishop to attend that country's first anniversary celebration of its Marxist Leninist "revolution."
The invite almost certainly was arranged by Don Rojas, a key player in the Bishop government who today is active in the U.S. via the Independent Progressive Politics network which includes several Marxist groups such as the Democratic Socialists of America and the Communist Party spinoff Committees of Correspondence.
In the 1980s, Alice Palmer was involved in Soviet-coordinated "peace" networks, including the (still existing) World Peace Council. The WPC directed most of its propaganda against Western military alliances, armaments, and the like. It was "the major Soviet-controlled Communist organization," under the tight grip of the Communist Party of the Soviet Union and the KGB.
Trevor Loudon notes that Alice Palmer was "an Executive Board member of the Communist Party USA-dominated U.S. Peace Council," the American affiliate of the World Peace council from 1983-1985.
Further
The prodigious New Zealand researcher cites a slew of Communists and their backers who in one way or the other have supported Barack Obama on his way to the White House, many of them in Alice Palmer's orbit.
The files seemingly are endless, both on Alice Palmer and other groups or individuals with whom Barack Obama has collaborated or who have helped in his quest for the nation's highest office. There is more. Much more. Until we prepare to move on to future installments of this series, we would leave with this thought.
Why?
Why on earth would the man who became America's first black president (in itself a reflection of the American dream) want to take over the world's best (but imperfect) health care system in favor of what is likely to end up as (at best impersonal) assembly-line medicine? Why would he presume the right to ignore the laws he doesn't like, and violate the Constitution (thereby violating his oath of office)? His constant overreach for power raises a legitimate question as to whether a second term will leave us with a 2016 election any more credible than those in Iran or Venezuela.
Why would he contemplate (as reportedly "in the wings") the roll-out in his second term of a "domestic" army supposedly to fight for the "global warming" hoax, but (even more frightening) bears the organizational potential for a federal police force?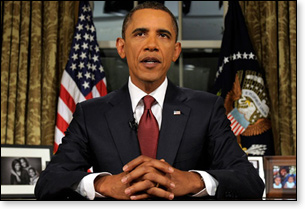 Or why would he consider (as he reportedly is planning) a second-term assault on Americans' right to live in suburbia? Isn't this the United States of America, where people can choose to live where they want to live without Big Brother infringing on their precious freedoms by telling them via government fiat how they shall live? (BTW, I'm not necessarily a huge fan of suburbs, though I've lived in them most of my adult life after growing up in a city. But I do believe there are some things that come under the heading of "Live and let live." This man views that as a totally foreign concept — beyond his intellectual DNA.
Why the contempt of private sector (mostly small) business — the backbone of America's economy — with "You didn't build that"?
Time for "change"
Barack Obama sincerely believes in what he is doing. And that's the problem. It reflects everything he was taught starting at a tender age. Everything of any substance that he wishes for this country is wrong — totally incompatible with American values. Again, he can't help himself. That is who he is.
"Learn to be an American?" Good luck with the "learning" experience, Mr. President. Just not as on-the-job training at 1600 Pennsylvania Avenue. No way.
© Wes Vernon
---
The views expressed by RenewAmerica columnists are their own and do not necessarily reflect the position of RenewAmerica or its affiliates.
---